This is quite sad really, Zenimax are now sending their cronies after DoomRL [Official Site] the Doom-inspired roguelike.

The developer, who I follow shared it on Twitter:
So... Zenimax have just written to me demanding I take down the DoomRL site... :-/ pic.twitter.com/tXAwdq59Zz

— Kornel Kisielewicz (@epyoncf) December 2, 2016

The actual image in case it vanishes: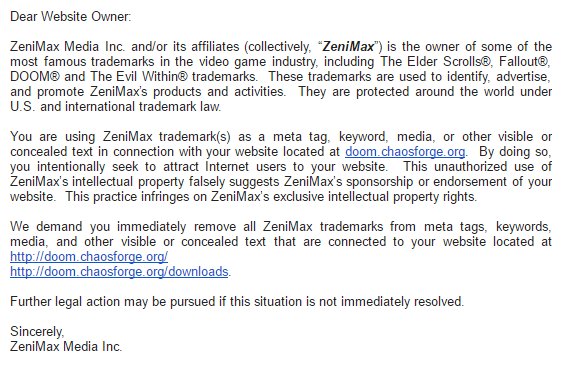 I'm not surprised though, since he is using the actual Doom logo on the website, with a minor adjustment. The game also shared monster names, sprite designs and so on. So it looks like this could be the end of the road for the fan-game.

The silly thing is, it's not even remotely competing with the actual Doom games, so this is just ZeniMax showing their muscles. As sad as it is, I'm torn here. Fan games are awesome, but they are essentially using someone's designs and often more.

It seems Zenimax have only really noticed it now that the DoomRL creator is crowdfunding a successor named Jupiter Hell.
Some you may have missed, popular articles from the last month: