9 Monkeys of Shaolin gives us another wonderful beat 'em up with easy to use controls, thoroughly entertaining combat and some great visuals. Developed by Sobaka Studio, the same team behind REDEEMER.
Inspired by classic kung-fu movies of the 70s, 9 Monkeys of Shaolin follows Chinese fisherman Wei Cheng on a path to avenge the death of friends and family after their lands are invaded by pirate raiding parties. Sobaka claim it's a "true rebirth of the iconic brawler genre", which is overstating it a bit but there's no denying I've had a lot of fun with it.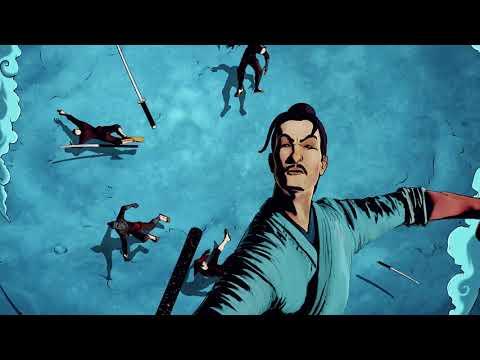 The story in 9 Monkeys is your pretty standard beat 'em up material, with a pretty ordinary person taking up arms to avenge the death of their family but it's the overall direction and production values that really help it along. Some well designed cut-scenes sprinkled in, along with plenty of great voice acting really enable 9 Monkeys of Shaolin to leave a lasting impression while not being particularly genre-defining.
Combat is the most important thing in a beat 'em up and 9 Monkeys of Shaolin excels there, as it's suprememly smooth and quite exciting. Flowing from one attack type to the next feels awesome, as does dodging around enemies and unleashing mighty combo attacks mixed in with power attacks you build up energy for during fights. Everything about 9 Monkeys of Shaolin just feels so good thanks to the combat style and weaponry. Using your staff to jump from afar towards an enemy, and watch as they fly into boxes and everything smashes beneath them — there's a lot of little touches to enjoy here.
Enemies are impressively varied too and that's where it shines, as you'll end up needing every ability possible to get through it. Enemies have quick attacks, long range attacks, brutal smashing attacks that completely flatten you and more. Even with all of that, the combat in 9 Monkeys of Shaolin still feels relatively tame, it's not overly fast paced and you still get quite a bit of time to think which is why I think I like it so much. When enemies are about to attack, the tells in their stances and animations mean you know what's coming.
It's challenging and fun but it doesn't aggravate with the toughness of it. If you don't like it being tough, the Novice difficulty mode seems pretty good for people of all abilities too. You can also change the difficult during missions so it's a well-rounded game in terms of difficulty.
The locations you fight through are quite varied too, all with their own distinct style and colouring which makes sending people flying through it all the more delightful. As far as beat 'em ups go, you don't get much more fun than this. Worth picking up easily.
Feature Highlight:
3 unique fighting styles: fight on earth, in the air or use mysterious magic seals.
Captivating narrative: follow Wei Cheng as he rises from a mere fisherman to the master of Shaolin martial arts.
Stunning visual style: unlikely combination of historical and mystical elements.
Extensive character development system: various unlockable perks, items and fighting styles.
More than 25 different levels: Chinese villages, Buddhist monasteries, Japanese mansions and much more.
10 types of Chinese and Japanese polearms, each with its unique traits.
Co-op play: invite your friend to complete the game together.
You can buy 9 Monkeys of Shaolin from Humble Store and Steam.
We're a little late on the release of 9 Monkeys of Shaolin, as we've been tracking down a graphical bug with NVIDIA GPUs on Linux. It appears that the NVIDIA driver series 455 has an issue with broken effects in 9 Monkeys of Shaolin but previous drivers are fine. The result on the 455 driver is bright blue smoke where fire should be, and bright blue streak effects when attacking - which is very annoying and distracting. Thankfully, the game works great on earlier drivers and the issue has been reported to NVIDIA.
Some you may have missed, popular articles from the last month: