The remastered version of the classic adventure game, Full Throttle, was released on Linux last week. I've had some time to play through the fuel-injected experience and have a few thoughts on the game.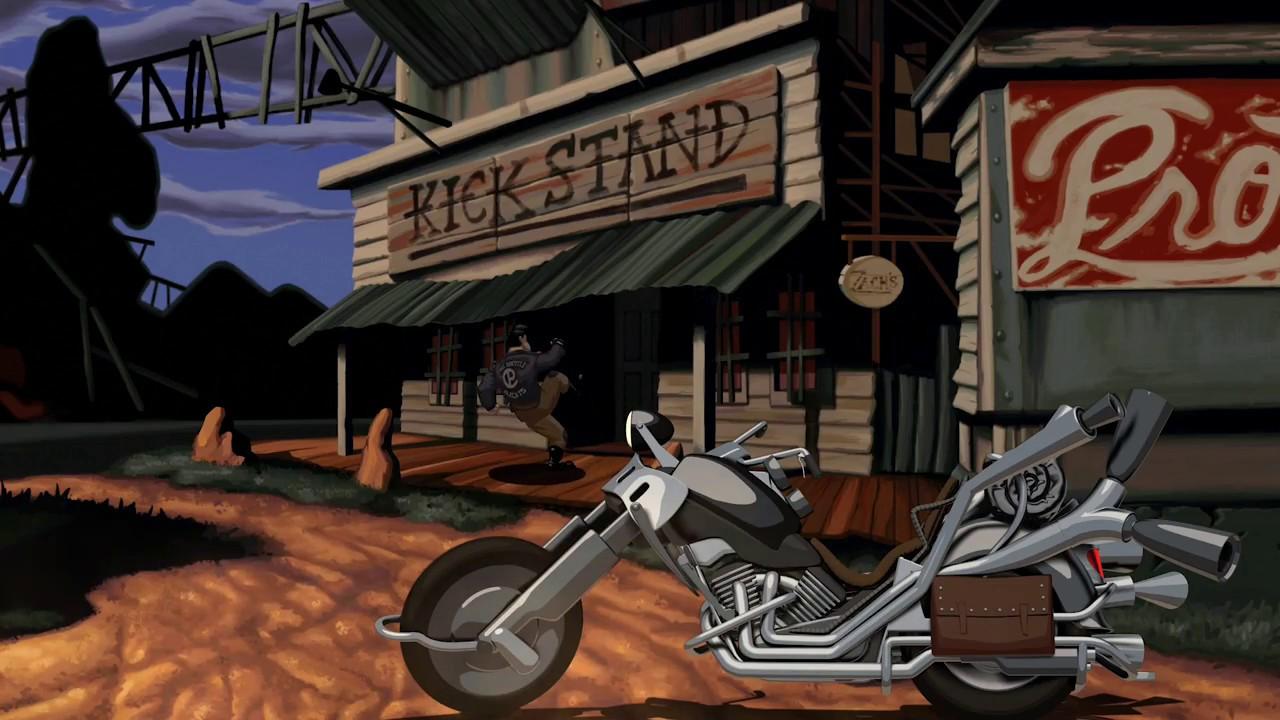 Note
: A key was provided by fellow GOL contributor and the porter for the Linux version of Full Throttle, Cheeseness.
Full Throttle was originally released way back in 1995 and followed many other successful LucasArts adventure games like Monkey Island and Day of the Tentacle. In it, we follow Ben Throttle, leader of the Polecats motorcycle gang as he's framed for a crime and his quest to clear his name and get revenge. Though I played many other adventure games back in the 90s and early 00s, Full Throttle was one I never got an opportunity to experience. So I was curious to see if the remastered version would hold up for someone who had no nostalgia for the original.
In many ways, Full Throttle is your standard point and click adventure game: you move from area to area, talking to people, getting items and figuring out puzzles in order to proceed with the story. The only thing that stands out in the basic mechanics is the fact that the main character is just as likely to use his brawn as he is his wits. Kicking, grabbing and punching are necessary solutions in a few parts, which is about right for a tough-as-nails biker like Ben. I won't lie: it was fun to kick open doors or get payback on those who wronged me with some carefully applied violence.
This is a game that's really focused when it comes to presenting the player with puzzles to solve. The game is broken down into distinct parts and areas where you can travel back and forth, but ultimately are self-contained. What I mean, in a more practical sense, is that the items you have to use almost always have an obvious and near-immediate purpose. I found that I spent very little time scratching my head wondering,
just what the hell am I supposed to do with this?
and more time actually getting through the story. As things happen in the story and you arrive at new areas, you avoid losing time trying out old items and instead approach every situation with fresh eyes.
With all that said, not everything is rosy about the gameplay. Some parts have aged poorly, namely the more action-oriented sequences. At several points in the game you get into fights while riding down the highway with other bikers and must swing your fist or weapons at them in order to defeat them. It's appropriate enough thematically, but there's a part where you need to play a sort of rock-paper-scissors with the weapons you use to get more weapons to defeat other bikers with specific weaknesses and so forth until you get an item needed to proceed with the plot. That felt like a chore. Not a particularly hard one but, because of the movement speed of the protagonist on his bike and some randomness, it wasn't as fun as I'm sure the developers originally intended it to be. It's the same with a later sequence where you take control of a car in a competition, the controls are clunky and the actual gameplay not that stimulating.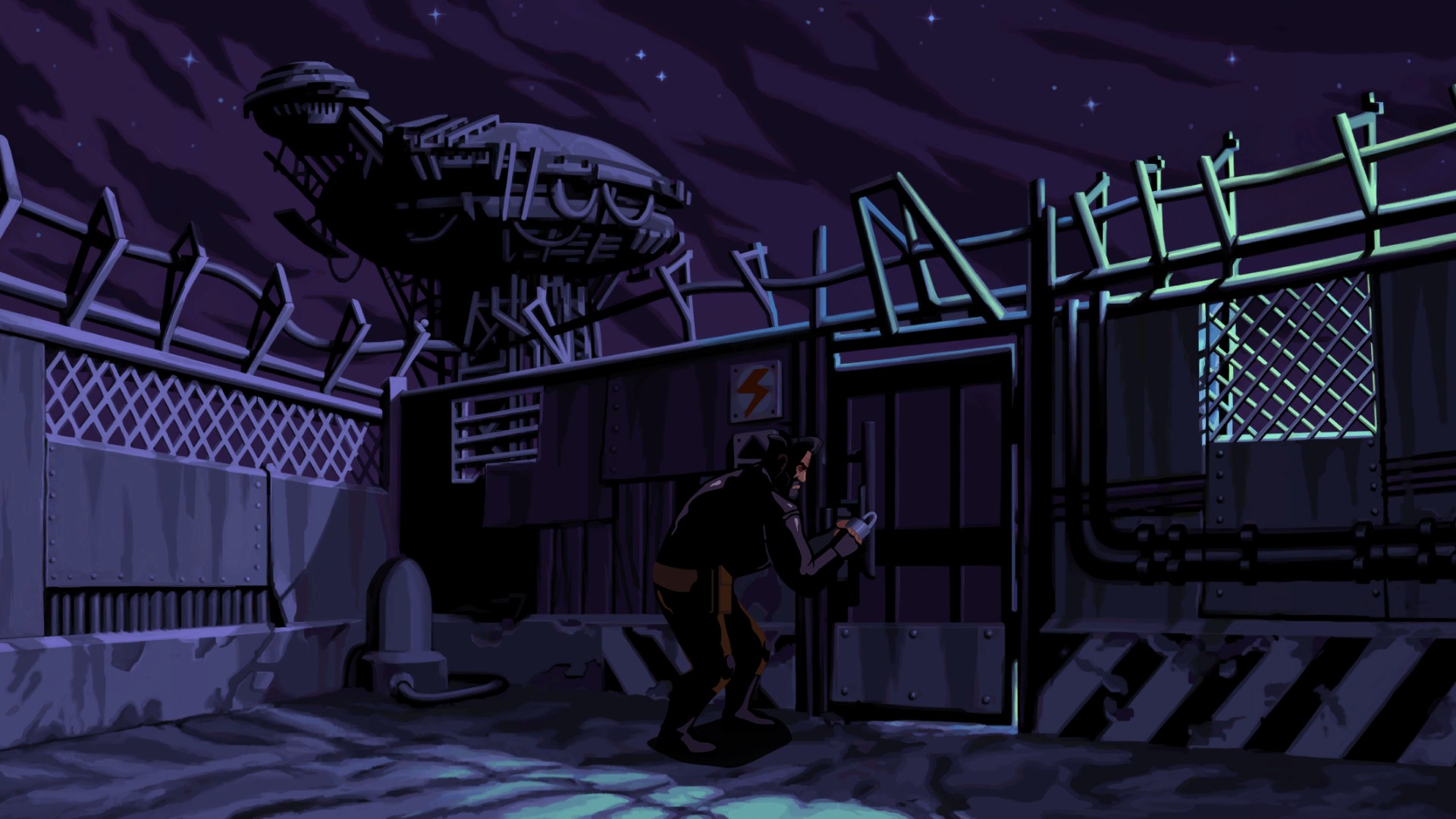 Some areas or puzzles also require clicking on the right place to proceed. This can be a little frustrating as, even with object highlight toggled, some things require you pressing or using an item on a particular place on the object to proceed. The only time I was close to being seriously stumped was towards the beginning of the day where a junkyard sequence involved walking until the screen panned to the side (most scenes don't have panning of any kind!) and then I could get to another screen. Figuring out how to get to a crane in the same area was also a bit of a crap shoot of clicking and going back and forth. Things like siphoning gas or loosening tires or a fuel line also, annoyingly, also required clicking on the exact correct of an object. Thankfully, this level of precision is only needed a handful of times and didn't sour the experience.
In the grand scheme of things, those complaints are minor. The game is effective at keeping a moving tempo and presenting interesting situations to the player that aren't too overwhelming. Sure, you can take your time and examine everything, talk to everyone and try to use your items on every object you see but you don't have to if you don't want to. The hints on what to do next are well done and nothing ever seemed too esoteric to figure out in a proper amount of time.
I dug the relatively serious tone that the game put out. For the most part you do feel like a rough and tumble sort with a chip on your shoulder and the atmosphere the game creates is wholly appropriate. Not that there isn't comic relief or lighthearted moments—on the contrary—there's plenty of fun jokes and situational comedy that is happily understated. It's always more of a smirk sort of charm that the game has going for it rather than the grin-and-guffaw sort of thing that, say, a Sam and Max game might elicit. Even with all the various LucasArts/Star Wars references, it tends on to be on the subtle side of things.
The level of writing and characterization of the game is also pretty impressive. The story is short and sweet and straightforward but characters stand out not only because of the dialog but also the superb voice acting. There are a few noticeable names from the voice acting community that lend their talents to bring the characters alive and they were all used deftly by the director. A great deal of my investment in the game happened because of how convincingly the world was made alive by both the writing and voice acting.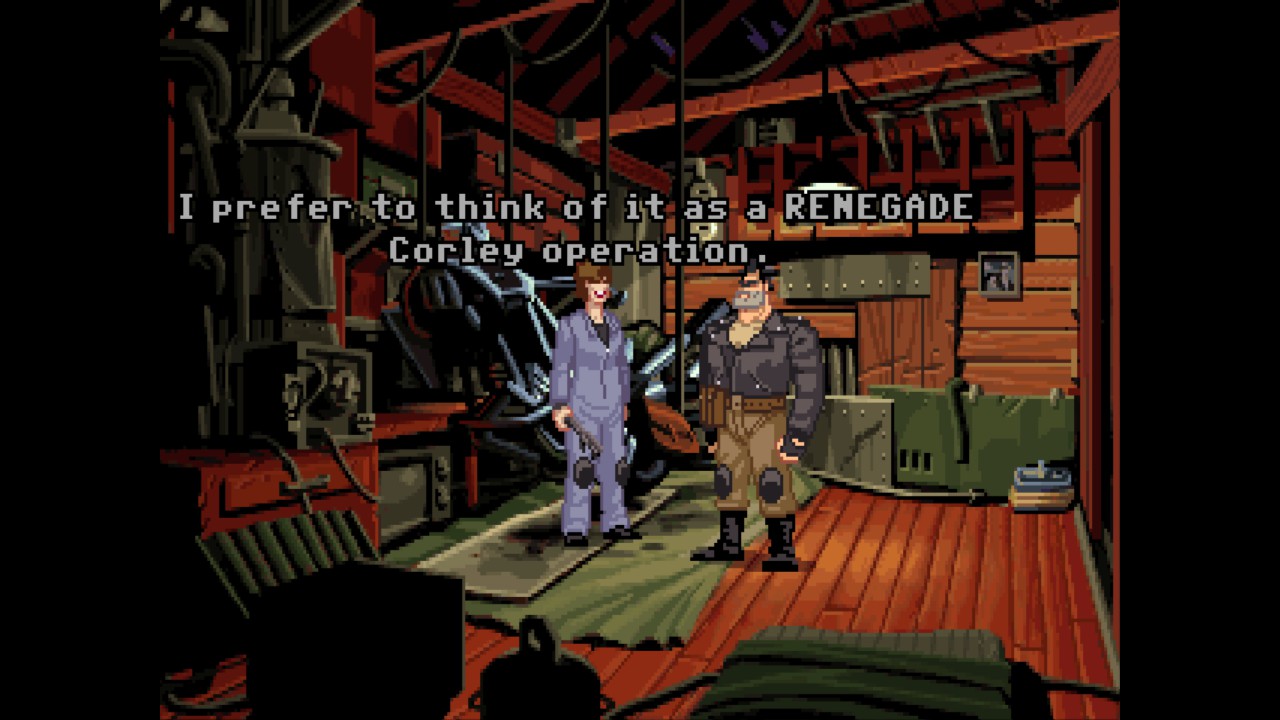 As an aside, this remastered port allows for players to switch to the original graphics of the game at any point by pressing F1 or toggling it in the settings menu. That's a really neat touch that carries over from other LucasArts adventure games that have been remastered.
Turning to the technical side, the port is rock-solid. Ran just fine on my Arch install with Mesa drivers and there were no problems of any kind while playing through it. No bugs that I could see anywhere. Congrats on an admirable porting job, Cheeseness!
With all that said, I think it's safe to say that Full Throttle stands the test of time—a few rogue mechanics notwithstanding. I enjoyed the experience and felt a sense of closure at the story's conclusion even if it was perhaps a little on the short side. I completed the game clocking a little over three and a half hours. I didn't go out of my way to exhaust every dialog and exploration point but I didn't really try to blitz through it either. This makes the game harder to recommend for people who are looking for something that'll occupy them for a long time. Doubly so because there's not much replay value beyond hearing the developer's commentary as you play along.
Still, it turned out to be a delight to play. Despite a few niggles here and there, it's an engaging and outlandish adventure. If you're looking for an adventure game full of character and soul, Full Throttle is a fun ride.
You can grab Full Throttle Remastered on Steam,
Itch
,
Humble Store
or
GOG
.
Some you may have missed, popular articles from the last month: