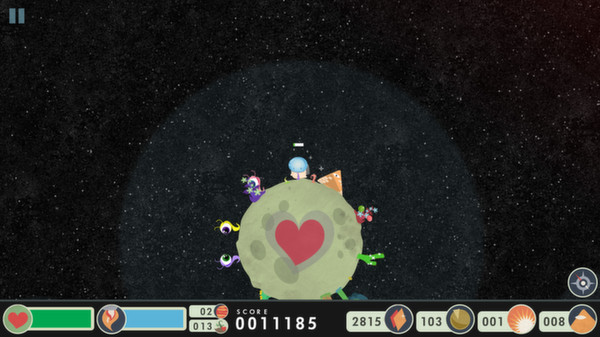 Cosmochoria is a funny little game that puts you in the space-suit of little naked cartoon cosmonaut who jet packs around space.
The game although it is in early access is very playable right now, and it's quite fun as well. The Linux version of the game seems to be well done as far as I can see with no immediate problems that I noticed at all, so it's great to see early access games come out that actually work reasonably well. That's a refreshing change of pace from other early access releases.
There's a lot to like about the game, especially when an official feature is "Grow plants to fill dead planets with your Love Juices." who could pass up the chance to do that? Just don't use up all your fuel and fly off into space risking certain death.
If you give it a go let us know what your high score is, I managed to get over 6000 in a quick run before landing on a planet with lots of aliens, a hive and an alien spaceship decided to come along and drop another alien on my head, ouch. The game is a high-score fest, so once you die that's it and you have to start again. That doesn't remove the fun though like a lot of perma-death games it leaves you wanting a bit more.
My only issue is that right now the game does feel a little bit empty, so I will be interested to see it grow while in early access.
Be sure to
check out Cosmochoria on Steam for Linux
now.
Official About
Cosmochoria is a love letter to old-school action / arcade games like Asteroids, Mario Bros. and Donkey Kong. Cosmochoria is a mesmerizing way to kill hours: hopping between planets, unravelling forgotten mysteries, killing aliens & giant space monsters and planting mysterious seeds to sprout new life across a long-barren galaxy.
Some you may have missed, popular articles from the last month: