The latest DLC for this World War 2 title features the North African Campaign. I unleashed my inner desert fox to defeat my opponents and have a few thoughts to share on the experience.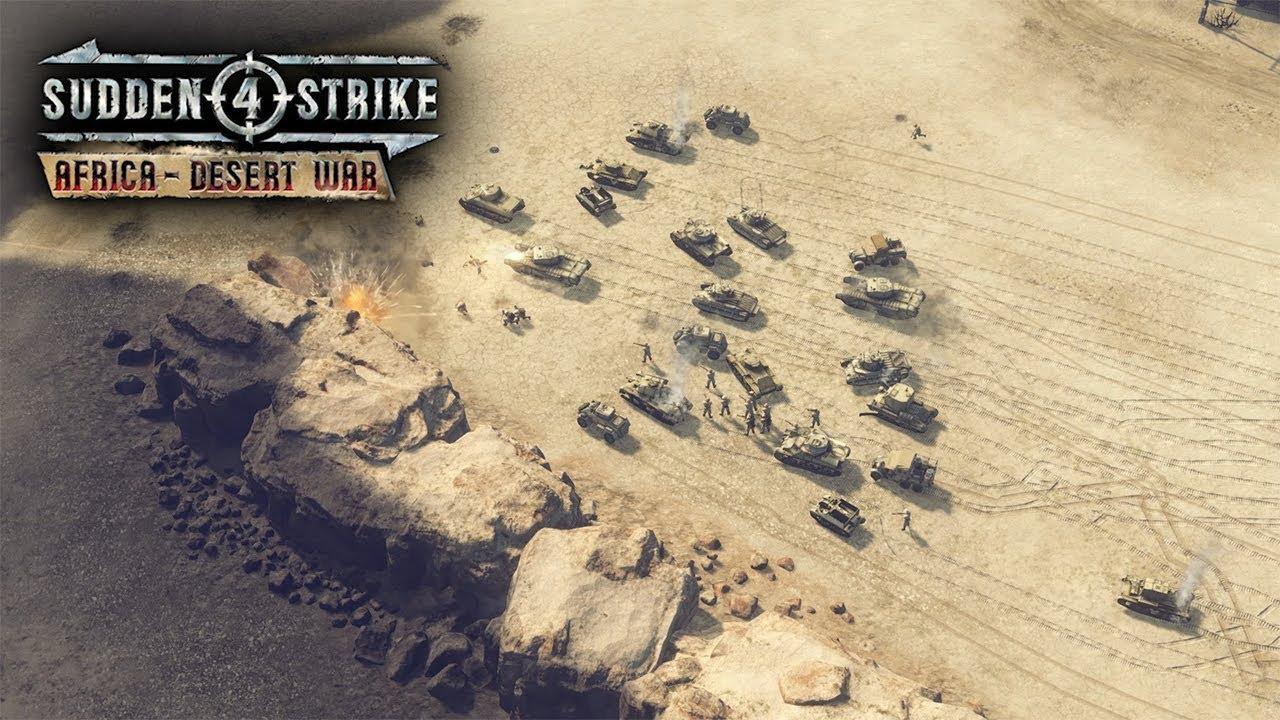 Note: Key provided by publisher
Sudden Strike 4 recreates key battles of the Second World War and allows the player to command troops of various nations. It's a game that emphasizes more the tactical aspects of combat with its real-time formula, eschewing resource management and unit production completely. There's plenty of historically-accurate tanks and equipment to gawk at too, so as a history nerd I've enjoyed playing it every now and again. It's been over a year since the base game's release and I thought it would be worth seeing how the latest DLC has changed things up.
As you might imagine from the title, Africa: Desert War concerns itself with the fighting in North Africa. There are six new single-player missions, half of which see you controlling the British and Commonwealth forces and the other half the Italian and Germans. As with the main campaign and subsequent DLC, there's loads of theater-appropriate equipment and vehicles in these missions. This is one of the stronger points of the DLC along with the historically appropriate presence of the often-overlooked Italian army. It's just lovely to see and hear Italian troops and their various armored cars and tanks.
The missions themselves are mostly the same types of offensive operations in the main game with the occasional defense against a counterattack or a threat on the supply lines. They cover some of the more famous moments of the fighting in the desert like the battles of El Alamein, the Mareth Line and the Kasserine Pass. They're fun, and can be occasionally very challenging, and show off the nature of desert warfare. On occasion, sandstorms may roll in and severely limit the visibility of your units. There's not that much variety to the desert palette as you might expect but there's still plenty of detail to be found in each map. Things like rocky outcroppings, buildings and wrecks and trench lines are peppered in to each location and each battle ends up feeling different as a result.
That said, I did find the missions a little too linear and with little replay value beyond aiming for a higher score. On occasion you may find an extra flanking opportunity or choose which objective to attack first, but things like scripted reinforcements and an AI that's a little too passive at times make it a by-the-numbers experience. At higher difficulties you have to mind your fuel and ammunition more but only rarely was I ever in danger or running out of either, even on the longer missions. As with the main campaign, there's a special challenge for each mission but these boil down to an extra handicap for the player. I feel that with a little more uncertainty and dynamism, there would be more reason to replay these missions.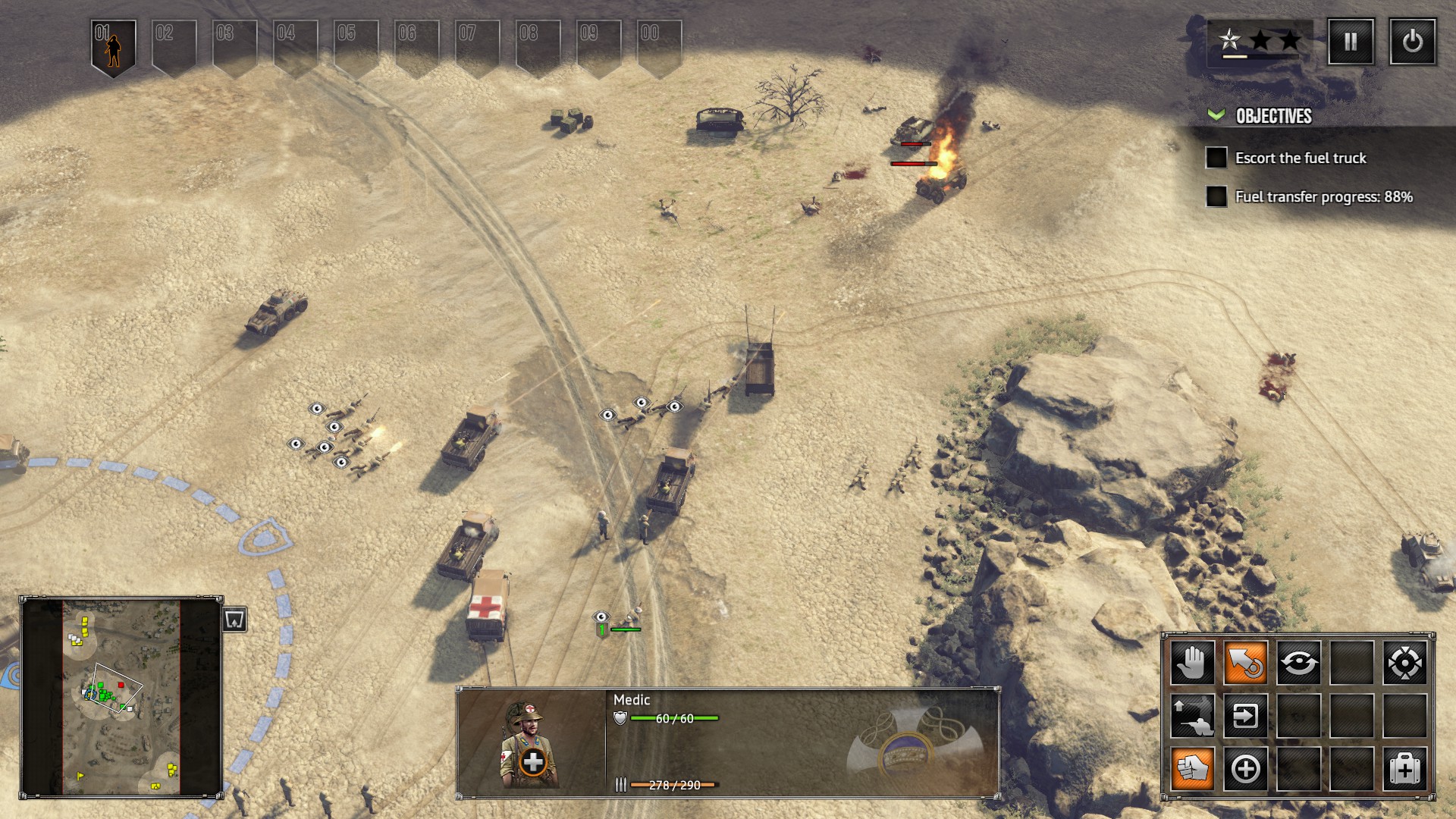 Overall, I think that the enjoyment you can get from this DLC will depend heavily on how much you enjoyed the base game. There's no new killer features or the introduction of an overarching narrative that makes you care about your soldiers and their plight beyond being able to complete the mission. While it's okay for games not to have things like persistent units or named characters that you can feel attached to, I think that Sudden Strike 4's greatest weakness is that it's a little too detached from the conflict it's representing. Sure, there's a paragraph before each mission giving you background information and an after action report that's clumsily narrated but it fails to impart the actual struggles of the men on the ground. It's just a little too neat and, well, game-like. As a result I don't really care that I'm playing as either Axis or Allies or why they were fighting there to begin with.
I don't want to be too unfair to Sudden Strike 4, as it currently occupies a niche that's pretty unique within the broader strategy genre. Still, it was my hope that by now that the developers would have tried different, bolder ideas in their DLC instead of going down this more conservative route. Oh, and they would do well to hire better voice actors for their narration. Minor quibble, granted, but can it really be that hard to hire a British person to narrate the British commander? It piles on to the lack of personality that the game suffers from; it's bad enough that the commanders we choose before missions simply give some stat buffs or special abilities to certain unit types. It's my hope that the developers will make upcoming content more unique.
Still, if you're hungry for more real-time tactics and a selection of pretty and fairly historically-accurate vehicles and troops then you have a good case for picking up Africa: Desert War. Fair warning to all those interested in multiplayer: cross-platform play won't be coming to Sudden Strike 4.
You can get Africa: Desert War on GOG, the Humble Store or Steam.