Observer [Steam, Official Site], the cyberpunk horror game from Aspyr Media and Bloober Team is now available on Linux. Strap in and become a neural detective! Also, it's 15% off on Steam!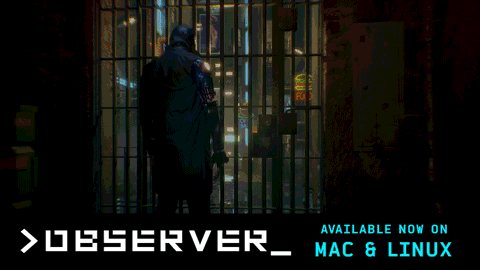 Features:
Observe and Report - You are Dan Lazarski, an elite neural detective known as an Observer, and part of a corporate-funded police unit whose purpose is to hack and invade suspects' minds. In this future, anything you think, feel, or remember can be used against you in a court of law.
A Dark Dystopia - The year is 2084. If you somehow survived the Nanophage, odds are you were killed in the War. Those who live have turned to drugs, VR, neural implants— anything to distract themselves from this new reality. But they can't hide from you.
Interactive Insanity - As you hack into the unstable minds of criminals and victims to look for clues, you will relive their darkest fears, forcing you to question your own reality -- and your sanity.
A New Horror from the Creators of Layers of Fear - The largest and most frightening world yet from Bloober Team! Lose yourself -- and your sanity -- in the dark dystopia that is 2084. >observer_ is a horror experience meant for mature audiences. What you see will disturb you.
System requirements
I was hoping for the launch to have better news to report about it supporting AMD GPUs on Linux, but prepare yourself. I spoke with Aspyr Media, who confirmed to me the team has "currently no plans to support AMD at this time for Observer".
So for now, you're only supported using an Nvidia GPU and that might not change in future. It's possible it may work, but I do not have AMD hardware to report on. Here's the rest of the requirements:
Operating System: Ubuntu 16.04, 17.04, SteamOS 2.0
Processor: Intel Core i3 / AMD A8-6700
Processor Speed: Intel (3.4 GHz), AMD (3.1 GHz)
Memory: 8 GB
Hard Drive Space: 10 GB
Video Card (NVIDIA): GeForce GT 680
VRAM: 2 GB
I shall be livestreaming the game in less than an hour - follow us live on Twitch to get in on the fun. Someone pass me my spare pants, I'm going to need them. Note: My key was provided by Aspyr Media directly.
I've given it a very brief test before I begin the livestream and it does seem to work fine on High settings with my i7 5960x and 980ti, although it's not a solid 60FPS.
Some you may have missed, popular articles from the last month: