Haque [Steam, itch.io] looks like a rather unique roguelike with a suspiciously talkative narrator, cute monsters and a world that's falling apart.
Disclosure: Key provided by the developer.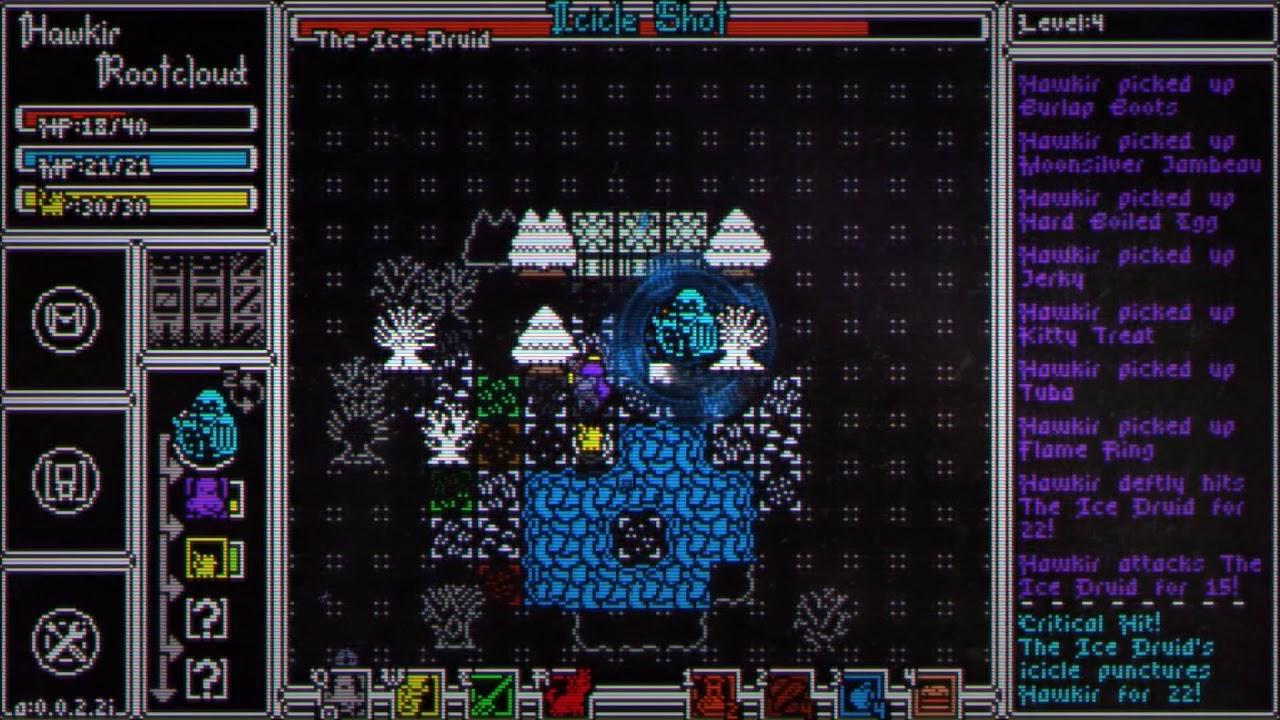 I'm not often a fan of low-bit retro graphics, but Haque feels firmly unique in style. Visually, it's actually quite good looking I think. For a roguelike, it also has a surprisingly clean and clear UI, something I often find severely lacking in others. While it's obviously quite retro, it still has some nice modern features like hotkeys, full mouse support including hovering over items to see details and more.
Roguelike games and retro-graphics are something rather common for Linux gamers, however, something about Haque has me positively hooked on it. The glitchy style to the game slightly resembles a tamer version of Pony Island, especially the intro when the game is loading and you're greeted with an old terminal and the game appears to crash just before the logo screen appears. It's clever with it, without becoming a nuisance.
What I think I'm most surprised by, is that fact that it has some nice animations too. They're all quite simple, but it's vastly different experience to what I was actually expecting from it. You're not alone in your journey either, as you can find a pet to travel around with you and you can adjust their AI behaviour at the click of a button too.
For those who aren't a huge fan of the retro style, it can be adjusted with a few different options. You can completely turn off the CRT screen effect, but you can also adjust it to make it cleaner and have less lines, or you could go truly retro and make it look terribly dirty, which was a bit amusing.
Features:
Character selection featuring an endless array of randomised characters
Detailed character statistics and a classic armour slot system
Procedurally generated maps and settings
Challenging turn-based combat with an emphasis on movement and strategy
Dozens of unique enemies-- don't get surrounded!
Rotating roster of bosses, each with different fighting styles and priorities
Hundreds of items to equip, eat, or... reanimate
Weapon and armor crafting
New character quirks at the end of every level
In memoriam screens to immortalize your permanently dead characters
A slider for screen grime!
In my first play-through, it gave me the option to play as a Werewolf, so naturally I picked that because it sounded glorious. The abilities are fun too, my transformation increases my statistics while draining the MP. I mentioned the animations before, but they really are great at times. Taking down certain enemies, can end up sending bits of them flying across the screen—hilarious.
You can find Haque on Steam and itch.io. If you're a fan of roguelikes, I consider this a must try. Even if you're not traditionally a roguelike fan, I think you should take a look considering how easy it is to get into and get going, while giving a good challenging. My biggest surprise is the gamepad support, it was lovely with the Steam Controller to make an even more fun experience to sit back and chill with.
There's also a fun little gift for Linux gamers—they patched the game recently with Penguins as an ultra rare pet. That's not amazingly interesting by itself, but do note this bit "Common in December, January, and February or year-round if playing on Linux". I might like this developer a lot.
Some you may have missed, popular articles from the last month: