Herald: An Interactive Period Drama - Book I & II [
Steam
,
Official Site
,
GOG
] released for Linux recently, but sadly it got a little buried in my inbox. It's an interesting mix of a visual novel with a point & click adventure and I took a look.
Disclosure
: Key provided by the developer.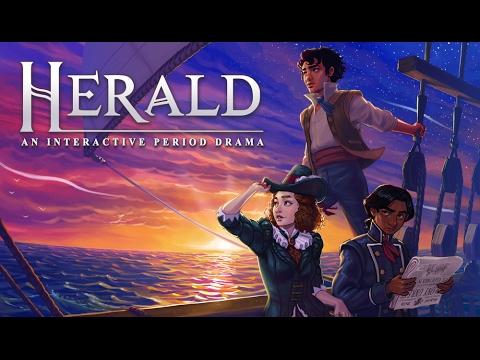 Herald takes place sometime in an alternate 19th century where the West has come together as a colonial superpower: the Protectorate. The Protectorate don't sound particularly nice to anyone, regardless of race. In fact, they sound like thugs.
You control a young ship-hand, Devan Rensburg, who joined the crew of the Herald to make his way to his country of birth and find out more about his Indian roots. It's a choice-driven drama, with you given a choice of multiple answers to every question. Some good, some bad and it's an interesting experience to watch the story unfold with those choices.
I must admit, from the first moment of the game I was enthralled by it. The gorgeous presentation, the fantastic voice work and the rich drip-fed backstory captured me right away.
What makes it truly interesting is that the main gameplay is actually in the past, as you're re-telling your story to someone who has you captive. The way it switches between the two sections is interesting too, as you try to explain yourself to your captor.
It's also interesting how it thrusts racial issues upon you, with the captain referring to issues with "your people", but you generally get treated quite reasonably by the crew, depending on how you speak to them. It's not too in your face with the racial issues either, but rather making it a point about the world and the time period. Your skin colour is never directly mentioned, for example, but you get the clear indication that skin colour plays a large part in the world right now.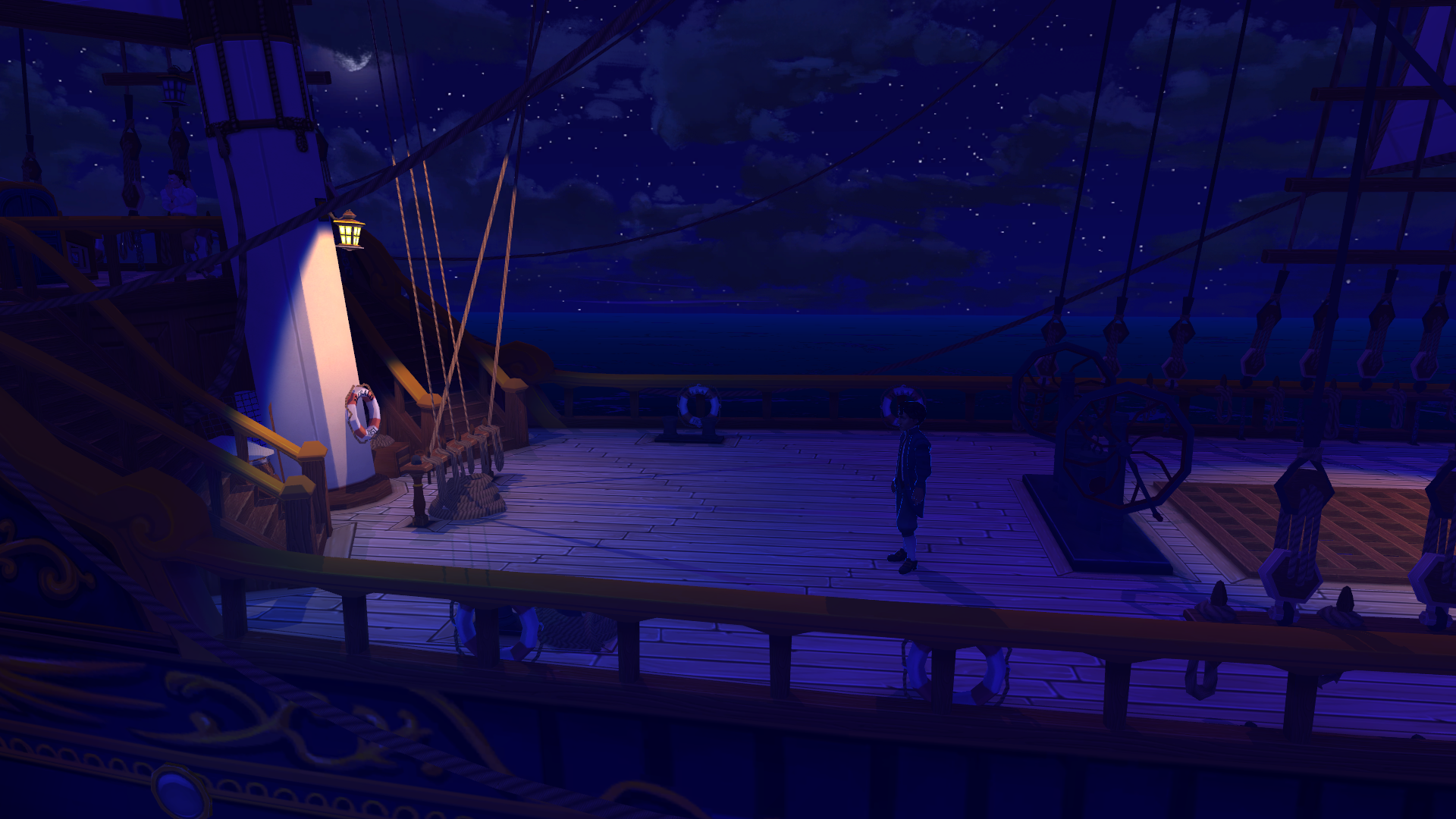 The story builds up slowly, but there's a lot of detail to be found if you take the time to explore, rather than just go blindly from one errand to the next. You will be dealing with racial issues, social issues, running errands for various crew to find missing weapons and more.
While the story builds up slowly, it doesn't force you into meaningless clicking around. Often, when you've encountered a particular part of the story, or acquired a requested item, the game will transition to where you're needed preventing the need to click-click-click just to get back. This has really helped my enjoyment of it, since it removes a lot of boredom I often find in these types of adventures.
It also becomes more and more exciting as you progress through the second part, lots of little twists and turns and something involving a ghost. Safe to say I did not expect what happened with the ghost, the writing took me completely by surprise.
One bit made me cringe involving puss and cutting away at flesh, the writing is certainly hitting on all the right buttons. Also, the song in Book II with the piano backing was really quite fantastic, I opted to silently listen for longer to enjoy it some more.
Issues
On High settings the performance is a little low, but thankfully it's not really noticeable due to the genre and how slow-paced the game is anyway. The kind of performance you only really tell in a few specific situations like the camera zooming out.
On completing it, the credits rolled and then it went to a black screen. I assume it was supposed to go back to the menu, but it did not. The music carried on playing and I had a cursor, but nothing happened forcing me to quit it. Not a big deal, loading it back up tells me I've finished it ready for the next two Books.
Final thoughts
Overall, an incredibly polished episodic adventure game. Great graphics, great voice-over work and it doesn't dance around racial issues, but makes you really think about the struggles people face.
Considering the absolute cliff-hanger Book II ends on I am excited for Book III & IV. It's not a long game, with both available episodes together coming in around the 3 hour mark in total, although you can probably stretch that another half an hour. I thought it was fantastic and I'm not generally a big fan of these games. I played it through in one single sitting I enjoyed it that much, so to me it's quite the special case.
If adventure games are your thing, do make sure you put it on your radar. It's also slightly amusing that Jim Sterling voiced one of the characters, took me a moment or two to notice, but he did well.
Some you may have missed, popular articles from the last month: