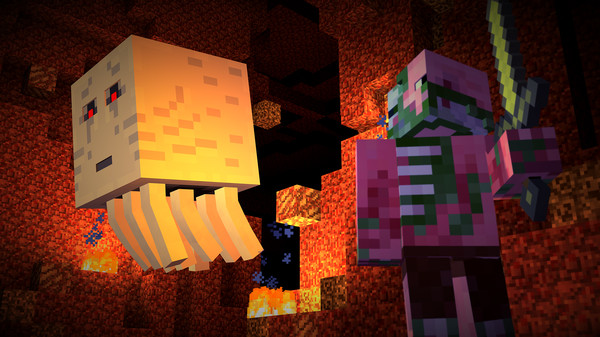 Telltale games are highly rated, so it's pretty exciting to see the possibility of
Minecraft: Story Mode
on Linux.
It seems quite a few people feel it's not as good as previous Telltale games, going by user reviews anyway. I've not had a chance to play any of their previous games since they don't support Linux.
According to
SteamDB
it seems like it will come to Linux:
QuoteChanged App Config
launch/2/config/osarch: 64
launch/2/config/oslist: linux
launch/2/description: Launch
launch/2/executable: Minecraft
launch/2/type: none
And
also
:
QuoteChanged UFS
savefiles/2/path: .local/share/Telltale Games/Minecraft
savefiles/2/pattern: *
savefiles/2/platforms/1: Linux
savefiles/2/recursive: 1
savefiles/2/root: LinuxHome
savefiles/3/path: Telltale Games/Minecraft
savefiles/3/pattern: *
savefiles/3/platforms/1: Linux
savefiles/3/recursive: 1
savefiles/3/root: LinuxXdgDataHome
This would be the first Telltale game on Linux, so it may be possible for future games to come too.
About the game
(Official)
THE ADVENTURE OF A LIFETIME IN THE WORLD OF MINECRAFT
In this five part episodic series, you'll embark on a perilous adventure across the Overworld, through the Nether, to the End, and beyond. You and your friends revere the legendary Order of the Stone: Warrior, Redstone Engineer, Griefer, and Architect; slayers of the Ender Dragon. While at EnderCon in hopes of meeting Gabriel the Warrior, you and your friends discover that something is wrong… something dreadful. Terror is unleashed, and you must set out on a quest to find The Order of the Stone if you are to save your world from oblivion.
• Created by award-winning adventure game powerhouse Telltale Games, in partnership with Minecraft creators, Mojang
You can find
Minecraft: Story Mode on Steam
.
Thanks to the fine folk who sent it in.
Some you may have missed, popular articles from the last month: