I managed to complete the brain-hacking horror game Observer in two sittings live on our Twitch, here's some thoughts.
Disclosure: Key provided by Aspyr Media.
If you want to see the entire playthrough that I did live on our Twitch channel, you can find Part 1 here and Part 2 here on YouTube.
Observer paints a very bleak future for human kind. After the "NanoPhage" (a digital plague) wiped out thousands and a major war between the East and the West, the world has become pretty dark. The only winner was Chiron, a huge corporation that seized power, with no one left to oppose them. It's set in 2084 Poland and you are Dan Lazarski, an Observer, someone who literally plugs into the brains of others to gather evidence.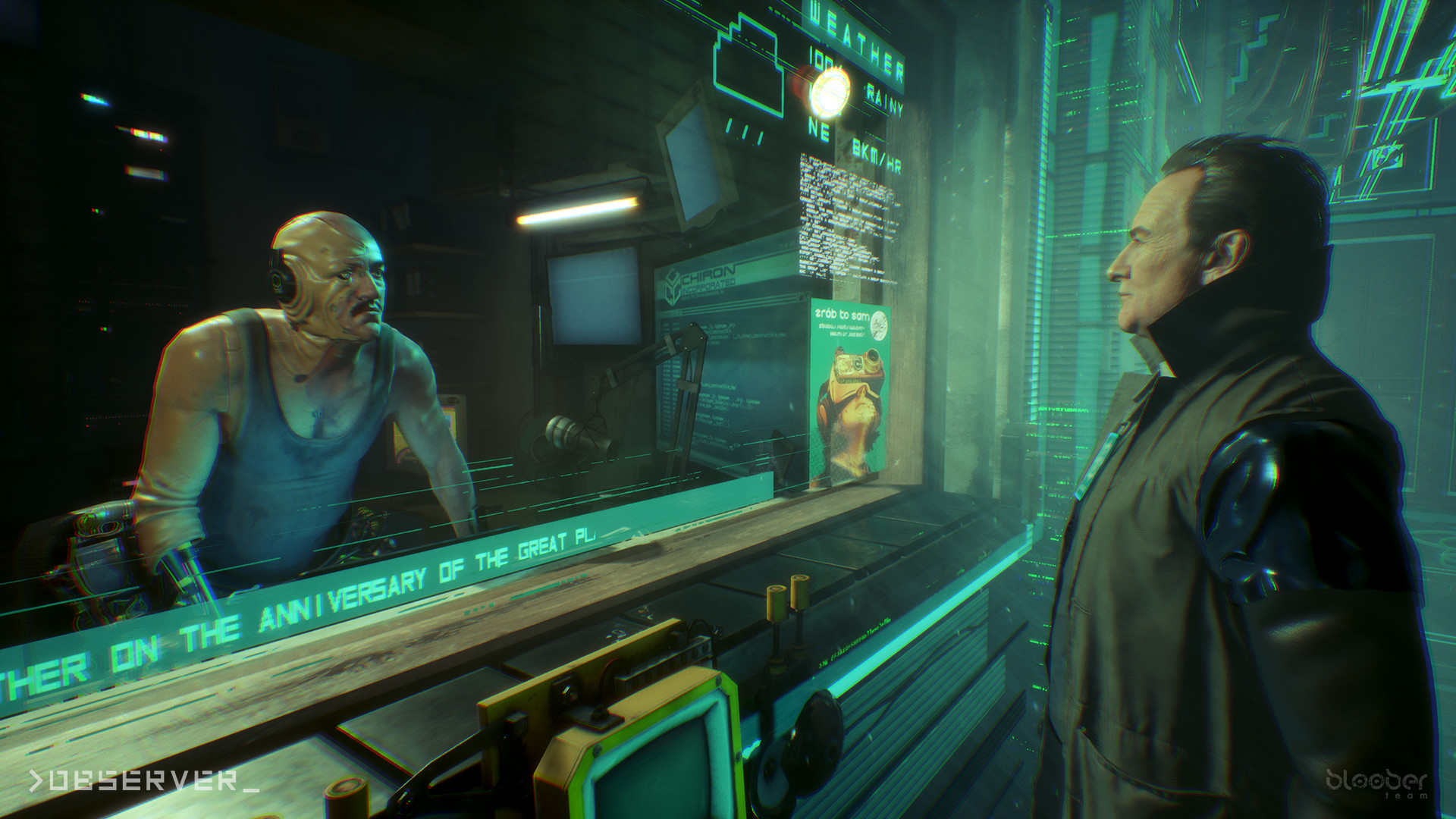 Honestly, I wouldn't say it was actually all that scary overall. There were a number of moments that made me jump, sure, but overall as a game it wasn't the type of horror experience I was expecting. If you're after something to completely terrify you, this probably isn't it. However, if you go in expecting an adventure game with horror elements then it will probably satisfy you. Most of the horror is psychological, with the use of some fantastic audio work that leaves your mind to wander into the unknown.
Visually, it's a wet-dream for sci-fi fans. Mixing in retro-futuristic devices that could have been taken out of an 80s film depicting the future, with reality-bending overlays. It's like if you mixed the technology from the Aliens film and merged it with Virtual Reality interfaces.
It's a clever story too, with your character's own fears and memories leaking into the minds he's currently hacking into. It creates some truly incredible scenes, both disturbing and thought provoking, not to mention confusing.
The game does an excellent job of keeping you on your toes, keeping you guessing and wondering just what the hell is going on. It perfectly blends the lines between what's real and what's not. The story is done exceptionally well for the crazy setting they created. Thanks to playing as Lazarski, who gradually starts losing his mind, things get more than just a little weird.
The level design and environments are incredible, it offers up an experience I truly think I've not had with any other game. There were moments of sheer panic when the walls around me started crumbling away, when I turned and found everything had changed and with items that phased in and out of existence as I moved around. It's constantly mesmerizing and elements of it are terrifying, as everything is so constantly unexpected.
I think Rutger Hauer did a fantastic job of portraying Dan Lazarski. His delivery was near-perfect on every line. The sounds he made when you wake up, all confused and delirious after hacking a brain was some fantastic acting. My only complaint is that the voice-over was often a little on the quiet side compared to the rest of the game's audio, so having subtitles on did become a necessity.
One part of the game did annoy me, which was the way you picked dialogue options and interacted with the environment. It was often hard to tell exactly where the mouse pointer was to pick an option. You get what looks like a single white pixel, which was a bit annoying.
I should note, that the game does have two major issues in the Linux version. The mouse often becomes hard to move. I'm unsure if it's intentional or not, but it seems the mouse behavior is extremely strange. Often it's as smooth as silk, other times it felt like I was fighting my mouse just to look around.
On top of that, performance wasn't great. Even on Medium settings, I often saw massive FPS drops, sometimes in really important situations, and it wasn't pretty when it did that.
It took just short of five hours to finish. To me, the length was pretty perfect, unlike some horror and adventure games that drag on and put padding into everything they can, Observer told exactly what it needed to.
In terms of audio, story and graphics it's close to a masterpiece in my eyes. Not quite due to quiet dialogue, performance and mouse issues, but close. I enjoyed almost every single moment spent in it. Honestly, I would say it's the game I've enjoyed the most this year so far.
I would really love to see more stories made from this universe—fantastic.
You can find the Linux version of Observer on Steam.
Some you may have missed, popular articles from the last month: