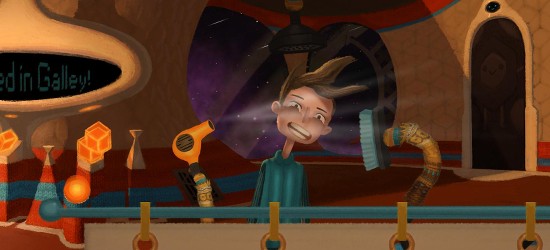 Game Information:
Name:
Broken Age
Released: April 28, 2015
Developer: Double Fine Productions
Rating: 7/10
Documentary Rating: 9/10
Hardware Specifications:
Processor: Intel i7-4770K, s1150
Video Card: Nvidia GeForce GTX 650 Ti Boost 2GB
Memory: 16GB DDR3; Corsair Vengeance LP 1600
Hard Drive: Samsung 840 EVO, 250GB
Software Specifications:
Distribution: Linux Mint 17.1
Kernel: Linux 3.13.0-37
Graphics Driver: Nvidia 331.113
Desktop Environment: Cinnamon 2.4.8
This review is virtually spoiler free.
It's easier to understand the impression
Broken Age
has left on me by telling you a bit about myself. I've always been a fan of old school adventure games. During the last decade of the twentieth century I enjoyed playing games such as
King's Quest V
and
VI
,
Leisure Suit Larry 6
, and
Woodruff and the Schnibble of Azimuth
. My favourites were
Day of the Tentacle
and
Indiana Jones and the Fate of Atlantis
. There's a poster of the latter above my bed. In 1997 I moved to Linux, and my computers have been Linux-only since. While I played online Flash games and used DOSBox to play DOS games, I primarily played free software games, such as
The Battle for Wesnoth
,
SuperTux
and
NetHack
.
Three and a half years ago I didn't know about the existence of video game developer Double Fine. I didn't know about Kickstarter. Not even about Steam. Around that time I noticed that more and more games got Linux ports.
Machinarium
was the first game I bought for Linux. Double Fine's Kickstarter project for "Double Fine Adventure", the working title of
Broken Age
, then caught my attention. In its pitch video, Tim Schafer announces his plans to create a fan-funded old school adventure game. Video production company 2 Player Productions would document the development of the game. The phrase "old school" got me interested. This would be an old school adventure game, with pixel art graphics and a list of verbs, or at least a verb coin. This is what Schafer, who (co-)led the development of
Day of the Tentacle
and
Full Throttle
, had to be referring to. The pitch video even shows him using a "pick up" verb on a glass, and an inventory with pixely items. After Double Fine had confirmed the game would have Linux support, I backed their Kickstarter project.
One of the first videos that 2 Player Productions published about the project was a talk between Schafer and Ron Gilbert. In it, Schafer mentions his excitement about working with artist Nathan Stapley. No matter how skilled Stapley is, his work is not pixel art. During the first documentary episodes it also became clear that Schafer wanted to simplify interaction to just a single "interact" action. Ron Gilbert was not going to be involved with the project. Disillusioned and disappointed, I stopped following the development of the game. Just because it's not fully 3D doesn't mean something is "old school".
I joined Steam in February 2013, because
Broken Age
would first be distributed to Kickstarter backers via that platform. One of the games I've since purchased and played is
Gemini Rue
. It turned out to be the old school game I was waiting for. What a great game. The atmosphere, storyline, characters, music, and so on; it did almost everything right. It was praised by critics and users alike.
Gemini Rue
is basically a one-man project. It took Joshua Nuernberger three years to create. Even if his game had, say, a $260.000 budget, double that of
The Secret of Monkey Island
, that's still only
a tenth
of what Double Fine used for just the first act of
Broken Age
.
It took me years to accept that Double Fine's game would not meet my "old school" expectations. It was also difficult to accept that Double Fine had to invest millions of their own money to finish the second act of their game. Two months ago, Double Fine started uploading 2 Player Productions' documentary episodes to YouTube. I started (re)watching those and got excited about the game again. What a great documentary. When I backed the Kickstarter project, I didn't care about the documentary at all, but in the end the documentary is the reason I'm glad to be a backer. Being able to follow the bittersweet development of this game from start to finish is both entertaining and informative.
I recently finished playing
Broken Age
. The game works fine under Linux. I didn't run into a single bug or glitch, and it didn't crash once. I've always had good experiences with the Linux versions of Double Fine's games. Contrary to what Schafer - jokingly, probably - states in the Kickstarter pitch video,
Broken Age
is neither great nor a failure.
The game's menu screen is simple, but the visuals and music create a nice, open atmosphere. The in-game interface is straightforward and allows for both "click" and "drag" interaction styles. The game shows where hotspots are. There are relatively few hotspots, mostly because almost all are actually relevant at some point during the game. What I liked is that the protagonists lose or throw away items that the player never needs to use again. I also like the idea of having Vella, the female protagonist, look around and interact with things using a monitoring system. However, there are several problems with the interface. During a conversation, when the player is done reading subtitles, it's impossible to quickly bring up the next sentence; only to quit a conversation or skip ahead to new dialog options. Also, when unsuccessfully trying an item on something, the game immediately moves the item back to the inventory. The inventory itself can be in the way when it suddenly shows up if the player tries to interact with something in the lower left of the screen.
The game has a good mix of female and male characters. The graphics are quite blurry. Even the characters' faces are blurry, with the exception of the protagonists'. When Vella talks with, for example, Levina, the differences become very clear. Most events of Act 2 take place in areas that are also present in Act 1. I didn't mind this; it's entertaining to see the various subtle changes. One potential problem with adventure games is that the player needs to walk around too much; that the player traverses the world without doing much else. In Act 2, Vella and especially Shay, the male protagonist, can go to many places almost without restrictions. As a result, having to walk back and forth between places occasionally becomes annoying. Even with Vella, when teleporters disallow her to enter. On the positive side, the game allows players to double-click screen borders to quickly exit screens.
Broken Age
is not a "walking simulator".
Unfortunately, every now and then the game does feel like a "talking simulator". The player just finished talking with one character and several more character are waiting to share their views of the world. So much text. The voice acting is all right, but several of the secondary characters clearly have more interesting voices than the protagonists. Vella's voice acting in particular at times felt amateurish and was distracting. Alex seemed to be almost completely emotionless. Most of the game's dialog is not funny; only some of it made me chuckle. Curtis and Harm'ny Lightbeard are funny characters, and the behavior of Jessie - a bird - made me smile.
The puzzles in Act 1 are too easy. There are not enough items and hotspots, which means that trying everything on everything is an easy solution for most puzzles. In Act 2 some of the puzzles are more clever. Most of the puzzles are logical. There are several wiring puzzles, and the game allows the player to try and solve the first one without having all the required information. Players can fall into this trap and try many combinations before giving up and looking for additional clues. One thing I really dislike about
Broken Age
are its timed puzzles that reset progress upon failure. Unfortunately this includes the big, final puzzle of the game.
Details can make or break a game.
Broken Age
got it right several times. For example when the monitoring system changes Vella's hair, and when the protagonists hold up eating utensils when these start talking. Some aspects of the game seem out of place. For example, Vella doesn't seem to mind (potentially) killing one of the game's characters, and some heavy sexual innuendo about adolescent girls also seems out of place.
Overall the game is all right. It took me about twelve hours to finish
Broken Age
. Four hours for Act 1 and eight hours for Act 2. It took me six hours to finish
Gemini Rue
. I'm still so much more impressed by
Gemini Rue
that it's difficult not to recommend gamers to play two games like
Gemini Rue
instead of picking up
Broken Age
. Millions upon millions of dollars were invested in
Broken Age
, but it's still not as impressive as
Gemini Rue
. I get the impression that a lot of money was invested into creating the custom engine for
Broken Age
. It will be interesting to see if Double Fine will release another work created with the engine in the future. While I understand that Double Fine wants the price of
Broken Age
to be higher than the $15 Kickstarter tier, the $25 base price on Steam is too much. Wait for a -50% sale before you pick up this title. It also annoys me that the full game is $9.99 on iTunes. It has already had a -50% sale there. Why is the game so much cheaper for iPad and iPhone users? Maybe we should all just wait for Double Fine's special edition of
Day of the Tentacle
. Now
that
is a great old school adventure game.
EndeavourAccuracy
(Norbert)
Some you may have missed, popular articles from the last month: