Chroma Squad is a throwback to shows like Power Rangers, and I took it for a spin to see if it's cringe worthy, or actually fun.
About the game
(Official)
Chroma Squad is a tactical RPG about five stunt actors who decide to quit their jobs and start their own Power Rangers-inspired TV show! Cast actors, purchase equipment and upgrades for your studio, craft weapons and giant Mechas out of cardboard and duct tape. Once the cameras are rolling, you will control your cast of five colored-jumpsuit-clad warriors in dramatic, turn-based battles!
Linux gameplay video
No commentary, just a video to show you how well it runs, and how good it is. You also get to see a boss enemy that hilariously resembles the game "Pop-up Pirate" if anyone remembers that?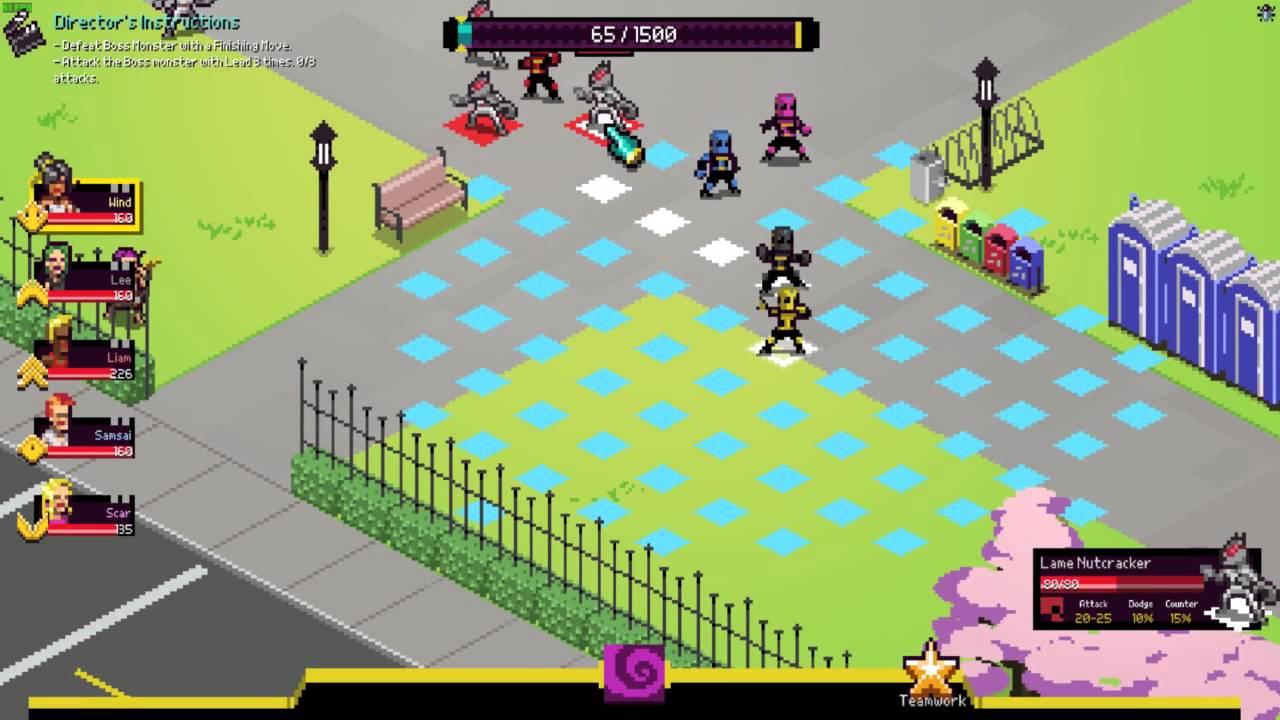 My thoughts
Performance
I have yet to come across any issues, and the game has been performing like an absolute champ. It's not exactly a resource intensive looking game, but knows what's going on behind the scenes.
It's another game that has no graphical settings other than resolution, so people with underpowered PC's may still want to be wary.
Gameplay
Honestly, I expected this to be some sort of cringe fest that I would put down pretty quickly. I am very happy to be wrong in this case.
There's absolutely loads to love about this game, from the starting options of picking your squad members, naming them, colouring them, to then choosing a gameplay style. You can play it with RPG mechanics, and without, so it will suit different people which is fantastic.
I'm glad I named one of my characters after our
GOL Cast
specialist Samsai, as it does make for some funny interactions. Seriously, name your people after people you know, it makes it so much more enjoyable.
The characters are hilarious too, I don't want to spoil too much, but I will share this one spoiler: When you get sent back into combat in episode one after talking to "Cerebro", you come across a man in a cardboard box with boxing gloves named "Boxing Box". It's extremely amusing.
You even get to upgrade your makeshift studio to make it look better, and give you audience advantages, but it will cost money to maintain every episode, so chose wisely. I of course went for a big studio upgrade to have a cool looking robot in the corner.

Combat
The combat system is a simple turn-based affair, but it does have a unique part to it which is the "Teamwork" function. Using this can enable a special attack, double attacks, flipping your actors around the place and more. It's really fun to do, and really helps in sticky situations.
The names of some of the moves are well done too, like the "Healdouken", which is a homage to the Hadouken from Street Fighter.
During the combat you get instructions from your director, and they aren't always easy to do. I have actually failed a few of them. One of these directions was to finish a boss monster with your special finishing move, and after lining all my Chroma Squad members around the Boxing Box I proceeded to make them all use Team Work and take him out, but sadly it wasn't enough to finish him off, and it lost me some audience for doing it too early, dammit!
Once you finish your first real battle, and collect some loot you also gain access to a crafting options, so you don't have to spend all of your precious income on shiny new boots.
Graphics
While I know some people turn their nose up at pixelated graphics, this game makes it look charming. I'm not the biggest fan of pixel graphics, as I grew up with them and played them to death, but something about Chroma Squad's use of it has kept me entertained.
On my first real battle during the first episode, I didn't even realise I could "transform" my characters into their battle suits, and once I realised this, the game became even more awesome. It gives you a camp little cut-scene where they transform into their suits, and you gain access to their equipped items and abilities.
Minor annoyances
I have two gripes with the game so far, and they really are minor.
The first one is I would like to be able to skip the Chroma Power special attack cutscene. The second is when clicking on an item like a Gun in combat you may not be close enough to use it, so quickly pressing ESC would be nice to get back to movement rather than attack, rather than having to move the mouse to the tiny little X.
Final Verdict
: I found it genuinely exciting and funny, it's really not one to miss. Even if you never watched old shows like Power Rangers and what it is based on, this is a seriously fun game.
Check out Chroma Squad on
Steam
, on
GOG
, or on
IndieGameStand
.
Some you may have missed, popular articles from the last month: