Geneshift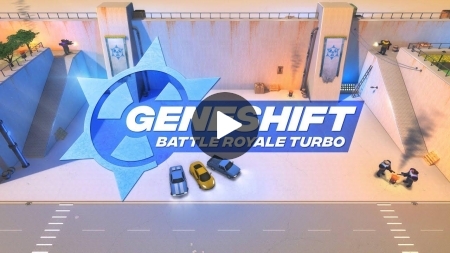 Release Date
2017-05-23
License
Proprietary
External Links
Steam, SteamDB, PCGamingWiki
Genres
Action, Battle Royale, Top-down shooter
About this game
:
Battle Royale Turbo
Be the last man standing in a series of turbo-fast rounds, where the circle shrinks every 2 minutes. Get points for winning each round as you level up for the final showdown. If you die you become a zombie, and can keep looting to prepare for the next round!
Singleplayer Bot Matches
Play against intelligent, life-like bots on various difficulty levels. While playing offline you can still complete challenges, level up, unlock new items, and compete on leaderboards.
Full Singleplayer Campaign (Included DLC Bonus)
Save the world in the singleplayer campaign. You can play solo or co-op with up to 4 friends online. Progress in the campaign is shared with progress in multiplayer modes.
Join Multiplayer Instantly
Start playing within seconds of game launch. No need to queue before joining a game.
5 Classic Game Modes
Play Battle Royale, Capture the Flag, Team Deathmatch, Conquest, and Checkpoint Racing.
Strategic Progression System
Level up and unlock new items as you progress to the top tier weapons, cars, and abilities.
Daily Leaderboards
Compete on daily leaderboards, and receive bonus rewards for finishing near the top.
Over 100 Challenges
Earn bonus XP by completing challenges, like mid-air knife attacks and vehicle jumps.
Insane Vehicle Action
Ride with allies to do drive-by shootings, detonate car bombs, and fire homing missiles.
Over 30 Tactical Skills
Unlock special abilities like Invisibility, Bouncing Bullets, Fire Balls, and Teleportation.
Secret Base Building
Place hidden chemicals to gain secret benefits, like selling weapons and spying on enemies.
GOL Articles
Need help? We have a
Forum
and a dedicated Linux gaming
Discord server
.