Sacred Line 1.2b Overhaul is released.
It's totally redone version with new content, updated graphics/physics, bug/grammar/whatever fixes, also introduces secret ending.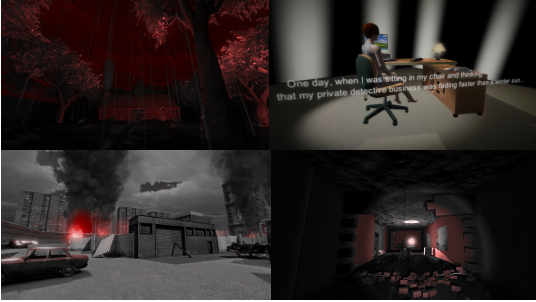 Sacred Line is a free short dark adventure/surreal thriller with story-driven explorative physics-based gameplay, black-white-red silent movie/BD style and multistructural abstract non-cliche plot. It takes its place in a fully developed universe where your main enemy is a union of third-world countries which is trying to set totalitarian regime over the whole planet polluting and destroying everything around them. In this game you will face their leader which was summoned by the ancient sect, dealing with unknown sources of power and paranormal activity.
You are playing Ellen, a private detective, who is trying to survive in Eastern Europe. Lately detective business, which she inherited from her missing sister Sarah, almost ceased its existence and one day before she was going to close her office she got an anonymous call. The unknown asked her to find some hidden forest outpost and told her about its position. That was just the beginning.
The game supports only 16:9 monitors and minimal resolution 1280x720.
Almost every object in game is physically interactive. You can drag'n'drop things using Left Mouse Button, glass and walls are breakable.
Download 32/64Bit build Linux via links on official site:
http://sacredline.orgfree.com
Some you may have missed, popular articles from the last month: