A new kickstarter is up for The Mandate which sounds like a sci-fi fans wet dream.

They are looking for $500,000 and have 49 days left to go, so quite some time to try to hit that target! You need to fork out at least $20 to bag a copy of the game.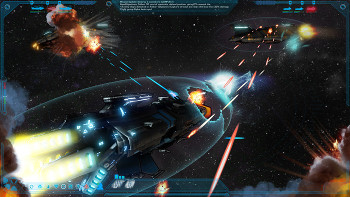 I had a chance to have a chat with the guys behind it to find out a little more info for you.

About
As the captain of a Mandate starship, you lead a crew through the galaxy where they will adapt and grow as they fight alongside you.
Interview

First all can you introduce yourselves.
QuoteWe are a gang of veteran game developers who previously worked on PC games at developers like EA, Ubisoft, Funcom and 2K Games. Some of the games we worked on and shipped include Mafia 2, Far Cry 2, Assassin's Creed 1&2, Age of Conan: Hyborian Adventures, Saga of Ryzom, Call of Duty 3 and The Secret World. Our members are spread across the world: US, Canada, Sweden, UK, France, Slovakia etc.

Why did you decide to leave those big name companies to work on indie games?
QuoteIn a bigger company it can be difficult to have creative input, especially with team sizes upwards of 200 people. In addition certain titles are not that popular with publishers, especially the type of game we want to make. So we decided we should start a smaller company where we would have creative input and be able to use our varied experience to develop our own game ideas and see how gamers would react to them.

What experience do you have with Linux?
QuoteSome of our members have used Linux to host web servers while others have developed and maintained game components like the game servers and these often run on Linux.

How do you feel about Unity's Linux support?
QuoteUnity3D added support for Linux with their release of Unity 4.0 and this allows us to reach out to even more gamers beyond Mac and Windows. Our project is still in the early days and we are focusing on game features, not adaptations to different platforms. However, it is good to know that Unity3D allows us to easily migrate to different platforms. Steam is also adding support for Linux and it will be interesting to see how many games will be migrated over to Linux.

From our game's perspective we are creating a very customizeable game, where the player makes his own choices and can design his own ships. There are a lot of technical people who use Linux and I think they could be a very good resource for our game when it comes to creating player-made mods.

Check out our interactive ship designer and skin, equip and blow up your own ship. It runs via the Unity web player: http://www.mandategame.com/mandateshipbuilder/shipbuilder.html

Note: Ship designer doesn't work on Linux as it's using the unity web plugin, I have pointed this out to them and they where not aware of this, the full version will of course have a proper standalone version.

How do you think you will manager to create a game like The Mandate with a much smaller team than when you worked at the bigger studios?
QuoteOur team has 50+ years of AAA development experience from working at Ubisoft, EA, Funcom and 2K Games. We have developed MMO, multiplayer and singleplayer games.
We are making smart choices and using smart technology. The ship designer for example illustrates the use of procedural textures, which is a quite new technology.
The "Risk & Challenges" section on our Kickstarter ( http://www.kickstarter.com/projects/1964463742/the-mandate/ ) has a lot more detailed information about how we will be able to create a great game on a limited budget.

Have you tested the Linux exporting abilities of Unity3D to make sure it will work correctly for your game?
QuoteNo, not yet. For now we are prototyping the gameplay. Unity3D is managing support and updates for the platforms we will deploy to and we will start to look into platform deployment a bit later. Our launch platforms for the game are Windows, Linux and Mac.

How far will the interaction between you and your crew go?
QuoteYou will be able to interact with them and obtain quests and you could also trigger events. We have not decided on the full list of events yet, but there may be events like spies, saboteurs, or somebody who needs your help. Our backers suggested adding in romance options as well, we are not sure it fits, but we will continue having discussions to see which other events could be interested to design for. Beyond that, you are the captain, you will decide when and where to deploy your crew, you will promote them or perhaps hand out a medal for bravery. If a crew member is in violation of the Articles of War, it falls on you, the captain, to decide what to do. We are playing with the idea of letting players somehow host court martials, but this is still up for discussion. The way you as a character behave, will also reflect on your crew, both changing them and affecting their morale. If you fire on any unarmed merchantman that you see or go plundering without just cause, some crewmembers may get a less than stellar opinion of you. There's only a few short steps to the nearest airlock, however!

You say you will be able to take your crew and board an enemy ship, so it then turns into RTS warfare while the space battle still rages on, will the AI take over your ships combat while you are inside, how will that work exactly? It does state you can zoom in all the way in and out to space view again but would that not become a burden having to manage a ship battling and a crew on an enemy ship?
QuoteYou can give firing orders to your crew or put the ship on "autopilot" while you focus on the boarding. That being said starting a boarding action while a full space battle is going on can be quite risky. You might be busy fighting corridor to corridor aboard an enemy ship when suddenly another enemy ship may decide to ram your flagship. But this is why having other NPC captains and also players around to defend the ships whose players are doing boarding actions, can be very useful. Alternatively you may decide to disable specific ships, and board them after the space battle itself is won or almost decided.

What will happen once you complete the story, the game states it is a Sandbox game but it does have a story in it, so how will the story's ending be handled? Will you be able to carry on?
QuoteYes, you will be able to finish the main story and continue to play. We will plan for a lot of end game content which will be available and challenge players even after the main story is resolved, whichever ending you decide to go for.

It states that you can enjoy the game alone or in co-op where 6 players can drop in and out, will the players who drop into your game get anything other than helping you out in your version of the game?
QuoteEach player will "own" their own sandbox, or part of the Galaxy. They can invite other players to join them in this sandbox, and switch and play in another players sandbox as well. This would be a longer term commitment and probably more suitable for friends. The players who join will get rewards which they can bring back to their own sandbox. Alternatively, you could play the game alone and call in other players as reinforcements only when faced with very though battles. It will be flexible, seamless and fun!

So with joining a friends "sandbox" area, will they take anything other than themselves with it? Will they be taking over a previously NPC or will they take their own ship, crew, everything for a moment until they return to their own sandbox to finish conquering their own galaxy?
QuoteThe player will take along his own main ship and main captain. Whether we allow the player that joins to bring along some of his escort ships as well, or whether the other five ships in the battle squadrons are host player + his NPC ships, has yet to be decided. We can definitely see players setting up ships which augument each other and as such they would like to be able to bring along more than just their own ship. One of our focus areas is customization and player choice, and we will discuss with the community what they would prefer to see here.

Do you plan to use any other distribution other than Steam and Gog.com? For Linux users many will shy away from Steam because they believe that having to use the Steam client itself is DRM?
QuoteNot only Linux but a lot of Windows users are quite vocal about not wanting intrusive DRM. We understand this, we are gamers too, and we have bought a bunch of games from gog.com. We have not landed on DRM yet.

Bearing in mind gog.com still doesn't support Linux, will there be a way for Linux users who shy away from Steam's DRM to get a copy?
QuoteWe have not decided how to handle DRM yet but one of our goals is to offer players an easy way to obtain and play the game. To avoid this response turning into vague marketing talk: For people running Windows, a good solution may be gog.com. For Linux users we may need to take an alternate route. It is important that Linux backers make their voices heard about DRM on the forum (forum.mandategame.com). We are there to listen!

I would like to thank Ole for getting in touch with me about the project and I wish them the best. They are currently trending towards ~84% of their goal and I really hope they hit it, looks awesome.
Some you may have missed, popular articles from the last month: