Distro Horizons Vs. Galaximo's Army is a 3D collectathon project created by Kitatus Studios. Inspired by the greats (Banjo Kazooie, Super Mario 64, Crash Bandicoot, Conker's Bad Fur Day). We have an interview with the developers to find out more about it.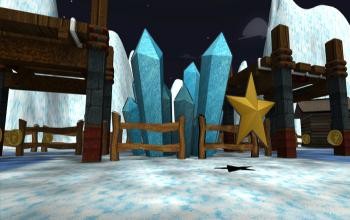 They did have a short demo up and based on feedback will be doing a second demo, so keep an eye out for it.

Interview
Q: First of all can you introduce yourself, your team and your project
QuoteMy name is Ryan Shah, I'm Project Lead at Kitatus Studios. Joining for these questions as well is the Art Director, Scarlett. We're a small team ranging from coders to animators over to musicians and back. We're currently working on Distro Horzions Vs. Galaximo's Army, which is a 3D collectathon game taking the best parts of collectathon games of old (Banjo Kazooie, Super Mario 64 and Conker's Bad Fur Day) and adding a modern touch, to boost the genre into the modern day. Using an art-style we'd say is in between The Legend of Zelda - Windwaker and Jet Set Radio, we believe we've added a specific charm to Distro Horizons that sets it apart from most games you currently see in the Indie scene.

Q: How have you found Unity's support of Linux to be for your team? Have you come across anything
QuoteLinux specific you have needed to do or is it literally out of the box support?
A: Being perfectly honest? It's flawless. You can't fault it at all. To package your project for linux, all that's missing is 7zip. All you have to do is hit export > Linux, find the exported files, add them to a .tar in 7zip and then encase them into a .gz. That's it. It's Linux ready. With our project, we've had to alter some Xbox controller inputs but apart from that we've had to change nothing else. For indie devs looking at engines to use for Linux, We sing nothing but praise for Unity, they've got it so right.

Q: What tools other than Unity are you using to build your game?
QuoteUnity, Zerano's Mechanim AI system (For Unity people, it's a MUST for AI), 3DS Max, Ableton, Logic and PlayMaker.

Q: Will there be early access purchases available (Like on Desura's alpha fund) for people who miss the Kickstarter?
QuoteDefinitely. We've literally just been given the green light for Desura actually, and we're in the process of sending them all the files needed to put Distro Horizons online, which will offer early access as soon as possible. Of course doing it this way, you lose out on a lot of the opportunities with the pledges on Kickstarter, but from what I hear, there's a select number of people who avoid Kickstarter and prefer Desura, so we've given those people a chance to be able to check out our project outside of Kickstarter. One of the main benefits of Kickstarter is the community interaction, which we also get from Desura. People seem to forget sometimes we're not a AAA* developer, we're just an Indie team working on a project we love and we want the community to be involved with how the project shapes up, and combining Kickstarter and Desura seems to be the sweet spot for community interaction when it comes to the project!

Q: While it is true we have a lot of different games nowadays like puzzle games and FPS games, what will Distro Horizons bring to the table that other collectathon games don't have?
QuoteCollectathon games have been absent for quite a while, and to be able to bring the genre to an audience new and old is a very exciting prospect. There are pieces of the old games which won't really work with today's audiences, so we're trying to keep things as fresh and fun as possible, because even though we're creating a tribute to collectahon games, we're also creating a game that's built on fun, so we're stripping bits and pieces from the genre that wouldn't make sense in today's market, for example, we're doing away with the walls of texts and massive tutorials, we're streamlining the gameplay into something that feels awesome and we're not calling "walking around" a feature. Because yeah, it's important to get place to place in a game, but that's not a gameplay feature, even if old collectathon games saw it that way. We will be infusing modern day ideas such as an RPG-like XP bar to Distro Horizons, giving players the ability to level up Distro and grow along with Distro as they make him more powerful to deal with Galaximo's forces. We're also working on Global leaderboards and speed run leaderboards, so people can challenge their friends to who can 100% a level the fastest. We're also working on incorporating a level builder, much like MapMaker from the classic Timesplitters games, but this relies on the amount of funding we receive. We have plenty more features under our sleeves, but we're waiting to consult our backers / community about which parts would be classed as "fun" and what's classed as a "novelty" because we're building this game not only for us, but for the players too of course.

Q: You state the game will have an XP levelling system, what will different levels do to the character?
QuoteAt this moment in time, we're planning attribute changes, making Distro more powerful and hopefully aestic changes as well, as we feel being able to physically see changes to Distro is a nice reward for the work put into collecting the experience. Distro will also be able to jump higher, attack harder and run a little faster too, truly giving a sense of Distro maturing with experience.

Q: With the XP system enabling you to have statistic changes, how will you balance the enemies to keep them interesting?
QuoteAs Distro levels up, so do the enemies. They grow in strength but the more you level up, the easier the enemies are to defeat. They also drop more rarer and rarer loot, even leading up to special abilities and treasure maps to hidden items. For boss characters and "Strong Enemies", they do not level up, they become easier to defeat. Like if you were playing an MMO and you'd equip items to strengthen your character and increase defence, Distro will have these benefits through leveling up without the need to equip gear.

Q: Apart from leaderboards, will there be any other social/online features to keep players coming back?
QuoteWe're currently planning a unique way to offer gamers the chance to post their times on specific levels to Facebook & Twitter. Depending on if we receive funding for the Kickstarter, We're hoping to include a multiplayer mini-game mode ala Sonic Adventure 2. There are some special features we've not ironed out the kinks in yet, but when we're happy with them, we'll announce them over on our Facebook & Website.

Q: How much will the game be at final release?
QuoteWe're currently discussing with Desura the final release price. We're steering towards an £8-£10 mark. Even though we'll have more content then you'd find in a £40-£45 game, we want people to understand we're not doing this for the money, we're doing this for the love of gaming. We're offering pre-purchasers (Especially on Kickstarter and Desura) a £5 price point, but we won't be charging over £10.

I would like to thank them both for chatting with me about Distro Horizons, if you haven't yet head on over to their Kickstarter and check it out properly.
Some you may have missed, popular articles from the last month: