The IndieBox
is a fantastic idea and I hope they get enough orders to keep going. You subscribe monthly (or buy single past boxes) to get a Linux-supported game-pack every month. Their single-purchase for their first boxed game is already sold-out too, so it seems the demand is good.
They made it a point that all games have to support Linux too, so I officially love them.
The first box was Teslagrad that had an artbook, colour manual, the game on a fancy USB stick, soundtrack, poster, papercrafting set, and more.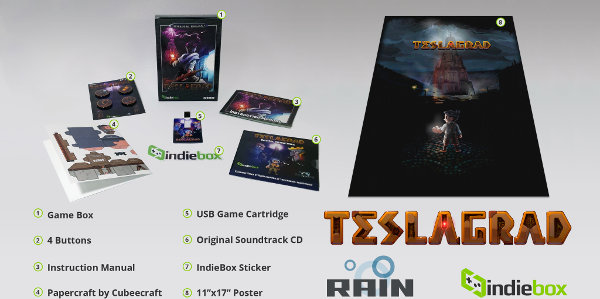 Press Release:
QuoteORLANDO, FL ­ Local business, Indiebox, LLC., announced today the launch of their monthly
"gamer" subscription service ­ Indiebox (http://www.theindiebox.com).

Indiebox delivers a mystery independent video game, in custom packaging, directly to the doors
of its customers each month. The service aims to recapture the excitement and nostalgia of
buying video games in the 80's and 90's ­ a time in which the physical product was an equally
important part of the gaming experience as what was being played with a controller.

The custom retro­style packaging features original box art, full­color instruction manual, unique
game cartridge with case, CD soundtrack, game poster, stickers, and more.

Eager fans will be able to subscribe to Indiebox on April 1st with the first game boxes shipping in
May. For more information, visit http://www.theindiebox.com.

About Indiebox
Indiebox, LLC. is a start­up venture by three Orlando­based entrepreneurs: James Morgan III,
John T. Carter, and Jason Blank. Morgan serves on the Board of Directors for Indienomicon.
Carter is Music Director of Nerdy Show and a local writer
The price-point is actually pretty decent for all of that kit too, I might have to sign up for a month or two and see how it goes to write-up on here, would you guys be interested in that?
This looks like something awesome has started and I wonder what you GOL visitors think to it? Considering you can cancel anytime and get DRM free games with lots of fancy extras I imagine they will sell out like hot-cakes.
Some you may have missed, popular articles from the last month: