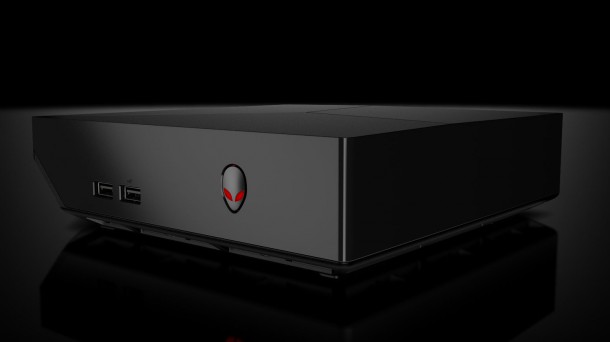 Alienware have fully announced their Steam Machine at E3 and drum roll....it doesn't include SteamOS, but has a custom UI on top of Windows 8.1 and bundled with a 360 game-pad. So, with SteamOS not out yet and Steam Controllers being delayed how many more will "do an Alienware" and simply re-brand them into Windows Steam Machines?
Something I have said before is that if it doesn't have SteamOS or a Steam Controller then how is it a Steam Machine? It isn't. The entire point of Steam Machines are to have Valve's software on it.
Something I have been thinking about a lot is that it seems a lot of people (me included) are betting on Steam Machines with SteamOS being a success, but what happens if they fail?
SteamOS & Steam Machines aren't going to sell well compared to the big consoles that's for sure. We even have Alienware stating they feel it will be their lowest earner, which is a fair point as they cannot put a big mark-up on it as they have to compete with other providers.
I imagine the other Steam Machine providers feel the same way that it will only be a small earner for them, I wouldn't be surprised if there is low productions runs to begin with from all companies.
A bit of a shame as Valve have already done a lot of good for us even if the machines are a flop, we have seen driver improvements from all sides giving us better performance. We have bigger game companies porting to Linux like the Metro series, The Witcher 2, the new Civilization game, XCOM and plenty more on the way.
Steam Machines may soon become the Android of the PC space, with multiple different providers fighting against each other all with wildly varying configurations that game developers have to test against, although that's not new for the PC space. The controller should have been one solid thing game developers can build against since they will all be the same, but with Alienware just bundling a 360 game-pad it's not looking good there either.
Realistically SteamOS and Steam Machines were never going to be an overnight success anyway, but more of a gradual build-up and I just hope journalists out there don't do what they usually do and put a negative spin on it if it doesn't sell like hot cakes right away.
What if Steam Machines don't sell well at all? I imagine all the vendors are projecting low margins, but what if they are vastly lower than their own predictions? We will then see the big media websites telling everyone how poorly they are selling and developers may re-consider their stances on porting to Linux. I would hope that's not the case, but we have to be realistic about this. Especially now we have one of the bigger companies (Alienware) sidestepping both SteamOS and the Steam Controller to make...a normal PC with a custom UI *sigh*.
Mac gaming seems to be doing okay with support from big developers and publishers without dedicated Mac gaming machines, so considering Linux is free and can be installed on any PC I personally think we will be okay. We just have to keep up the momentum of new games that we have right now.
The good thing is we still have GOG.com to support us yet with their DRM free goodness and
their new GOG Galaxy client
, as there are plenty of people who don't particularly like Steam and GOG.com has a massive customer-base. We also still have the Humble Indie Bundles and the Humble PC & Android bundles which fill us up with a truck load of games on every release. So, even if things with Steam Machines don't go as well as lot of people hope I think we will be okay.
No matter what happens though, you can be sure we will still always report on Linux gaming, we always have even when the big gaming websites ignored it (most still do).
What are your thoughts on the future of Steam Machines?
UPDATE
: It seems they will still be going to SteamOS in future, but still I can't help but think they should have just waited.
AlienwareSteamOS is obviously been designed around one single use, whereas Windows is a multi-use operating system that can be custom tailored around any one particular use—as we're doing [with Alienware Alpha's console mode], but Valve has a lot more control developing SteamOS, ensuring it's singularly focused with one use model. That's why it's a very important initiative for us, and one we're still fully supporting as soon as it's ready. It's a more sustainable way of delivering a reliable living room experience. We can build our custom [console UI] interface over Windows, but we don't know what Windows 9's going to be. Are we going to have to redo all that work in Windows 9?

That's why we feel that over the long term, SteamOS and the Steam gamepad are going to be the best solution.
It's interesting to see them question if they will have to re-do their work for the next version of Windows, as if they waited for SteamOS to be a true Steam Machine then they wouldn't have had to spend money on R&D for this custom UI slapped onto Windows 8.1.
Source
Some you may have missed, popular articles from the last month: