The team behind the Kickstarted game
A Song for Viggo
have announced that they have teamed up with
Talawa Games
, the developer of
Unmechanical
, to launch the game on additional platforms, including Linux.
QuoteWe're very happy to announce a new addition to the Song for Viggo team! Talawa Games, a development firm founded in 2011 in Stockholm, Sweden, is now officially part of the project and will be assuming most of the technical responsibilities involved with creating the game. They will also be wearing a few other hats, including those of publishing, public relations, and user support for the game.
A Song for Viggo is set to be a point-and-click adventure game created with paper and stop-motion. It's the story of a dad, Steve, who accidentally kills his son with his car. The game follows Steve as he, his wife and their daughter try to cope with their tragic loss. Your first challenge will be to arrange for your dead son's funeral alone, as your wife has fallen into a deep depression following the accident. You will have to tend for your daughter, do everyday chores and try to keep your marriage together, all the while living with the guilt and devastation.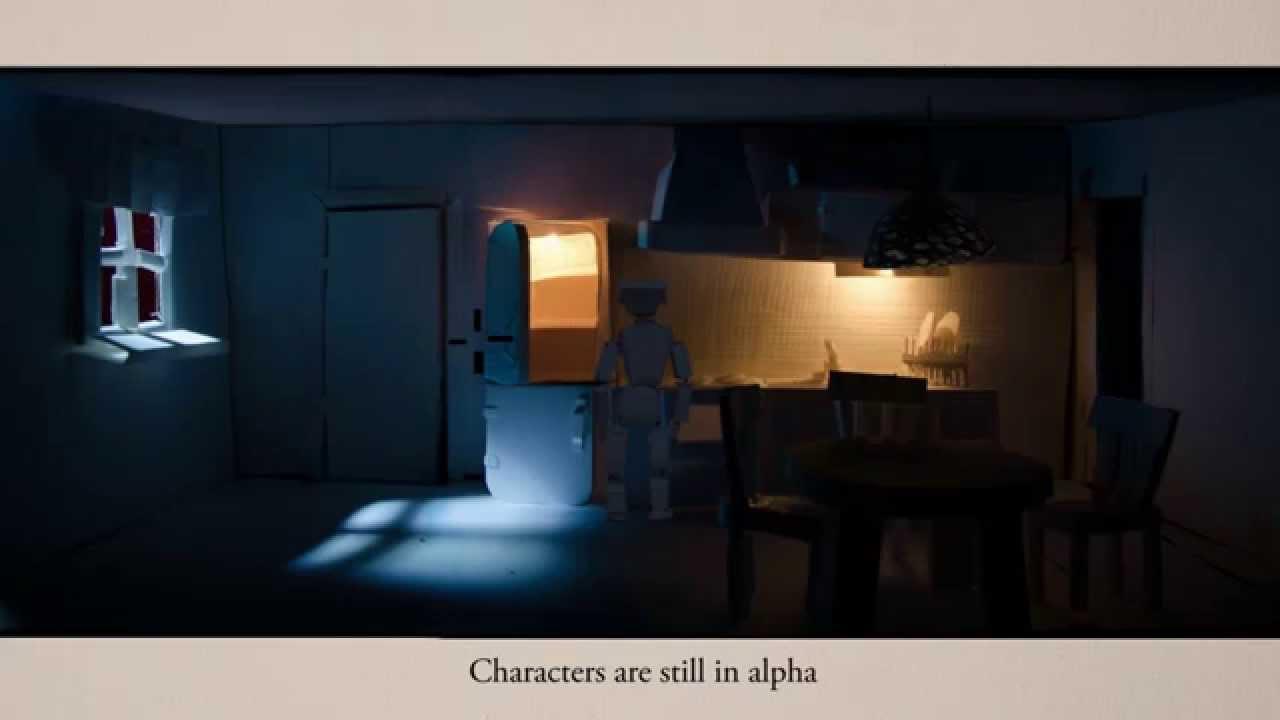 As a dad this campaign had a great impact on me. It's a kind of premise that is not often explored in fiction, let alone games, and the creator Simon Karlsson has gone to great lengths to ensure that the subject matter is treated both delicately and as authentically as possible. In preparation for the game he interviewed several people who had lost their children; including some who share Steve's fate. A life is a very fragile thing, and there is a beautiful symbolism in the monochrome paper-craft characters. It's a game I desperately felt needed to get made, while at the same time half dread playing.
Last month the initial one-man-team of Karlsson's studio
SaintandSimon introduced Rhett W. Whitaker
to backers of the Kickstarter campaign. Whitaker is an English teacher, writer and translator and is helping out with the writing. I've sadly seen too many games lately lose some of the impact of their story by subtle language issues, so this was a welcome addition. Now with the
introduction of Talawa Games and a promised Linux version
, I reached out to Simon Karlsson for a short interview.
How is development on A Song for Viggo coming along?
The development is still in a fairly starting out-phase, due to the new collaboration we're backtracking on the previous work that's been made and polishing some early parts, while we're planning how to proceed on newer parts.
Talawa Games has developed several games for Android and iOS, but so far their only game for PCs is Unmechanical. That game is only available for Windows and iOS and was developed with Unreal Engine 3. Which engine will be used for A Song for Viggo?
We will be using Unity. Before the collaboration it was Visionaire Studio, however, due to this newly acquired expertise we feel that Unity is the best for the team. :)
You've had a project page on Steam Greenlight since your Kickstarter campaign ran, but the game has so far not succeeded in getting greenlit. How do you think the cooperation with Talawa Games might help in getting your game on Steam and other major game distribution platforms?
Yeah, we sincerely hope that it will be Greenlit, but Talawa themselves accomplished to get Unmechanical out on Steam so we will work as hard as we can to get it out there in some way or another. Also on other distribution-platforms of course.
On the project page on Kickstarter you mention briefly that there will be a DRM free version of the finished game. What kind of venues have you explored for releasing the game DRM free so far?
Yes, due to some supporters asking us, we will either sell the game on our own website, or on distribution-platforms that don't require DRM. So that it works out for everybody. :)
Thanks Simon Karlsson for the speedy response on a Sunday afternoon.
You can still donate to the project with the PayPal-button on
the developer's web site
. Also, please consider voting for the game on
Steam Greenlight
.
Some you may have missed, popular articles from the last month: