Spellcrafter, is a turn-based tactical RPG game from Jujubee currently available on Steam Early Access for PC (Windows/Linux) and Mac. The final version of of the game will be out next month, so we took this opportunity to ask Creative Director Arek Duch a few questions!
Steam Early Access link: http://store.steampowered.com/app/315680/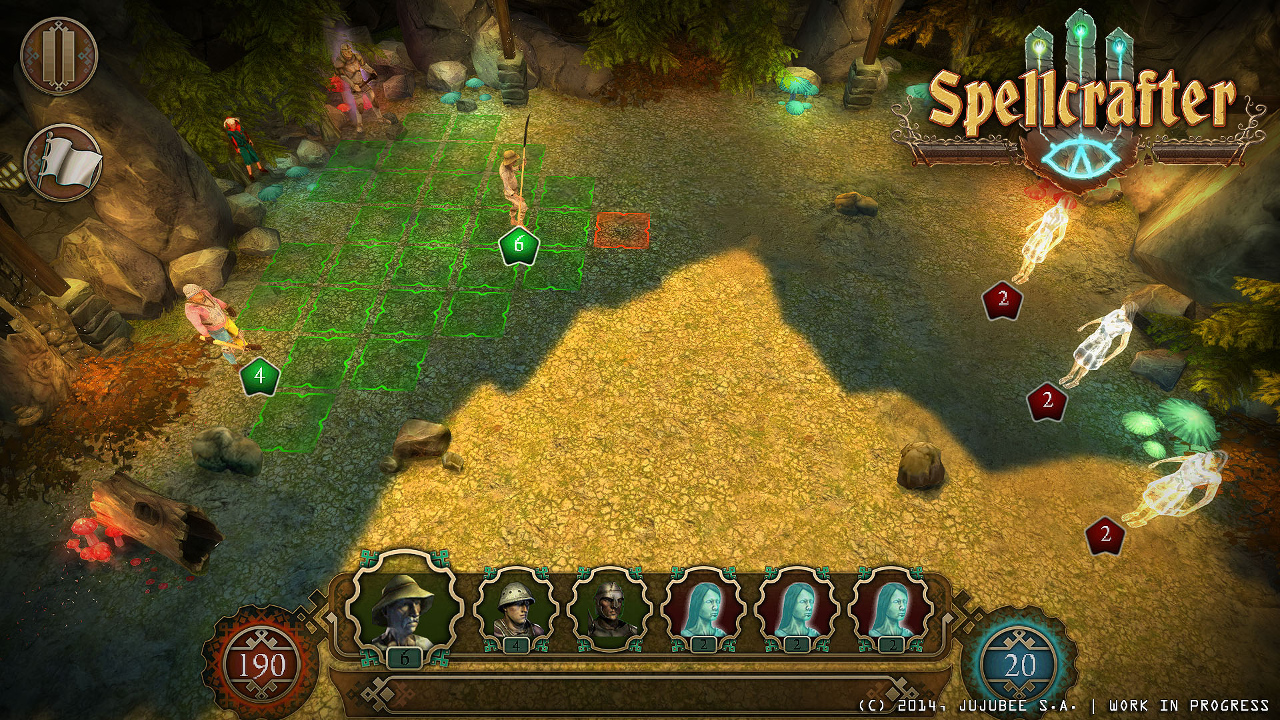 What makes Spellcrafter stand out from similar titles?
Spellcrafter is a unique game - what makes it quite different is the way you use magic, but also a strong focus on the story as well as on many RPG elements.
What changes can we expect in the case of the final version of Spellcrafter if compared to the beta now available on Steam Early Access?
From the very beginning of the development our main goal was to engage the community in the production of the game. This is why the Early Access version got released a few months ago because we wanted to have the time to implement ideas and changes suggested by the players. In the final version of the game you can expect completely new animations created with the motion capture technology, much better and diversified sounds and music, composed especially for our game, as well as animated cutscenes with narrative poems used to unfold the story.
Do you have plans to release this game on mobile devices as well? And if so, when?
Right now our top priority is the PC/Mac version. Nevertheless we are also working on a mobile version of Spellcrafter, but it is too early to predict when it will be out. At the moment our main focus is on the PC/Mac version.
How long it takes to beat the game?
It should take up to 10 hours, however it depends on your skill and your experience might be even longer if you want to discover all the secrets, explore all locations, and so on.

Spellcrafter is a dark fantasy RPG, but how "dark" it really is?
The game is divided into 3 acts and each one is a bit different from the other. The first one is the most joyful and colorful, while the second one is quite the opposite because it takes place in a world of necromancy and dark magic. So as you can see the game is a bit diversified in this respect.
And what are the differences between the characters?
In the game you can play as human, necromancer or elf and each race has specific skills and spells. This is why your tactics can vary depending on the character you are playing as. You will also need to adapt to the battlefield.
What's special about Spellcrafter?
If you love turn-based tactical RPGs set in a dark fantasy world, Spellcrafter is a game for you. We also put a lot of focus on the story, but what's really special and unique about Spellcrafter is the spell casting system.
About Jujubee:
Jujubee is a game development studio behind such titles as FLASHOUT 3D and Suspect in Sight. It was founded by former members of CD Projekt RED, Traveller's Tales and Infinite Dreams and its goal is to create great looking and addictively fun games for various platforms – especially iOS, Android, Mac, and PC.
For more information on Jujubee and its products please visit the studio's official website: http://jujubee.pl. Also make sure to follow the company's page on Facebook, Google+ or Twitter.
Some you may have missed, popular articles from the last month: