The long-awaited puzzle game by Sokobond creator Alan Hazelden is finally released. Time to solve some challenging puzzles and let the lovely animations by Benjamin Davis and the soothing soundscapes of Ryan Roth melt your heart, as the the snow too melts and makes way for spring.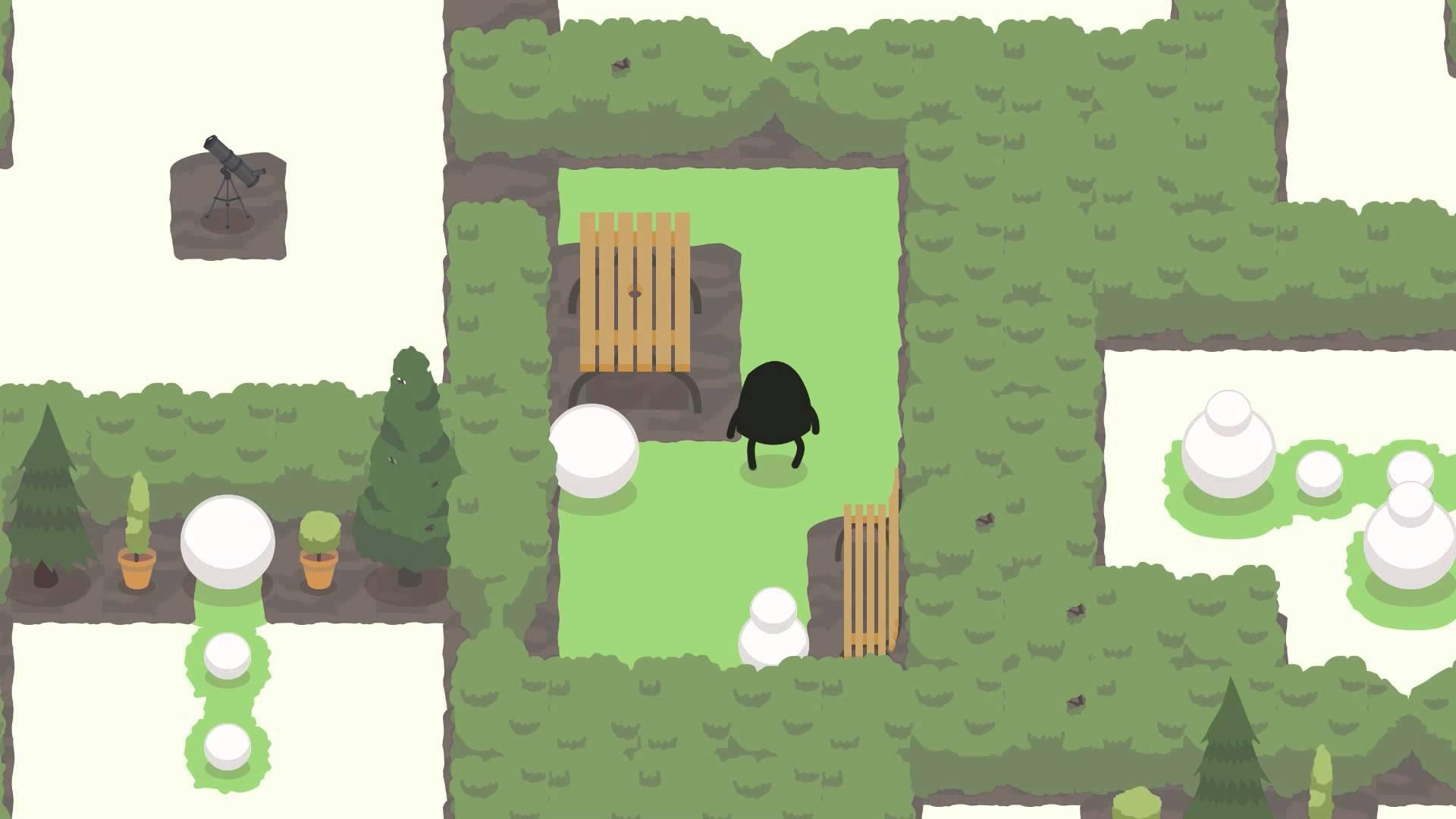 This is without a doubt the most charming puzzle game I have ever played. You play as a featureless and lonely-looking monster who builds snowmen and gives them all their own character traits and names. And then he hugs them. Well, it's up to you really, but naturally you want to hug your new friends?

The mechanics are similar to Sokoban, but your goal is to stack three snowballs with gradually decreasing size on top of each other to create a snowman. Snowballs come in three sizes, and what makes this less trivial than it might sound like is that a snowball rolled through a tile filled with snow will increase by one size. And if you don't have one of each size lined up properly when it's time to stack them, you'll probably have to start over. Like in Sokobond, there is a convenient erase-one-step feature too though, so if you haven't messed up too badly, you might be able to save your effort without starting over from the beginning.

As you solve puzzles, you open up more routes through the snow-clad park the game is set in. You can choose which puzzles to tackle when, to some extent, and if one particular puzzle stumps you initially, it might help to come back to it later. As you progress, you'll find more and more complex puzzles, and some of the trickier ones even require you to build two or three snowmen in the same area. If things get too tough, you might enjoy a breather on one of the many benches scattered throughout the park.

The game allows for many different interactions with your environment beyond building and hugging snowmen and they are all animated in a simple, yet delightful manner. Try kicking a table, shaking a bird bath, roughing up a flower or wrestling a pine tree. Most of these actions are inconsequential beyond adding atmosphere to the game, which they do brilliantly, but some might have unexpected results. Don't be afraid to experiment.

My first run through the game took about three hours. Or so I thought. The last required puzzle of the game has you building the developers Ben & Alan's snowman equivalents. On completion of this puzzle, the gate to the exit opens and the camera pans over the park of snowmen, before a dubious "THE END?" is displayed on screen. So what's this then? I don't think I'm spoiling too much by saying that, yes, this game contains secrets. Furthermore, the secrets are excellent and complex, and they at least double the length of the game.

I am a sucker for both cleverly designed puzzles and secrets in games, and this game offers heaps of both. Throw in the gorgeous visual and audial design direction of this game and a few dozens of hugs and I'm completely sold. The switch to the Haxe framework Lime, with a HTML5 target in place of Sokobond's Adobe AIR runtime even further sweetens the deal. In conclusion, I compel you to buy this game now if you too have a monster within you who is desperate for some puzzles and affection.

The game is available from Steam and DRM free from itch.io and Humble Store. The base price is set at $12, but will be cut by 20% on Steam for the next week. Buying from one of the DRM free stores before 10th March let's you pay what the temperature is in London that day, so if the weather gets colder, the game will get cheaper.
Some you may have missed, popular articles from the last month: