We covered the
Kickstarter funded
platformer from
Crescent Moon Games
when it
released in Early Access on Steam
in December. The game had its full release last week and we've taken a look at it.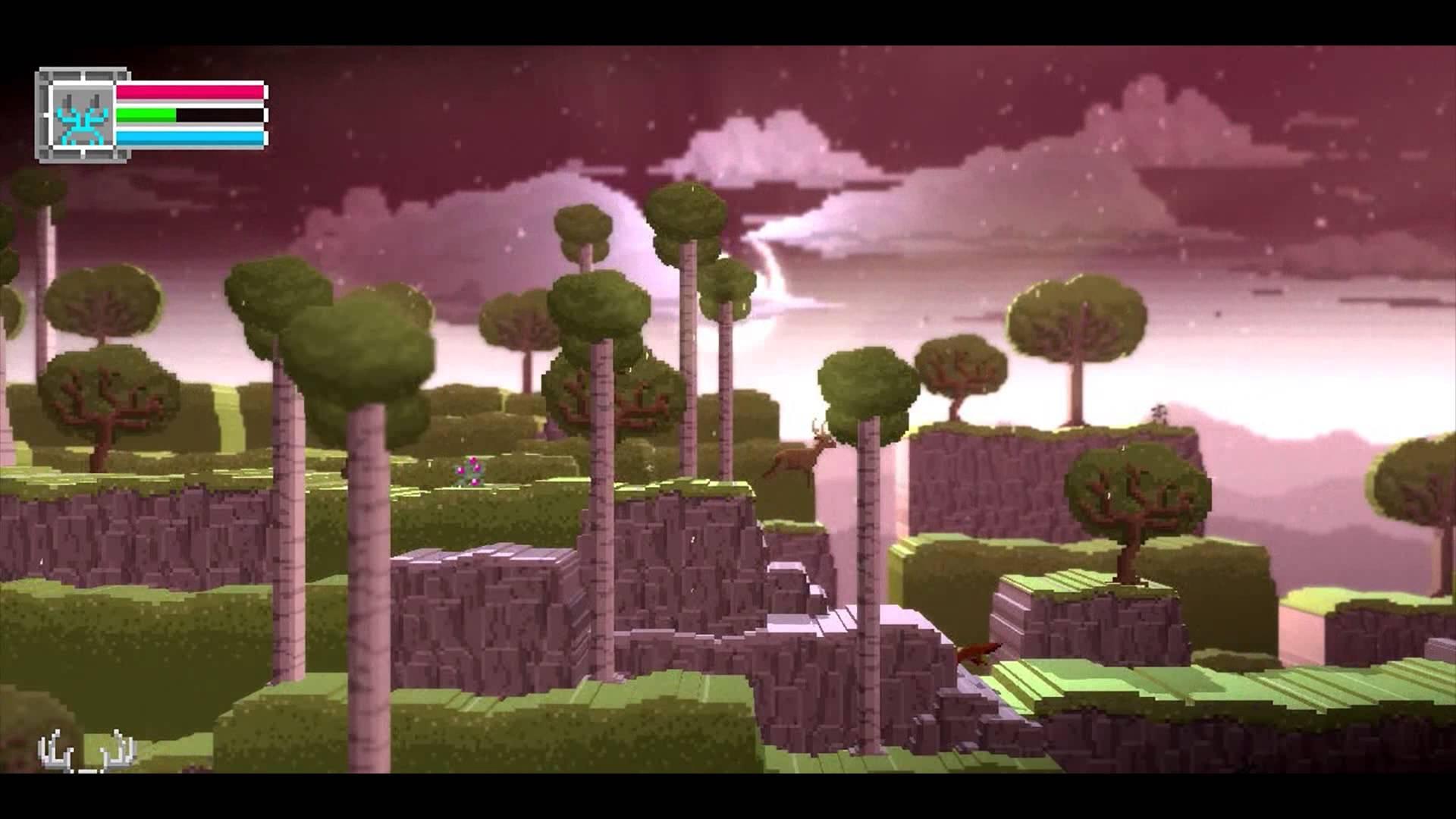 The game puts you in the hooves of a human hunter, reincarnated as a young deer after being killed by wolves. As a deer, you'll struggle to survive in an environment where almost everything is out to get you, from spiked ravines and fires to carnivores and hunters. At first, you'll mostly have to rely on your speed and agility to avoid most dangers, but as long as you survive, you'll eventually grow and you'll get faster, jump higher and become a better fighter.
Since there seems to be some confusion regarding whether or not this is a 2D or 3D game, let me get it out of the way first. The game world is a breathtaking 3D pixel art game, as advertised on the tin. However, movement is confined to a 2D plane, and so the game plays out much like you'd expect of a 2D platformer. After having played The Deer God for about two hours, I have nothing but praise for the art direction. The day and night cycles and changing weather conditions add a lot to the atmosphere, and are things I wouldn't mind seeing more of in other games.
The gameplay vaguely takes the shape of a metroidvania-esque platformer. As you progress through the game you take on quests that you solve, and in turn gain new abilities, like the obligatory double-jump and a dash that lets you smash through certain obstacles. You acquire items with special effects like various jump enhancements and battle companions by defeating bosses, demolishing bushes and by completing certain quests. The exploration aspect is fairly limited though, as most of the game takes place along a straight side-scrolling area.
There are three essential "health bars" that require special attention throughout the game. The first one is the actual health bar, the second one a fullness bar and the third one is something like a stamina bar, which is what's needed for attacks. As time passes, you gradually get hungrier and you'll have to eat regularly. You'll find apples hanging from trees and various kinds of edible plants growing on the ground, that will all suffice as food for a hungry deer. Both health and stamina are automatically replenished, and a nice touch is that this process seems to take much longer the hungrier you are.
In addition to these, there's also an antler bar which shows how far along you are in your current phase of life. Getting older means you'll get to breed with does you meet along your way (high five!), which produces offspring that doubles as extra lives and check-points. Provided that you can keep them alive. If you can, try to ditch them as fast and gently as possible, since they're very prone to jumping straight into hazards when they start following you. If you explore a bit, you might also find antlers that act as normal extra lives. As long as you have an extra life, you'll get reborn as a deer if you happen to die. Otherwise you might not be so lucky, and might end up being reborn as a snake, a porcupine or something similarly nasty, presumably depending on how well you did in your previous life.
Which brings me to the aspect of the game that I really haven't figured out yet. Karma. There's a two-sided karma bar hidden away in your inventory that fills up with dark or light karma based on your actions. Killing "bad" animals gives you light karma, while killing "good" animals, like mice, rabbits and other deer gives you dark karma. It's never a problem to see which kind of animal gives which, since "bad" animals always have a health bar instead of a health heart and since killing either kind produces a kind of colored puff that is red or blue depending on the kind of karma the kill results in. Beyond that though, I don't understand the mechanic, and so I won't elaborate on it.
One of my favourite moments in the game so far was when I at one point was able to get three other deers to follow me, and we all ran along a long grass plain in a brief moment without a care in the world. This is a game that oooze with charm and loving touches.
The bad
With all these cool ingredients out of the way, it's time to mention some of the things that don't work so well.
First of all, there are bugs. My first run of the game ended rather abruptly when there suddenly wasn't anywhere to go, other than into a huge abyss, where I assume there should have been none. Jumping into it left me well under the game world and even off screen and I had no option other than to leave the game to respawn in a proper location. On a later run I was reincarnated as a porcupine, which can't jump, and was stuck in a small place between two rocks. With nowhere to go, I had to just wait out two whole in-game days to die from starvation, to get reborn as a deer and be able to proceed. I suspect both issues are related to flaws in the procedural generation, and I'm not alone in reporting these kinds of glitches. I also encountered some minor issues like being able to walk and jump while lying down and being able to get my head stuck in rocks mid-jump. Neither of these last issues had any affect on gameplay though.
There are also aspects of the game that can be extremely frustrating, like the one boss fight I've encountered so far. I've fought and defeated King Toad, but it must have taken me somewhere around a hundred tries before I succeeded. The main challenge is the exploding toads he spawns that are very hard to avoid and don't seem possible to defeat. The boss can only be hurt during this process, and you have to get up close. There's not enough food around to sustain getting hit more than a few times during the whole fight, and so the only viable strategy I found was to enter and leave his lair between waves of frogs. Not a very satisfying experience. And as if that wasn't enough, getting in front of the boss makes him attack you with his tongue, which moves fast, has a very long range and had no noticeable (to me) call that I could use to avoid it.
Another thing that adds frustration to the experience is when you often reach an obstacle you can't jump over as a young deer and have to either use a suitable item, if you happen to have one at hand, or wait until you get older and stronger. Waiting is tedious and if food is scarce it's not always an option.
Closing words
In conclusion, The Deer God is very unique and has a lot of things going for it, and if you can put up with the problems I've mentioned, you might really enjoy the game. As you get better at the game and are able to remain an adult deer for longer periods of time, you won't get stuck as much and should be able to have a smoother gameplay experience. This does feel like a game with a lot of potential and I do hope the developers have enough time and resources to give it some additional polish, make deaths less annoying and really make it shine. Until that happens though, I fear this is a game that will frustrate many potential players, and so I sadly can't recommend it without reservations.
If you're interested in the game, you can buy it from
Steam
or DRM free from the
Humble Store
or
IndieGameStand
. Both DRM free options also give you a Steam key.
Some you may have missed, popular articles from the last month: