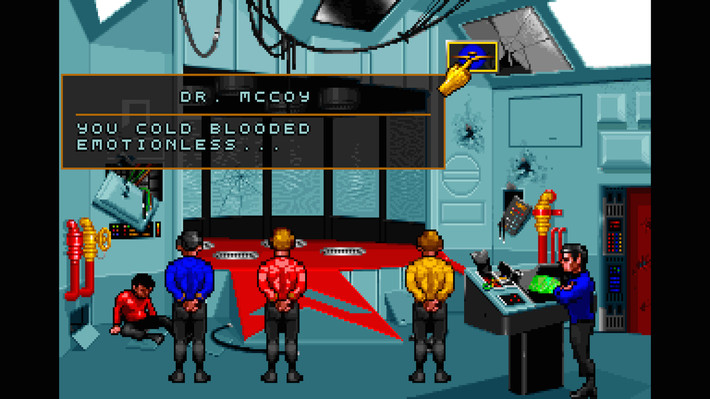 GOG have now added two classic Star Trek games to their collection with Star Trek 25th Anniversary and Star Trek Judgement Rites.
Note: Both games will be using DOSBOX due to their age.
They are part of a series as Star Trek Judgement Rites takes place right after Star Trek 25th Anniversary. Apparently a mission in Judgement Rites is a direct sequel to the final mission in the 25th Anniversary game too.
I never actually finished every episode of the original series, and apparently these games have been counted as "the lost fourth season" according to wikipedia. I should probably go watch them to boost my nerd points up somewhat.
I think it's fantastic to have a website that keeps adding classic games to their collection. So Linux users get a legal and supported option for buying these games.
About the 25th Anniversary game
Fasten your seat belts, bring your seat back to an upright position, you are about to pilot a Federation Starship on a wild roller coaster ride through the final frontier.
Star Trek™: 25th Anniversary is a point-and-click adventure with multiple solutions and moral choices, combined with a first person starship simulator. As Captain Kirk, you'll control phasers, photon torpedoes, shields, and communications during eight separate space and ground missions. Visit different worlds and then join a landing party sent down to map and interact with alien races and artifacts.
Piloting the U.S.S. Enterprise is a thrill in itself, but the actual voices of William Shatner, Leonard Nimoy, DeForest Kelley, James Doohan, George Takei, Walter Koenig and Nichelle Nichols will make your adventure truly out of this world.
About Judgment Rites
Captain's log, stardate 6238.4. There is no doubt that you're being watched. By whom and by what type of life form is not determined. Even Spock has not been able to accurately assess this data. The occurrences are just too strange.
Star Trek™: Judgment Rites, a sequel to Star Trek™: 25th Anniversary, brings you back as Captain James T. Kirk along with your entire crew, as the 5 year Mission continues with 8 new, thought-provoking episodes. The tension increases as you beam down to mysterious worlds and encounter strange adversaries in situations that simply defy logic. Is that truly an ancient WWI triplane heading straight for you at Warp 9? How can your sensors suddenly report life forms on a dead planet? You're a long way from Starfleet Command and only you can discover what - or who - is challenging you beyond your wildest nightmares. Or can you?
How do they run?
Thanks to our friends at GOG, I was gifted a copy of each to check they run okay, and to be able to report back to you on this.
I tested them both using the GOG .deb installer files, and the installation was pretty painless. You do need to use the terminal for this though, but it's extremely simple stuff. Otherwise, if you download the .tar files for all other distributions you just extract it, and run the start.sh file.
Both games load up fine which did surprise me, and you can happily re-live Star Trek in low resolution glory from the 90's. It's really great to be able to play older games like this, and actually have them "just work" like they should. That "just work" fact is the same for the .deb files and the .tar files.
They are more than a little clunky due to their age, and no alt+tab support by default. Thankfully it does use SDL2, so you can use alt+enter to bring it to windowed mode. If your mouse is locked, you can also use CTRL+F10 to unlock your mouse. Once you learn this it's a much nicer experience.
If you wish to mess around with their configuration files, you can find them in /opt/GOG Games/game folder/, or if you download using their tar files you will find them directly in the extracted folder.
Overall, I'm really impressed at how well GOG have done with it. Much, much nicer than downloading a Windows game and setting up DOSBox (I despise setting up DOSBox correctly for each game), so kudos to GOG for this. Being counted as a Linux sale for whoever bugs it is also a bonus point over buying a Windows copy.
Check out
Star Trek 25th Anniversary
and
Star Trek Judgement Rites
at GOG.
As a big Star Trek fan, I approve. Will you be checking them out?
Some you may have missed, popular articles from the last month: