The results for the June survey are now available for you to take a look at and compare with results from previous months.
You can find the new survey for July
here
, so please fill that out if you haven't already.
Our graph maker Fedso has set more custom colours to the driver-related graphs. If anyone has any comments or suggestions to do with this, then make sure to leave them in the comments.
This month has been a bit troublesome with results since the survey not being shared on Reddit has meant we got around half the respondents as last month, so our results aren't based on the same sample. Just glancing over at the graphs, there's lots of little dips and spikes everywhere this month which - given the reduced number of respondents - can only really be viewed as anomalies.
Please click on the images to enlarge. Once enlarged, you can also cycle through them using the arrows.
Respondents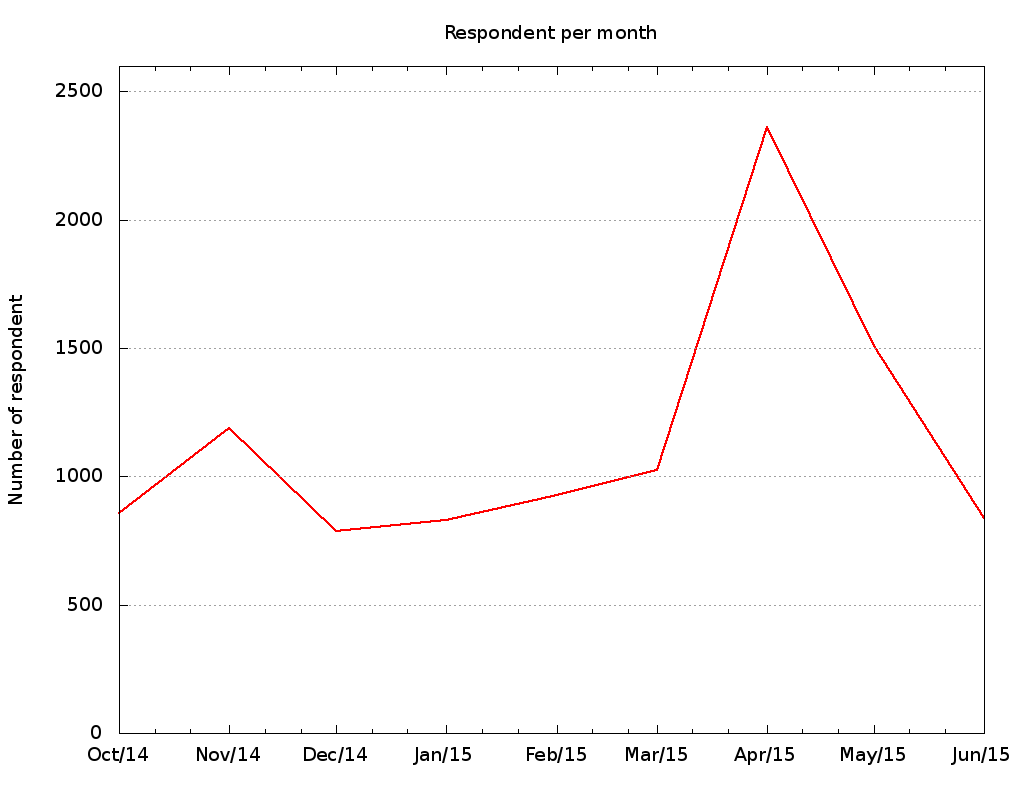 We had 838 responses this month, so thanks for everyone who took the time to fill it out. There were 1508 last month, and this decrease is a clear sign of how much of an impact the link being shared on Reddit has. Small fluctuations aren't really a problem, but when we have half the sample, it's really hard to make anything out of the results since changes are mostly defined by how many people took the survey rather than real changes.
I guess if there's people from r/linux_gaming reading this, then please try and share the survey there every month, because it really messes up the results otherwise. I think it's important that lots of people take it, but the variations just make things worse. So far for next month were looking at over 1200 responses because it was shared, just saying ;).
Question 1
- Do you currently use Linux as your primary PC gaming platform?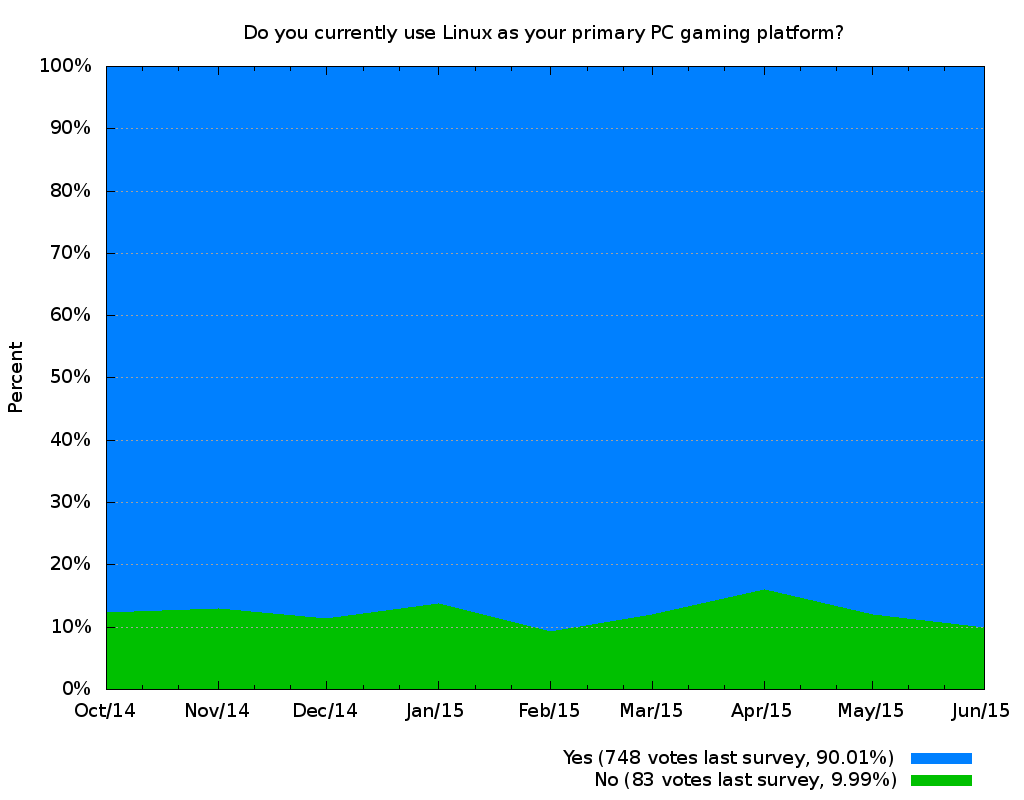 Question 2
- Did you use Wine to play games last month?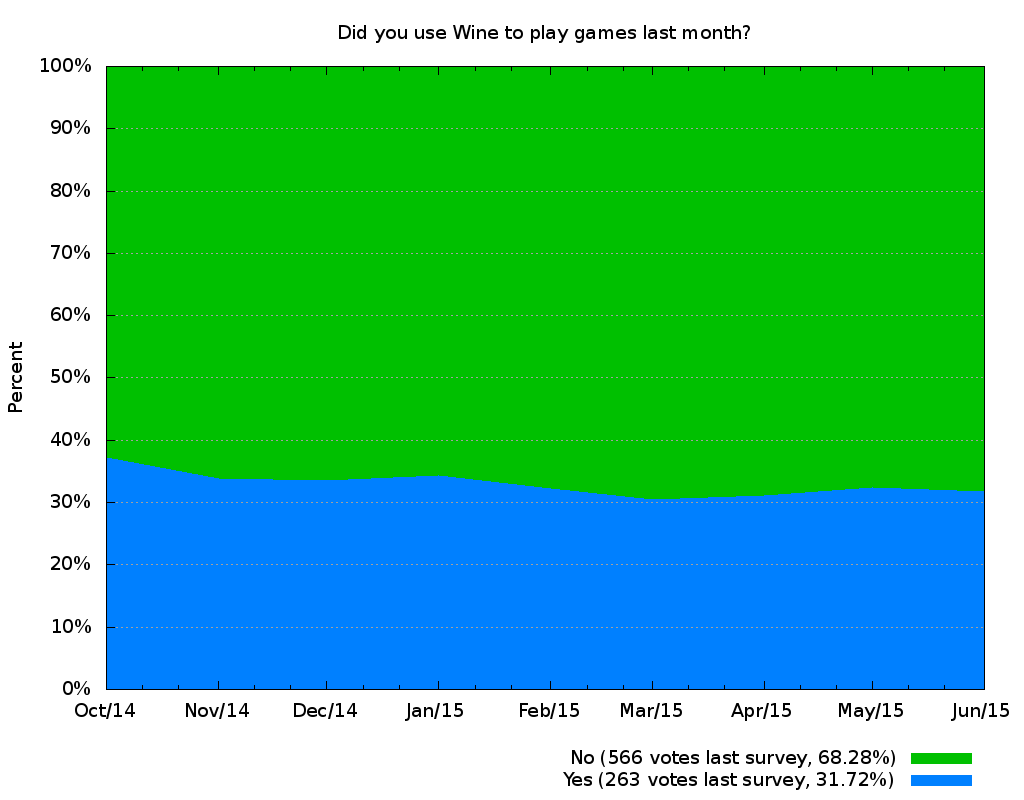 Question 3
- Did you use a Windows partition for gaming last month?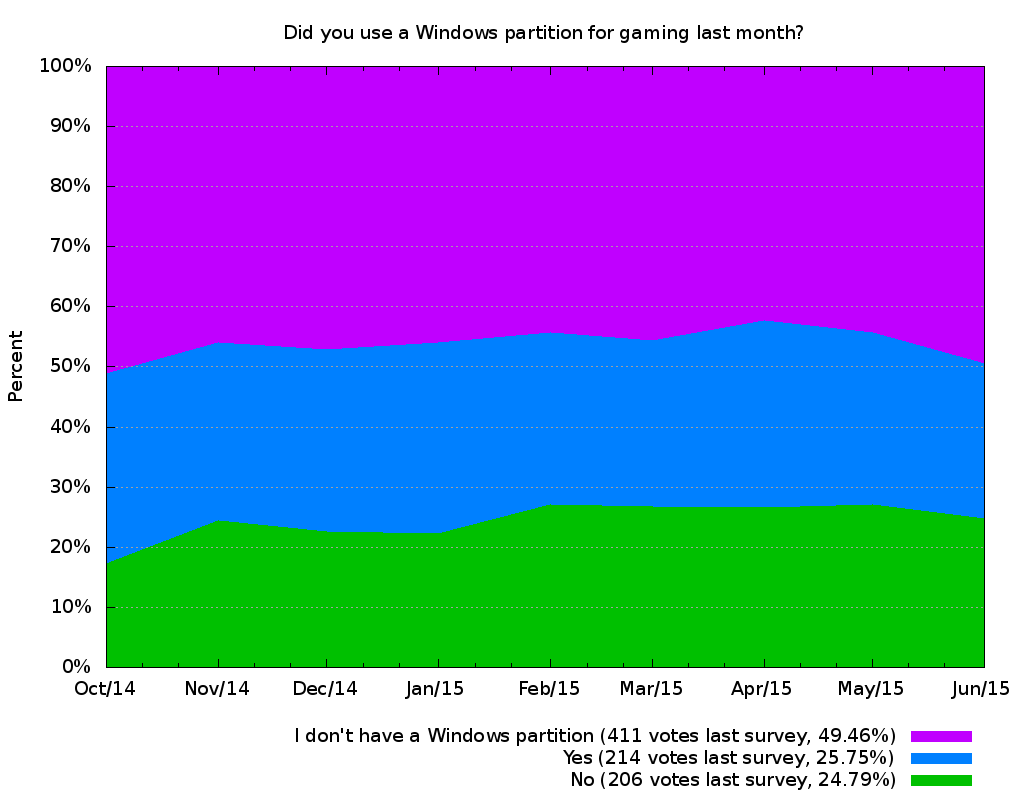 The new answer in Question 10 (see below) has mixed things up a bit here, and it seems to confirm that those playing on Windows seem to do so primarily for older titles, rather than buying new games and not being able to wait until the Linux release.
This really suggests that the changes here will occur at a far more glacial pace since games like Skyrim and WoW which will almost certainly never get a Linux port still have a lot of players and despite being older titles, their player numbers decrease slowly.
The plus side of this of course is that it makes things look far less dire for Linux gaming since playing older games obviously doesn't influence sales numbers of existing titles. It's only when newer games which have confirmed Linux ports get bought before their release date that it makes any serious impact to the Linux market share.
Question 4
- What distribution do you use on your primary Linux gaming PC?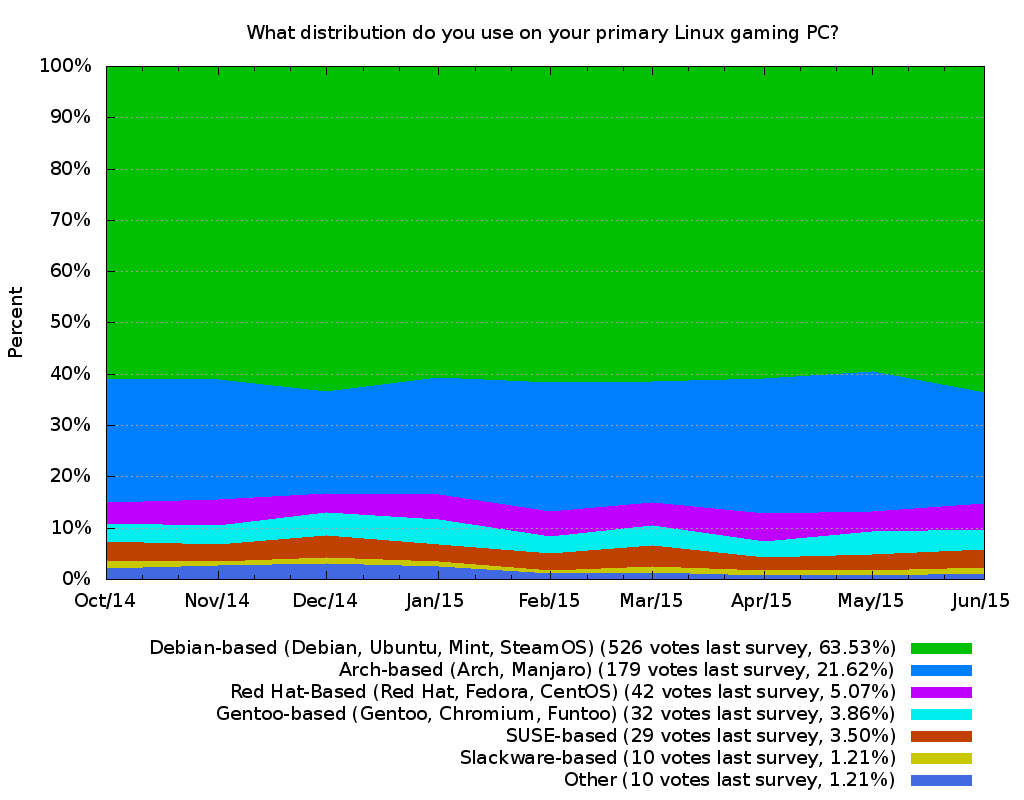 Question 5
- What Desktop Environment do you use on your primary Linux gaming PC?
For the August survey (which I have already written up so I don't forget) i3 will be gone as a desktop environment since it is in fact a window manager and should go under the "none/custom" category. Don't expect to see that change in next month's results, the change will come in the one after.
Question 6
- Did you change your primary Linux gaming distribution last month?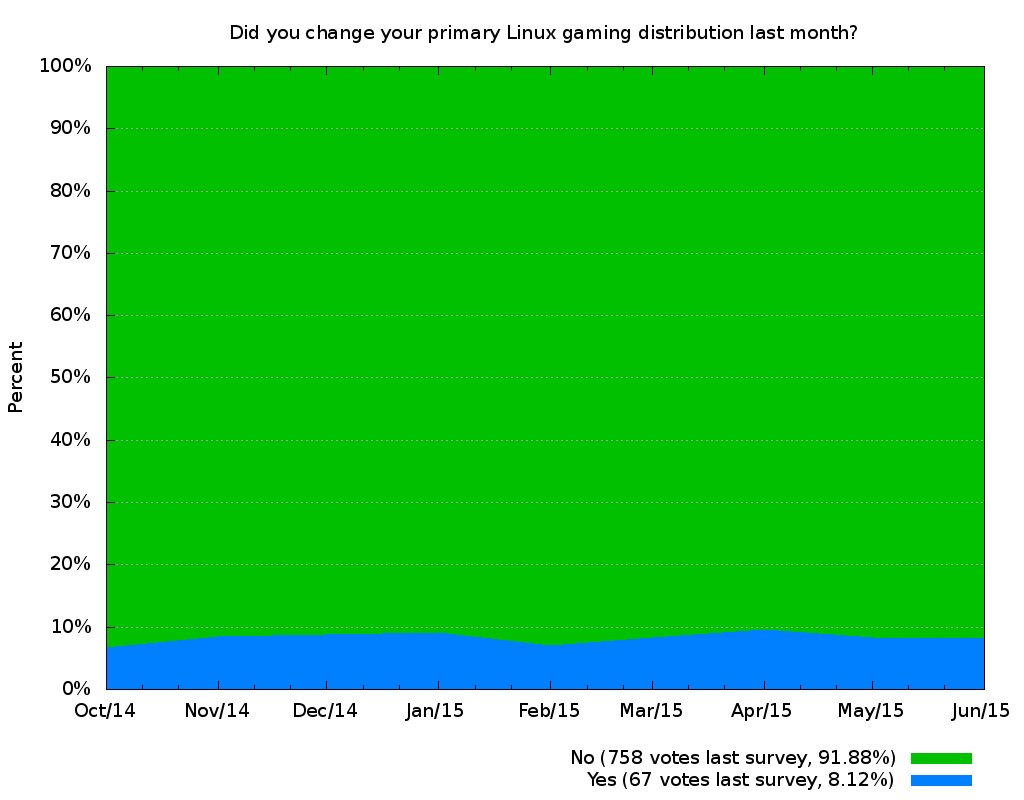 Question 7
- What graphics card do you use on your primary Linux gaming PC?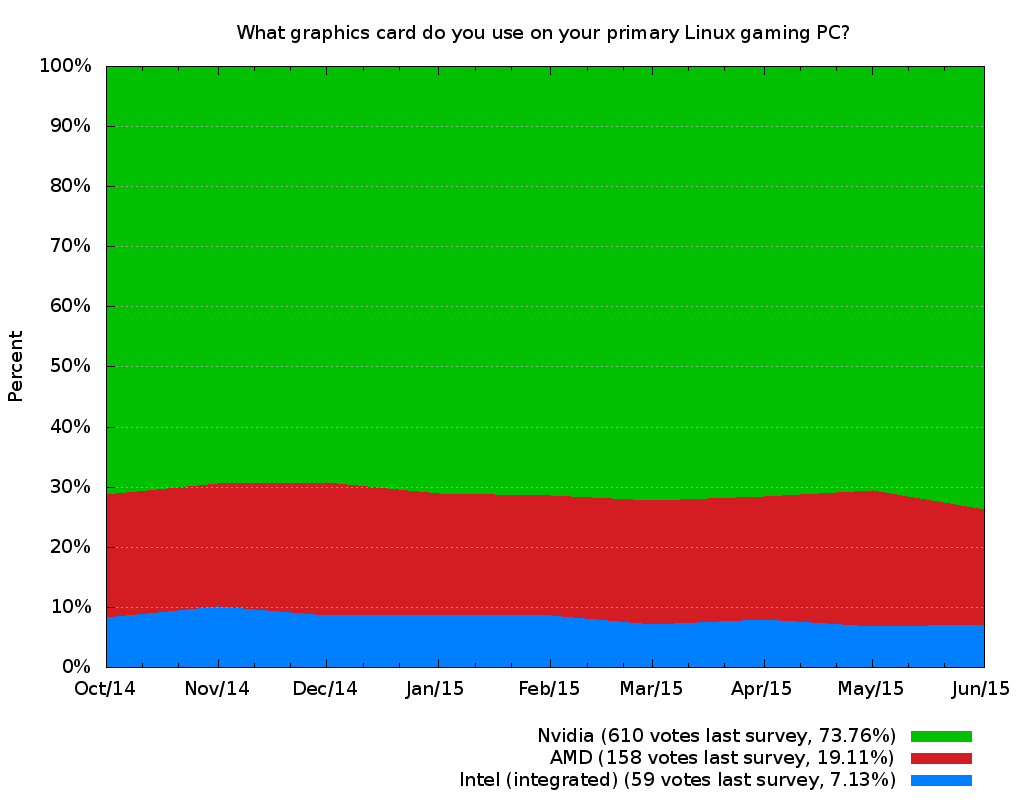 Like the change to the desktop environment question, I had promised the addition of "Integrated AMD" as an option but forgot to do it this month. This change will also appear in the August survey.
Question 8
- Which drivers do you use for that graphics card?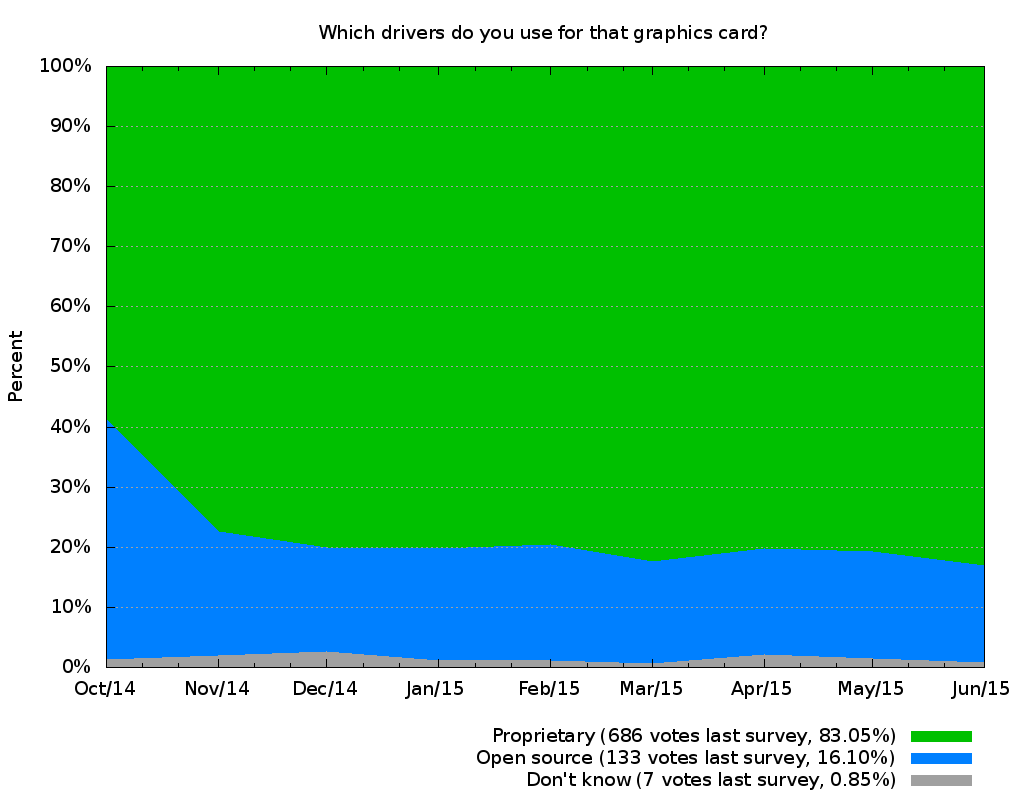 AMD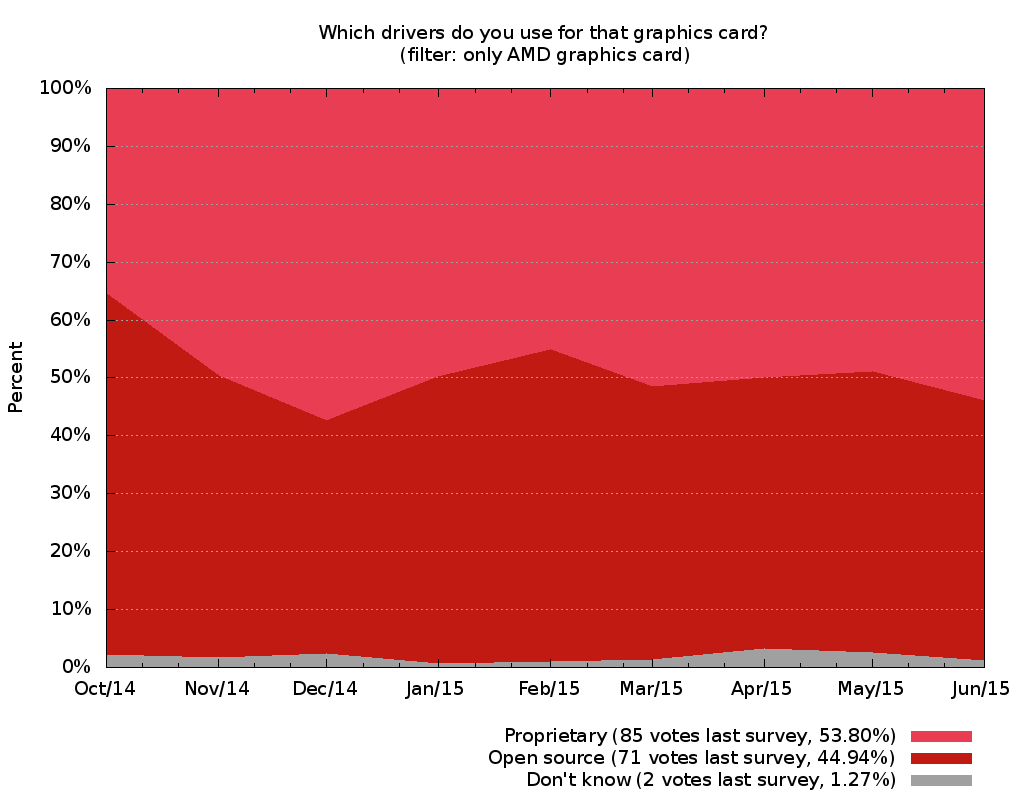 Intel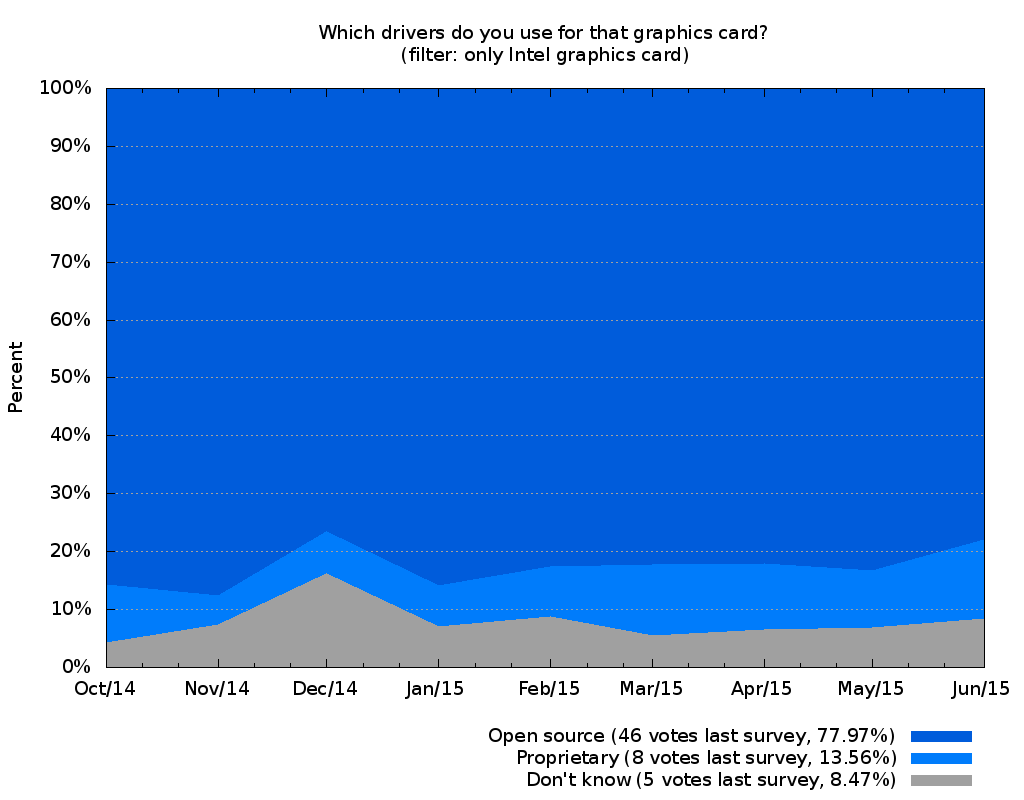 In the latest *ubuntu releases (15.04), in the proprietary drivers section, there is now actually an option to download proprietary updates from Intel and AMD so maybe we were wrong to always point that out as impossible. I would still really like to hear from someone who answered proprietary for this question though in case there is more information we're missing.
Nvidia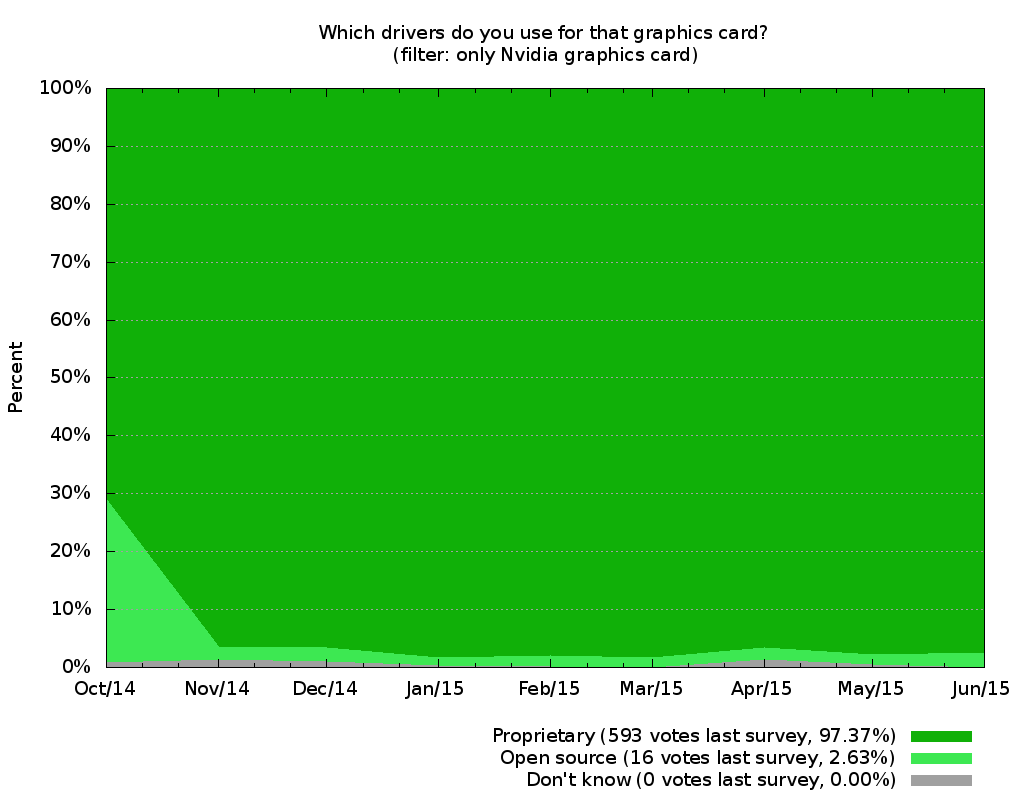 Question 9
- What CPU do you use on your primary Linux gaming PC?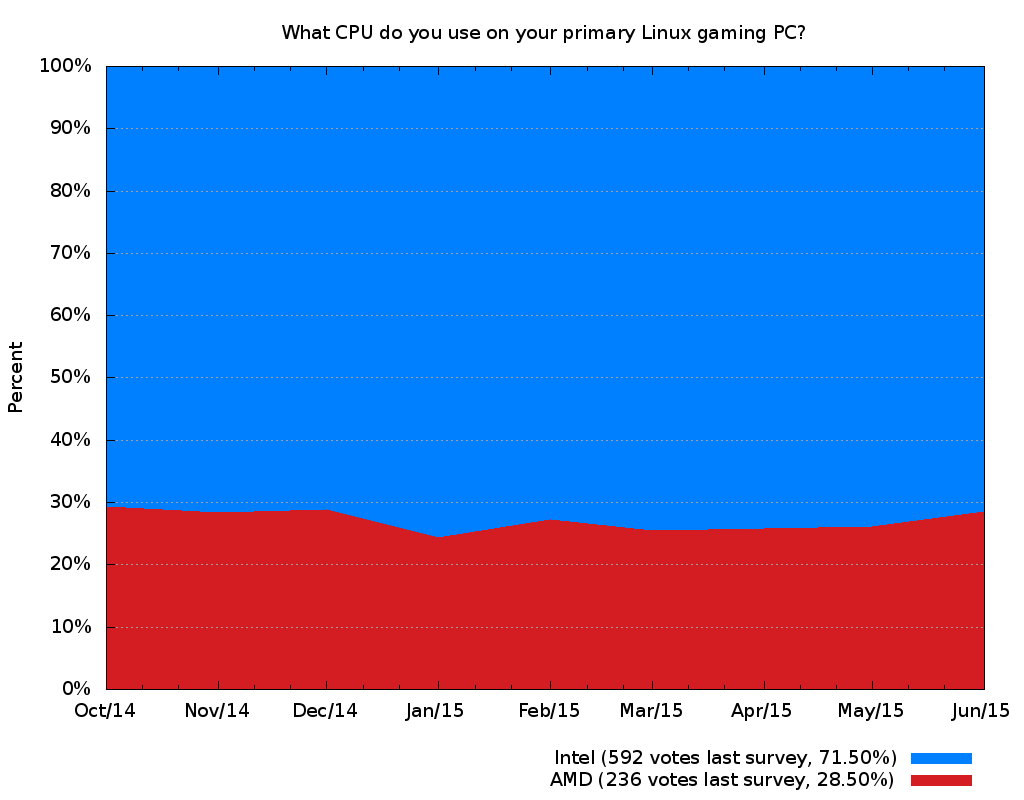 Question 10
- Did you exclusively buy Linux-supported games last month?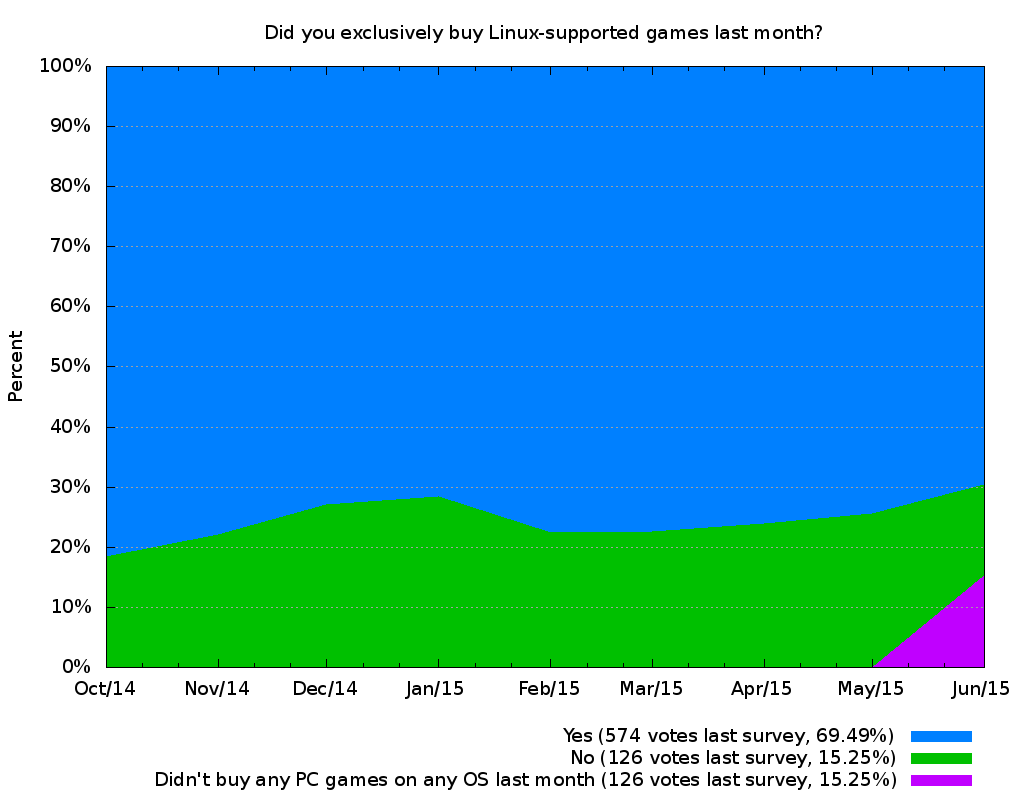 It seems like adding one answer can make a huge difference, and this one has mixed things up a lot. Where as before, it looked like 25-30% of respondents were buying Windows games every month, it actually seems like that number is ~15%. This is actually a much smaller minority than I would have thought.
Nevertheless, it would still be interesting to break down that 15% with reasons behind the non-Linux purchase and also find out how many of the 60% believe that their purchase counted as a Linux purchase when it perhaps didn't. It happens all too often where a game goes on sale on Steam and there's a few comments in the forums from people who just bought the game because they heard it was coming to Linux and wanted to get it on sale, which I find a bit weird considering every time there's a Linux release, it's also accompanied by a sale anyway.
That leads me to believe there's a good number of people who believe their sales are being counted as Linux sales when there is no guarantee that they are, so the 60% may be as misleading as the original 30%.
Question 11
- How many Linux games did you buy last month?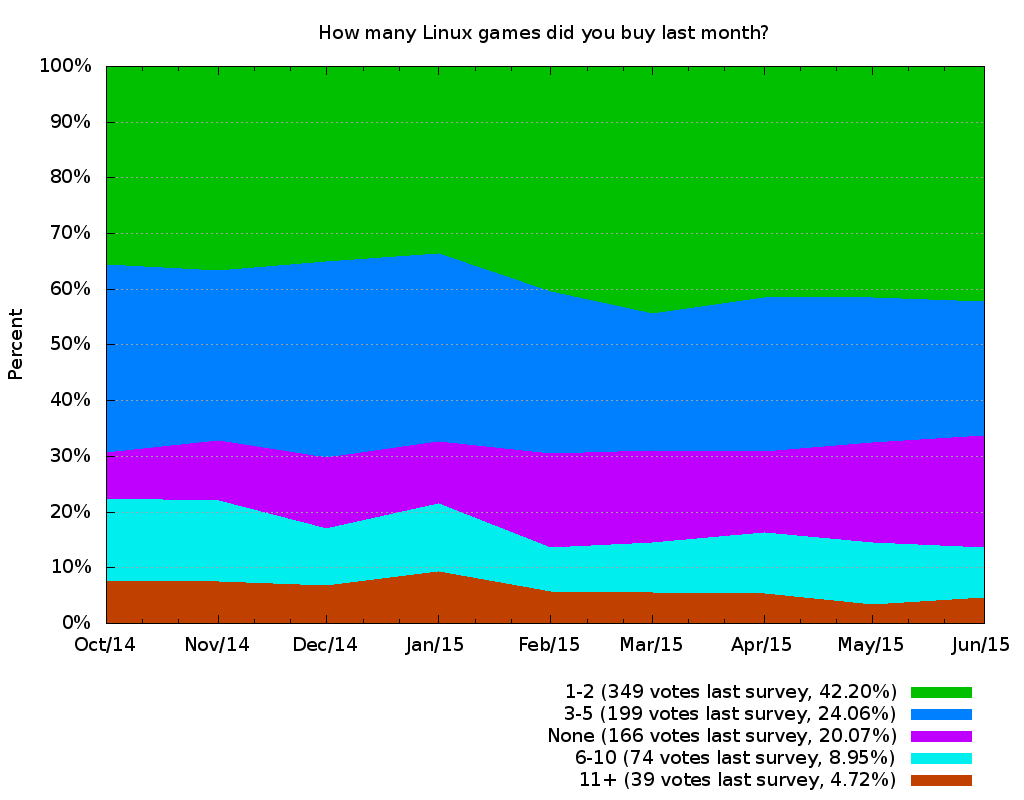 Question 12
- Which of these retailers did you use to buy your Linux games last month?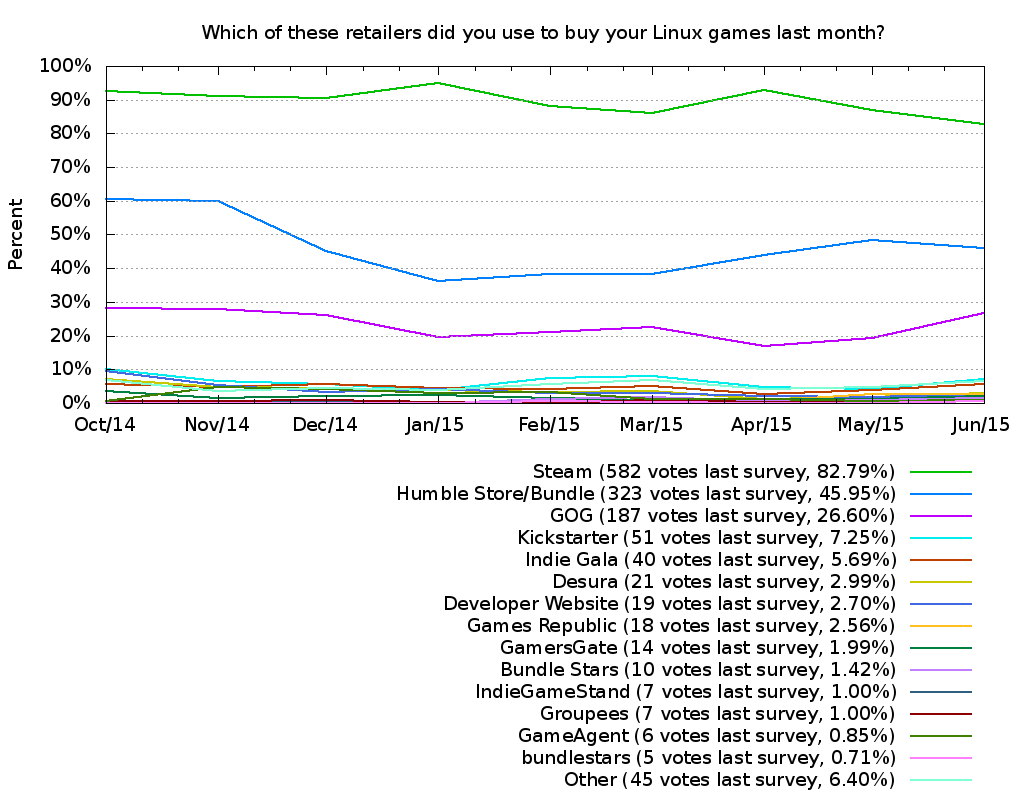 Unique Question 1
- Do you have a games console?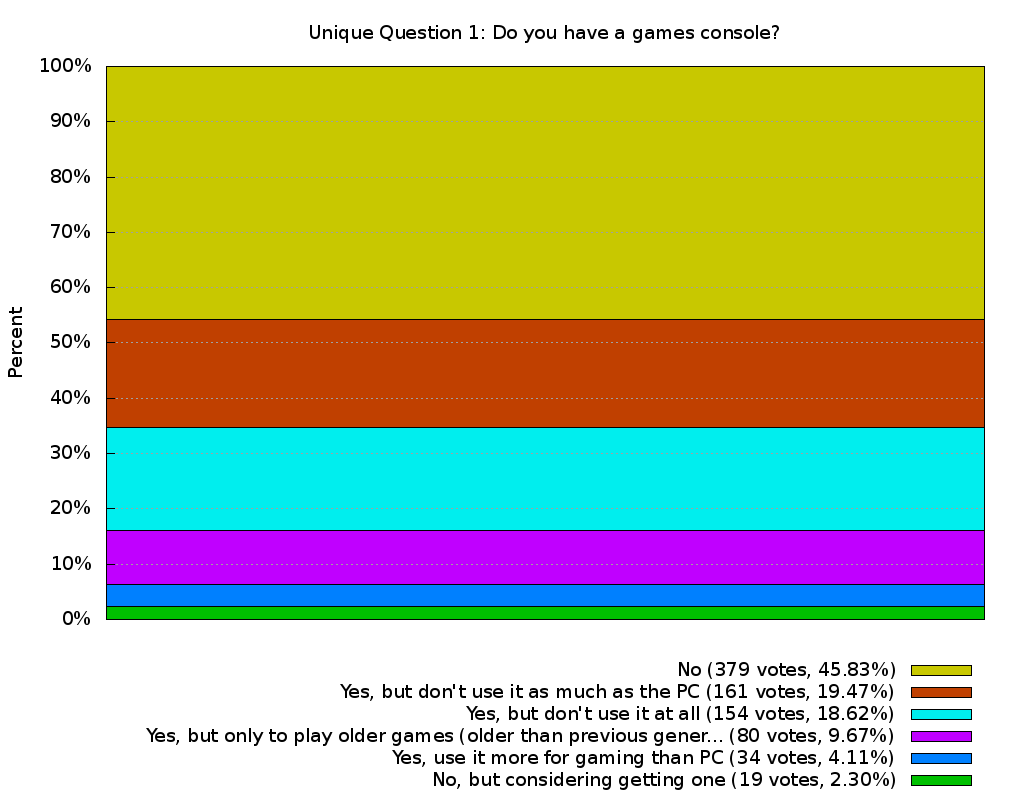 So now we know how many Linux gamers have consoles and have a rough idea of what generation of consoles they are. In hindsight, I would have liked to have added an answer about emulators in there, but that can be left for a separate question next month.
Unique Question 2
- Interested in Steam Link?
It seems that people's minds are quite open on this one, most likely because it is quite an inexpensive device so it doesn't seem worth discarding completely. Similarly, we don't know how well it will work so it's also understandable why so many are on the fence.
At the same time, 25% seems like quite a high number of people who have no idea what it is, but then that's understandable considering it was announced alongside the controllers and Steam Machines, which largely overshadowed Steam Link. Also, those who don't use Steam are unlikely to have heard of it. Those who didn't search for what it was after seeing the question,
this
is a Steam Link.
Some you may have missed, popular articles from the last month: