The results for the July survey are now available for you to take a look at and compare with results from previous months.
You can find the new survey for August
here
, so please fill that out if you haven't already.
I have been making a few changes, some of which appeared in the July survey and some in the August survey, the results of which will be out next month.
Please click on the images to enlarge. Once enlarged, you can also cycle through them using the arrows.
Respondents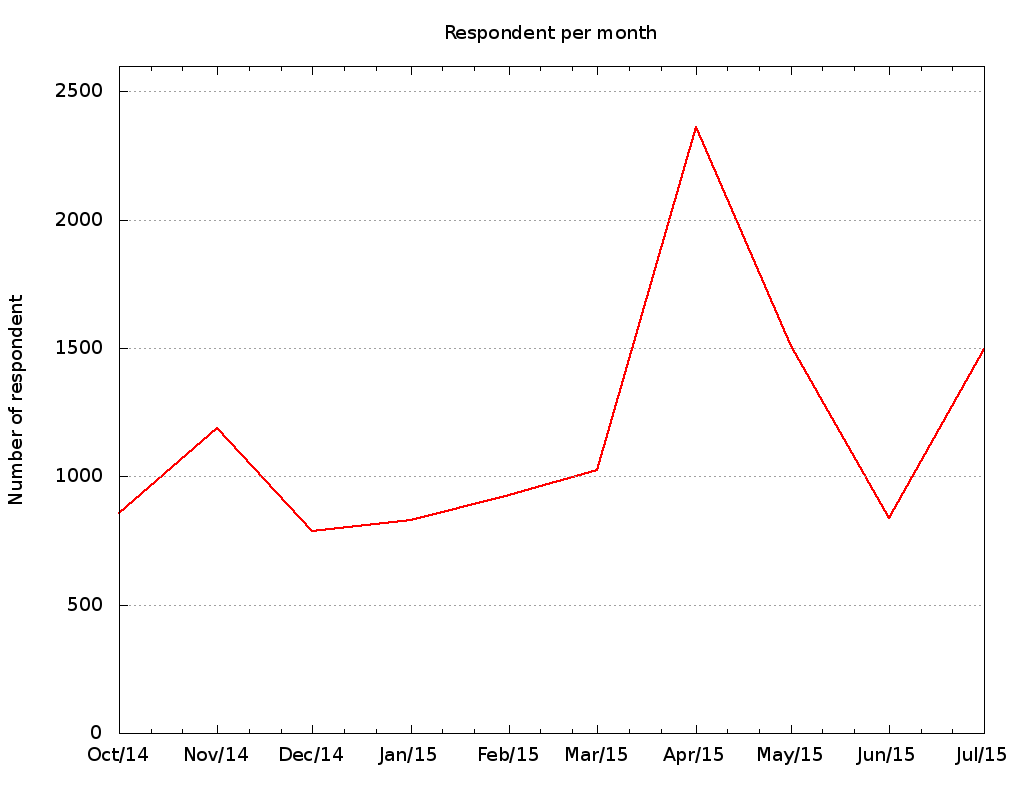 We had 1496 responses this month, so thanks for everyone who took the time to fill it out. There were 838 last month, which was the lowest number of respondents we ever had, so it's good to see we're above the 1000 mark again. The issue of fluctuations in the number of respondents hasn't gone away, and there is no doubt it affects the results of the survey so it's something which will have to be tackled at some point.
Again, if there's people from r/linux_gaming reading this, then please try and share the survey there every month so we can get similar sample sizes. August is looking fine, so it seems that has already been done for the newest survey :).
Still, when you look at these numbers, you have to remind yourself that 1,400 - 1,700 is usually the sample size used for pre-election opinion polls (at least in the UK and Argentina), so the sample size we're getting is very good if we're making those kinds of comparisons.
Question 1
- Do you currently use Linux as your primary PC gaming platform?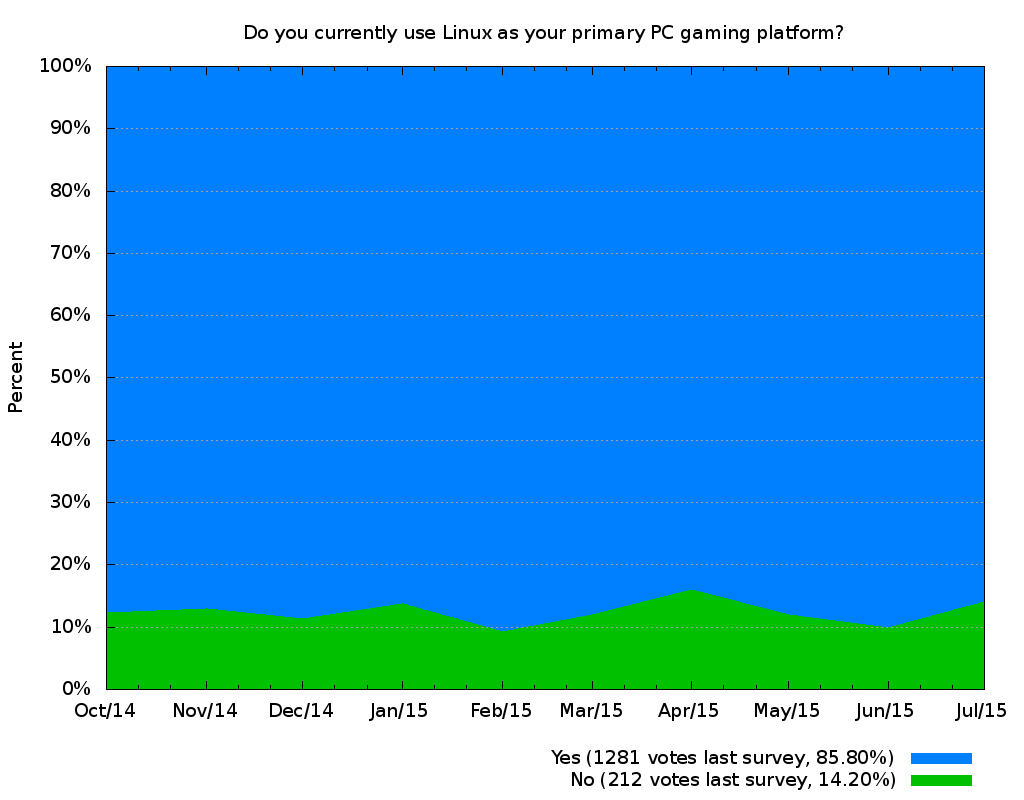 Question 2
- Did you use Wine to play games last month?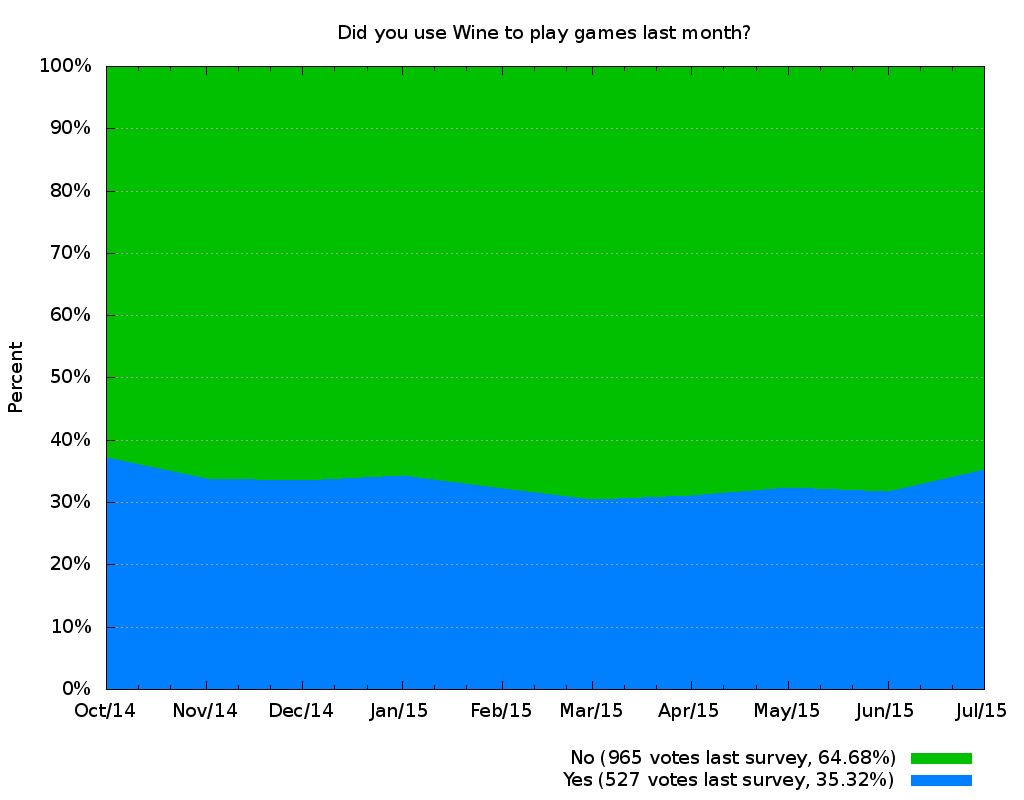 Question 3
- Did you use a Windows partition for gaming last month?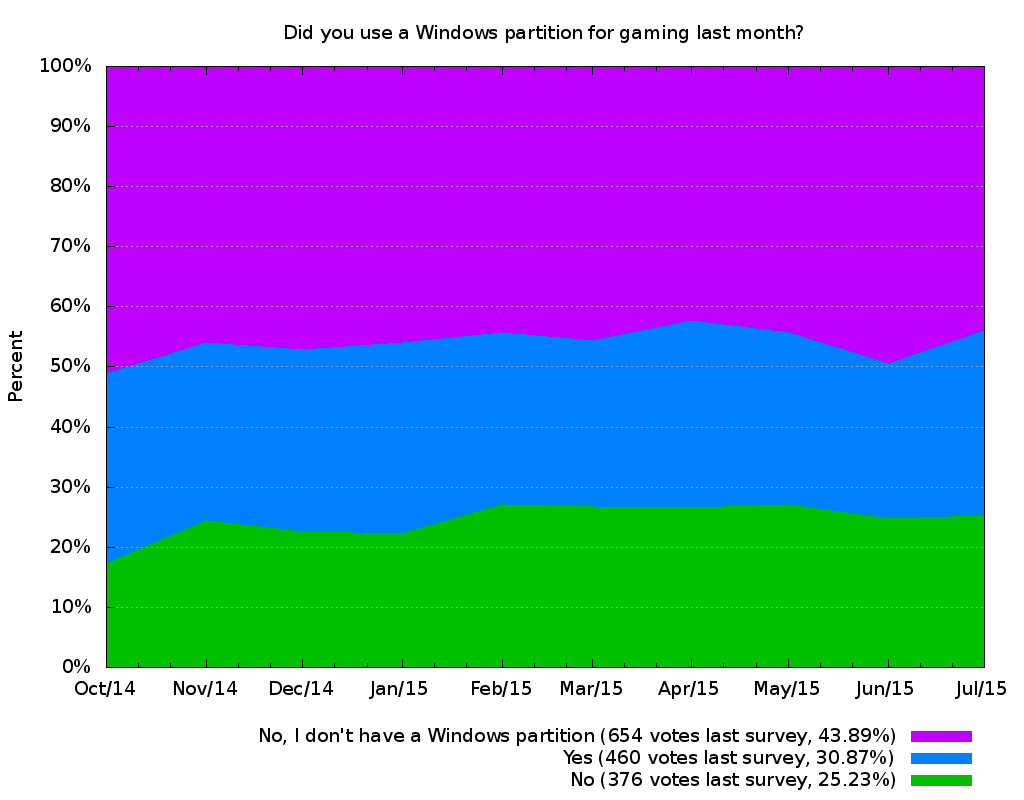 I took the decision of placing the "no, I don't have a Windows partition" answer at the top for the first time in the July survey, since I answered simply "no" by accident in the previous month and figured others might be doing the same. However, discounting the dip in June which could be attributed to the lower number of responses, it seems to have had no effect.
Question 4
- What distribution do you use on your primary Linux gaming PC?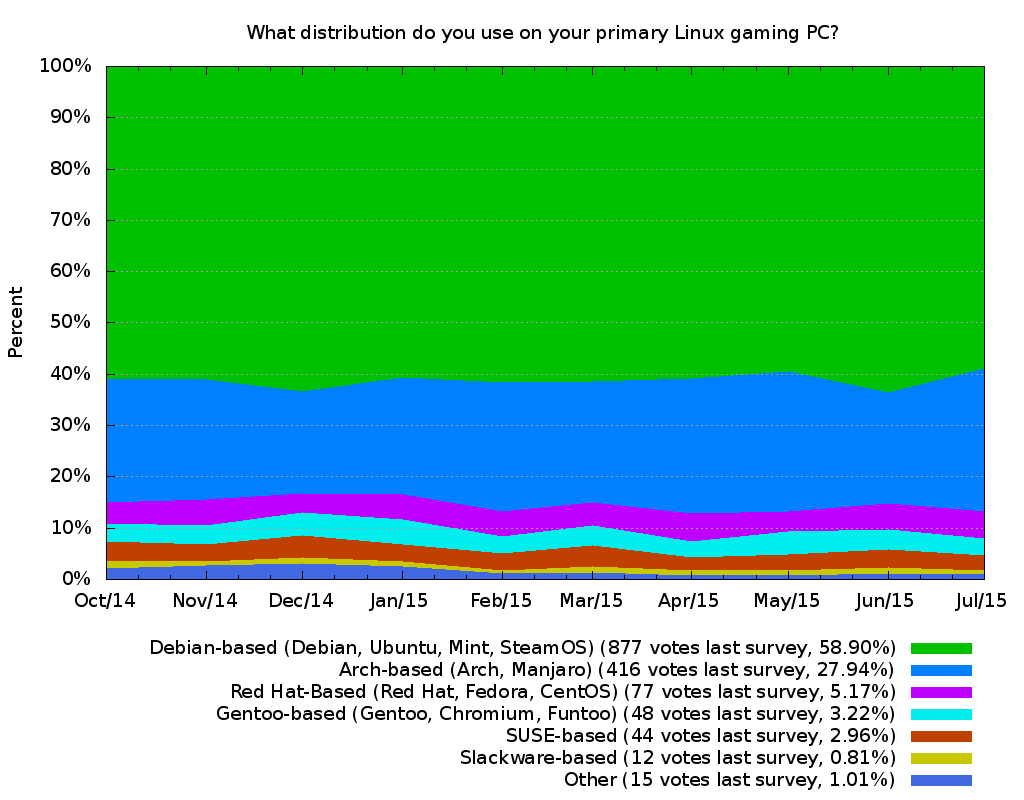 Question 5
- What Desktop Environment do you use on your primary Linux gaming PC?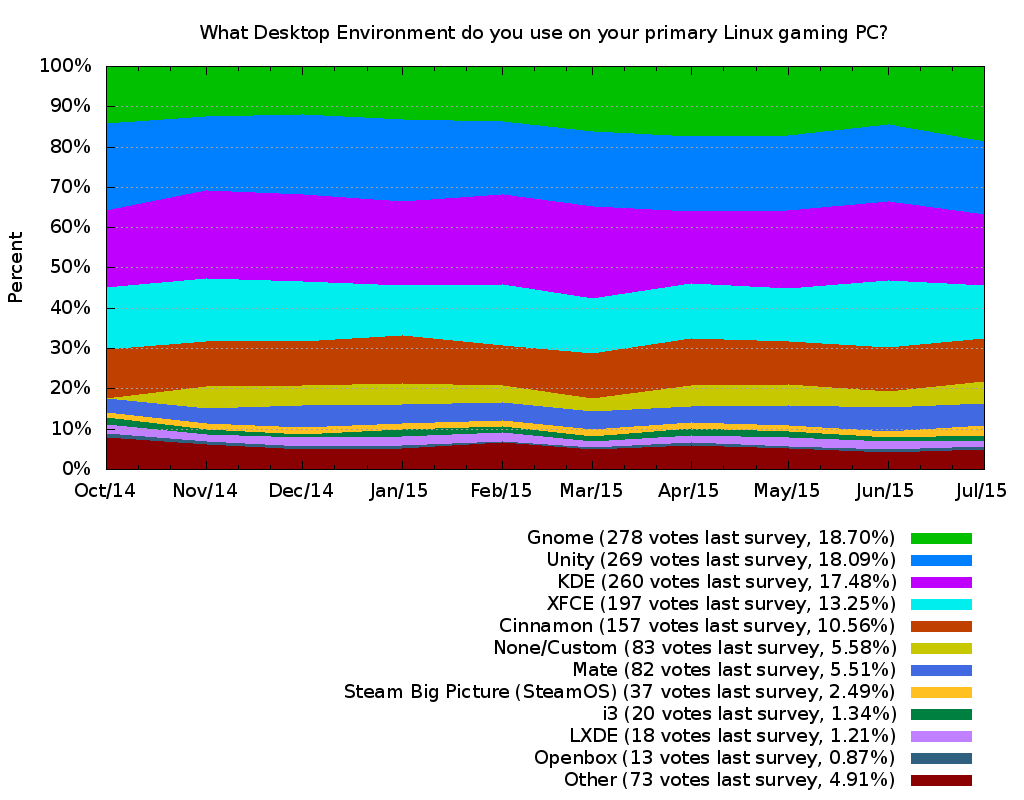 It seems like Gnome has come in as the outsider and taken the prize here in what was always a race between KDE and Unity. This is the one question where the answers are constantly changing, and it reflects the Linux world pretty well.
If anyone switched from KDE and Unity to Gnome, it would be interesting to hear why.
Question 6
- Did you change your primary Linux gaming distribution last month?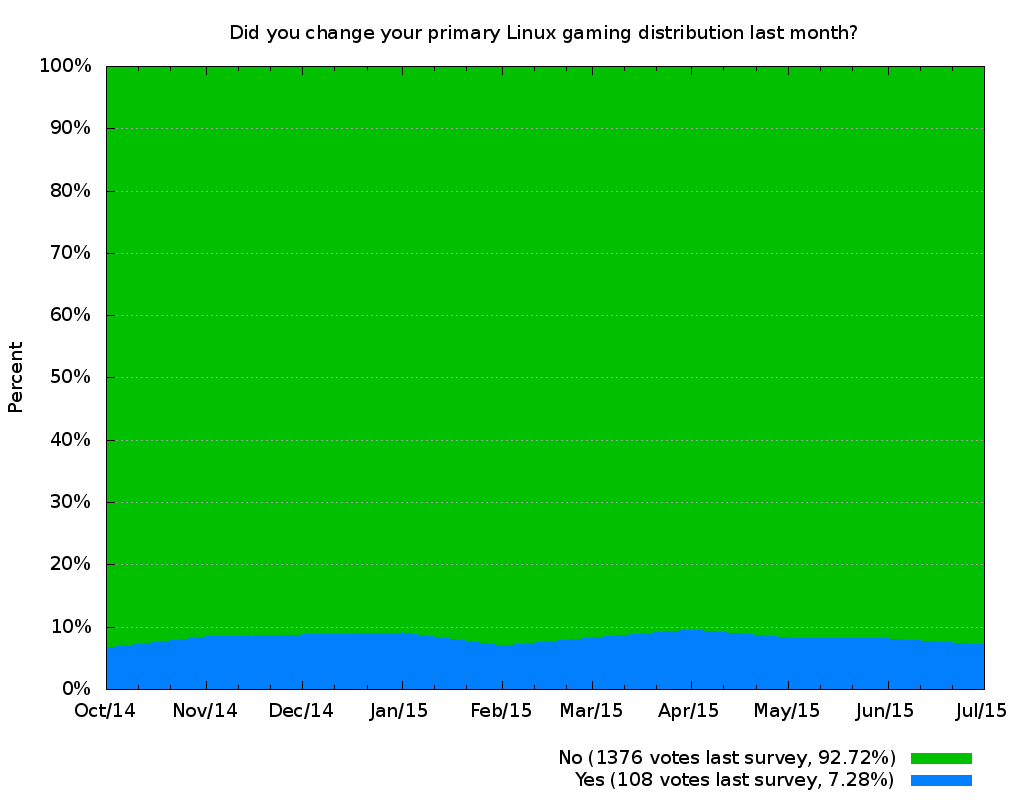 Question 7
- What graphics card do you use on your primary Linux gaming PC?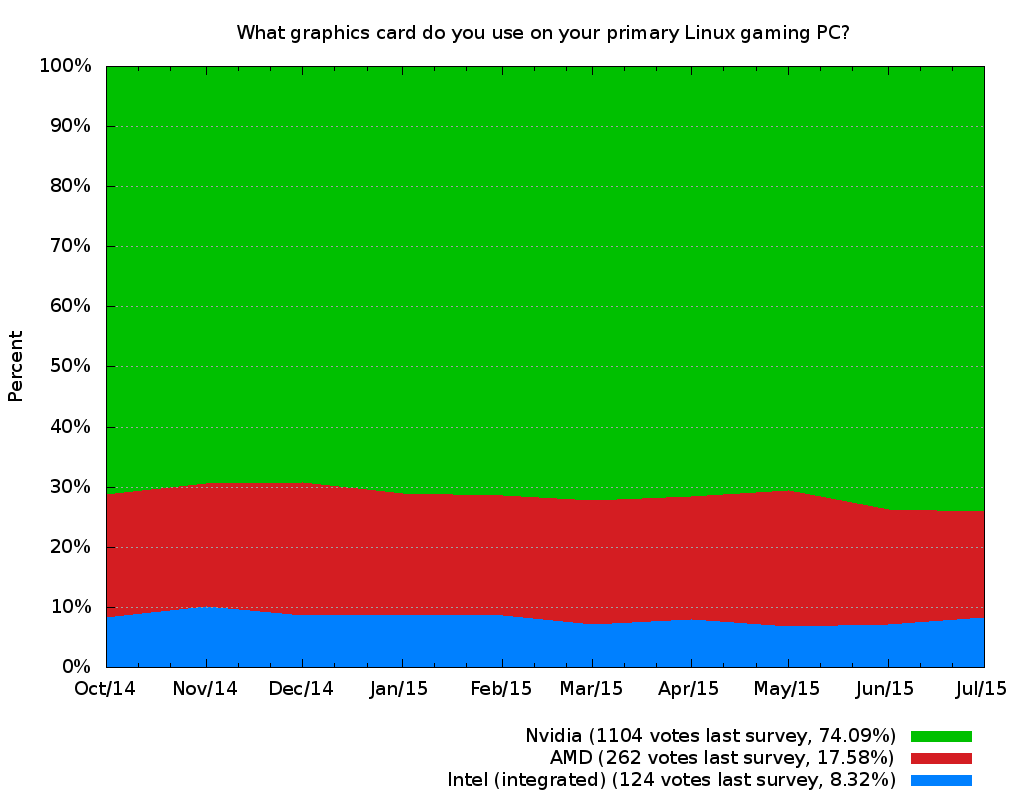 At first it was hard to tell, but it certainly seems like the percentage of AMD cards is shrinking. My assumption would be that this is because there's a wider selection of more demanding games on Linux so more people are starting to upgrade their hardware and going with Nvidia due to the lack of AMD compatibility for some recent AAA titles, and obviously the driver issues.
Something which the distribution and desktop environment questions make abundantly clear is that Linux users like choice, and unfortunately it seems like for a lot of Linux gamers that choice is very limited in the graphics card department and what is a duopoly for Windows gamers is essentially a monopoly in the eyes of Linux gamers. It does appear that this trend may soon reverse, but for now it seems to be what's happening.
Then again, these are my views and I may be wrong. In an ideal world we would have all open source drivers and a selection of 10 different hardware vendors, but I guess we can only dream.
In the next survey, I added integrated AMD as an option. Sorry for taking so long to do it!
Question 8
- Which drivers do you use for that graphics card?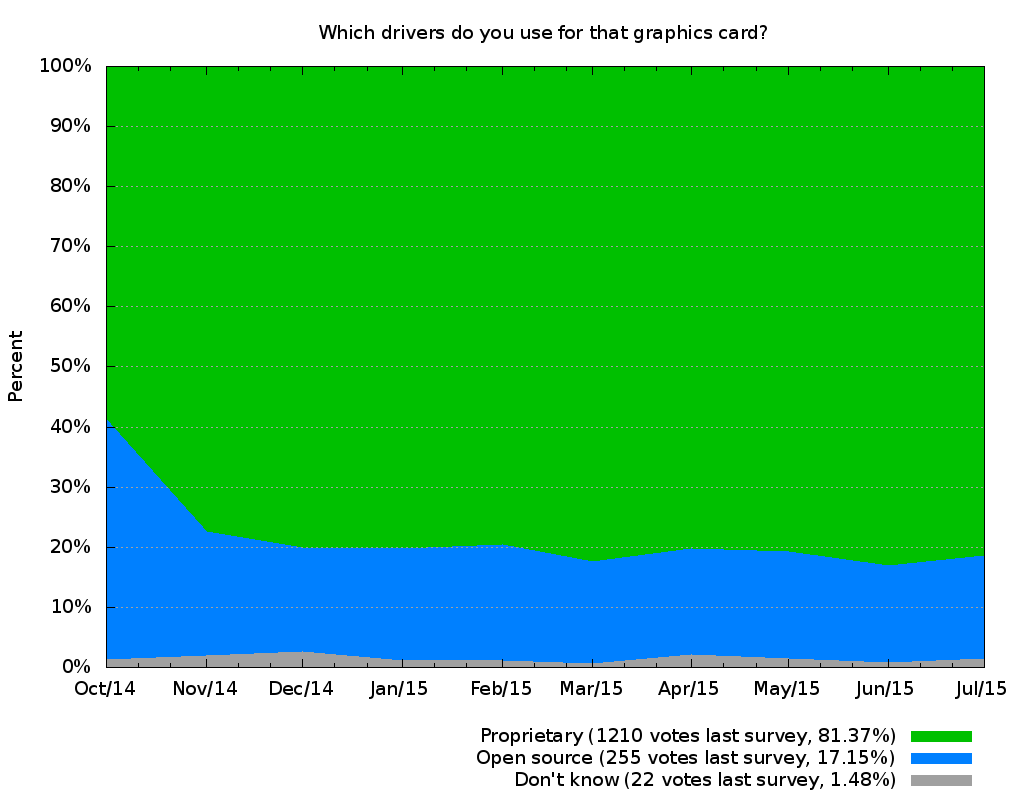 AMD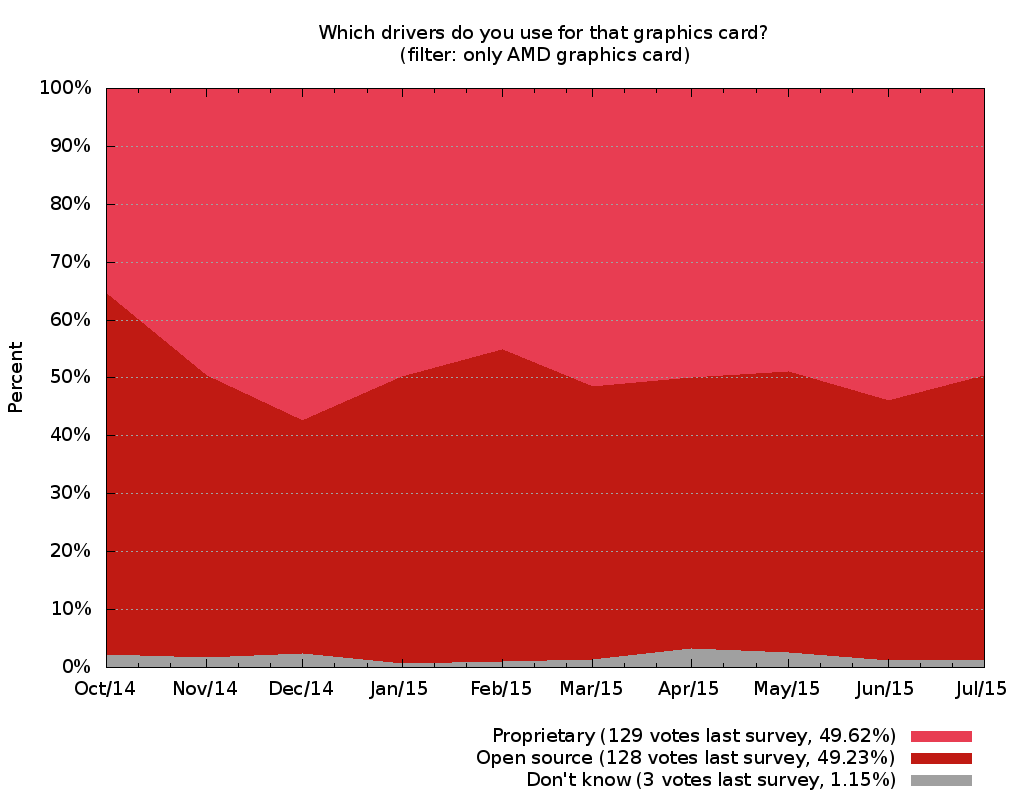 Intel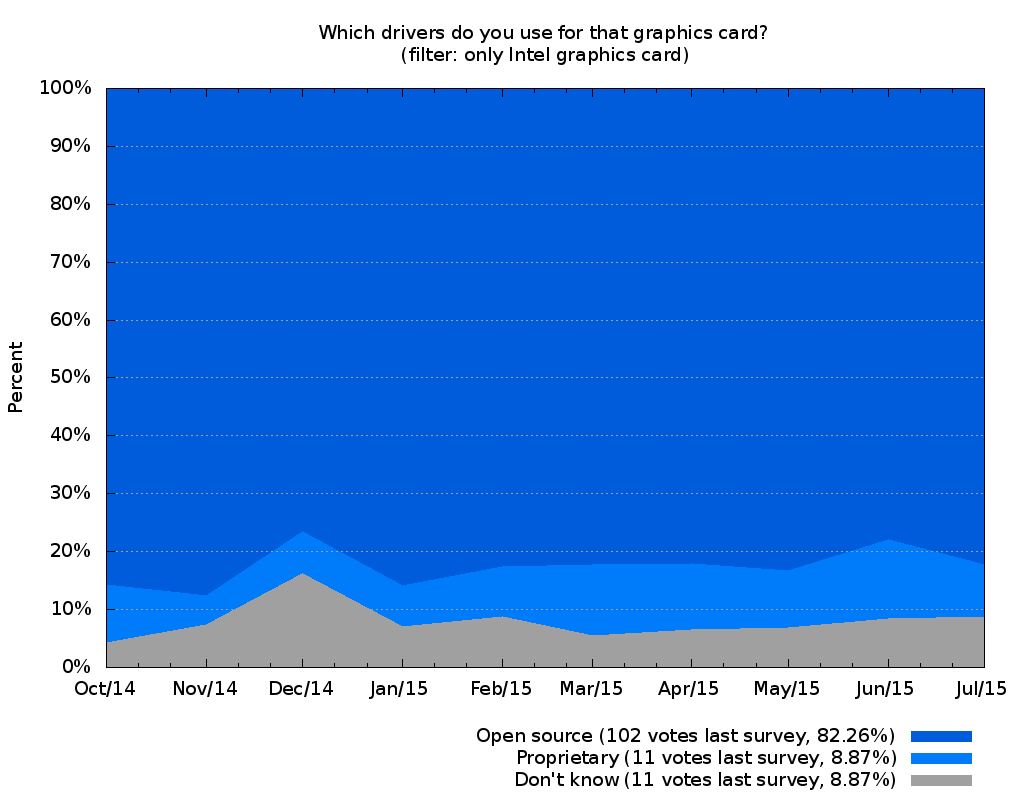 Nvidia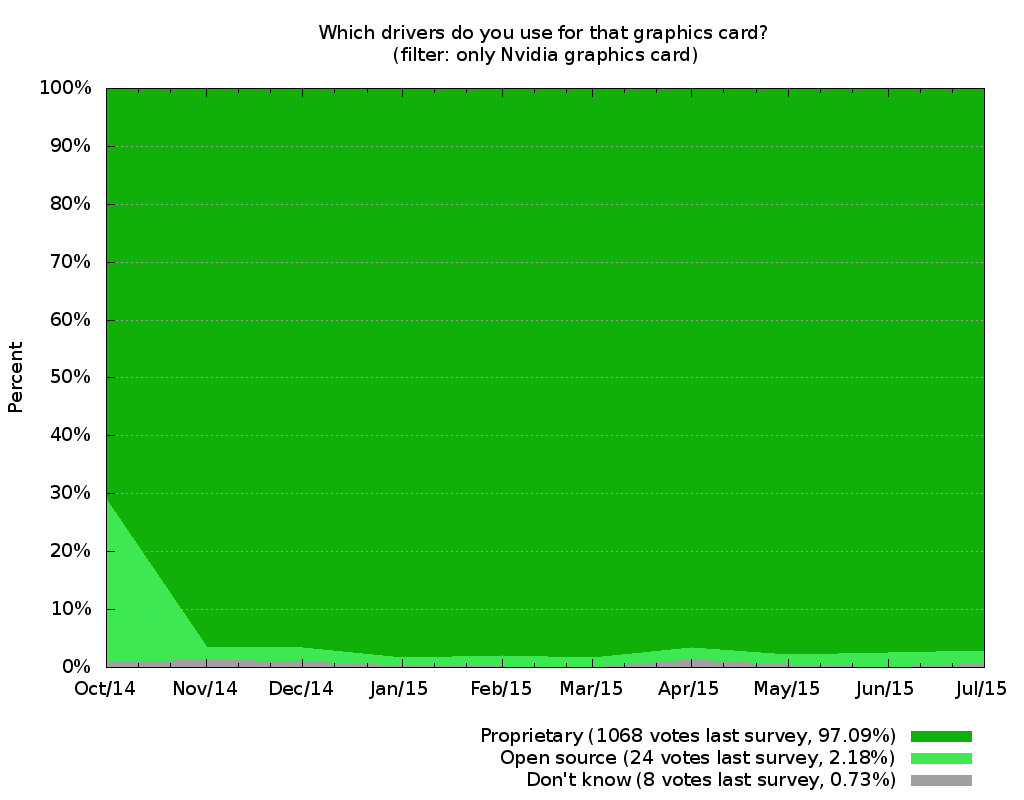 Question 9
- What CPU do you use on your primary Linux gaming PC?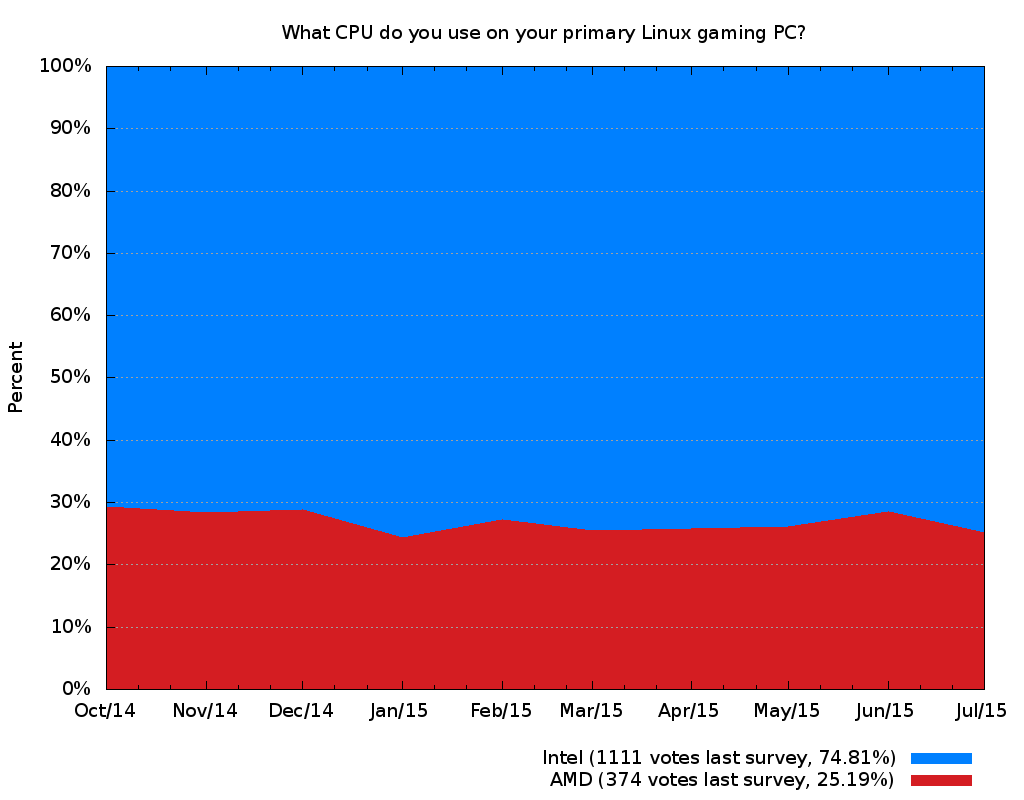 Question 10
- Did you exclusively buy Linux-supported games last month?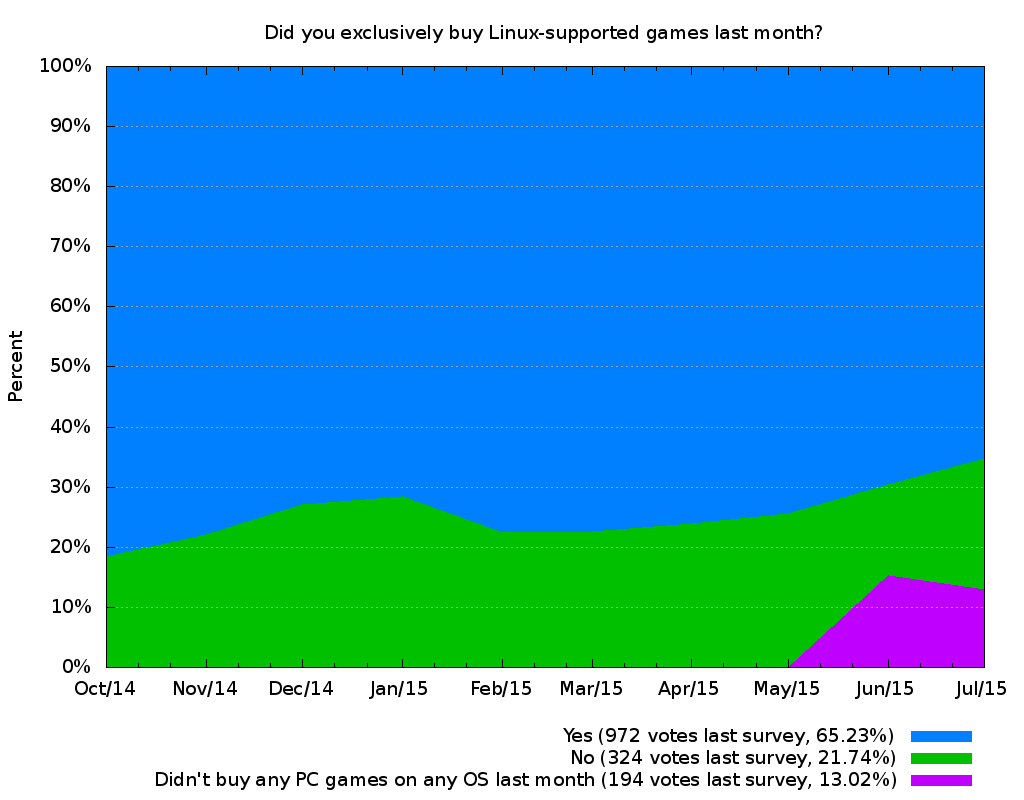 Though the adding of the "no games whatsoever" option has added clarification to these answers and it seemed that this - combined with number of games purchased - indicates there is a general decline in people buying Linux games, rather than tonnes of Windows games being bought by Linux users.
Obviously, these results show an increase for that month, but we're talking about things that happened in June when the Steam summer sale was going on, and there's always going to be a bit of a spike there. Nevertheless, just looking at the numbers seems to show a general downward trend.
There could be a number of explanations for this, and I see none of them as particularly negative. One contributing factors are probably a decline in the number of bundle sales, either because a lot of people already own every indie game they care to own, or simply because with the advent of some big AAA titles on Linux, people's wallets are concentrated over larger, more sporadic purchases instead of spread thinly over many small ones.
Similarly, Linux gaming (in its second iteration) was, up until recently, a fairly new thing, so a lot of people (myself included) were throwing money everywhere since our libraries were pretty empty and because we wanted to support Linux gaming financially. This is quite an unsustainable thing, and it's inevitable that things would eventually level off, but this by no means indicated that people are ditching Linux as a gaming platform, as the "did you use a Windows partition" question shows.
Question 11
- How many Linux games did you buy last month?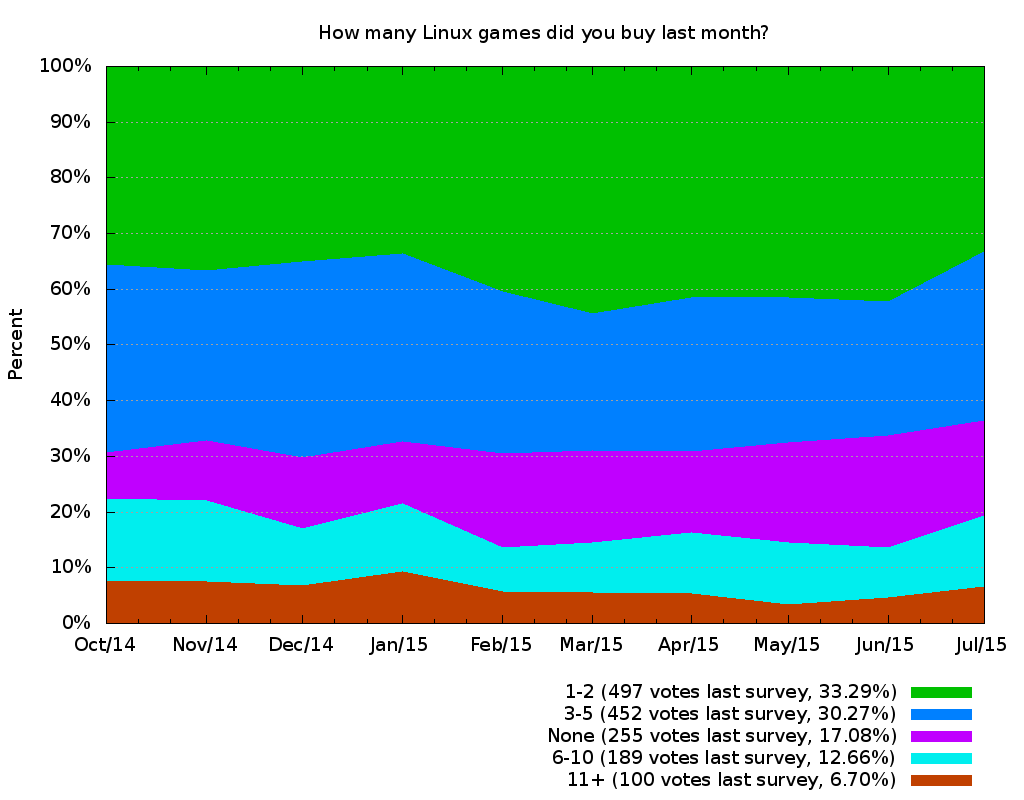 Again, this is much of the above, and with the exception of the summer sale month, there seems to be a trend towards less people buying a large amounts of games every month. Obviously, there are other factors to take into consideration, such as seasonal fluctuations, but we don't have a 10-person market research team to take such things into account.
Though doing a brief web search, a few sources seem to suggest that PC gamers buy on average 1-2 games per month. Based on these sources, it still suggest that Linux gamers still buy far more games on average than Windows gamers.
Question 12
- Which of these retailers did you use to buy your Linux games last month?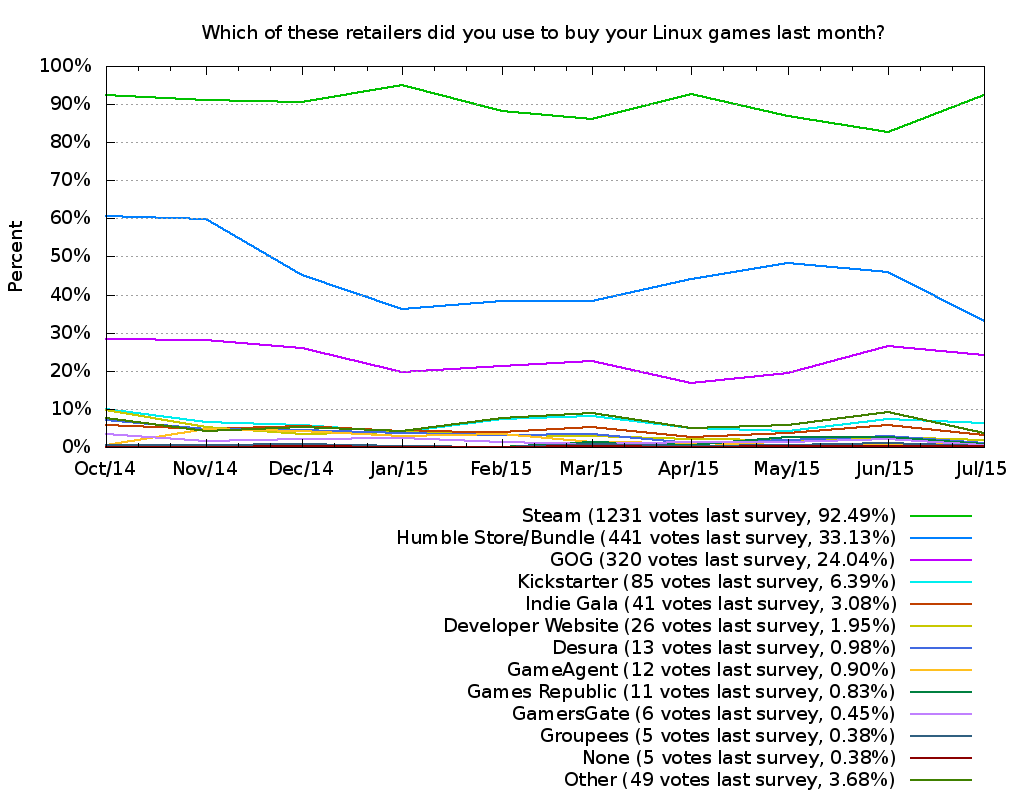 To reiterate the points made on the above two questions, Humble sales have still continued to drop after a brief plateau, while Steam is being used by around 90% of people. Though the decline in the "Bundle phenomenon" may also apply to other OSs as well, but again, no 10-person team, only trends of based on the data we have.
Unique Question 1
- Will the release of GOG Galaxy mean you will buy more DRM-free games?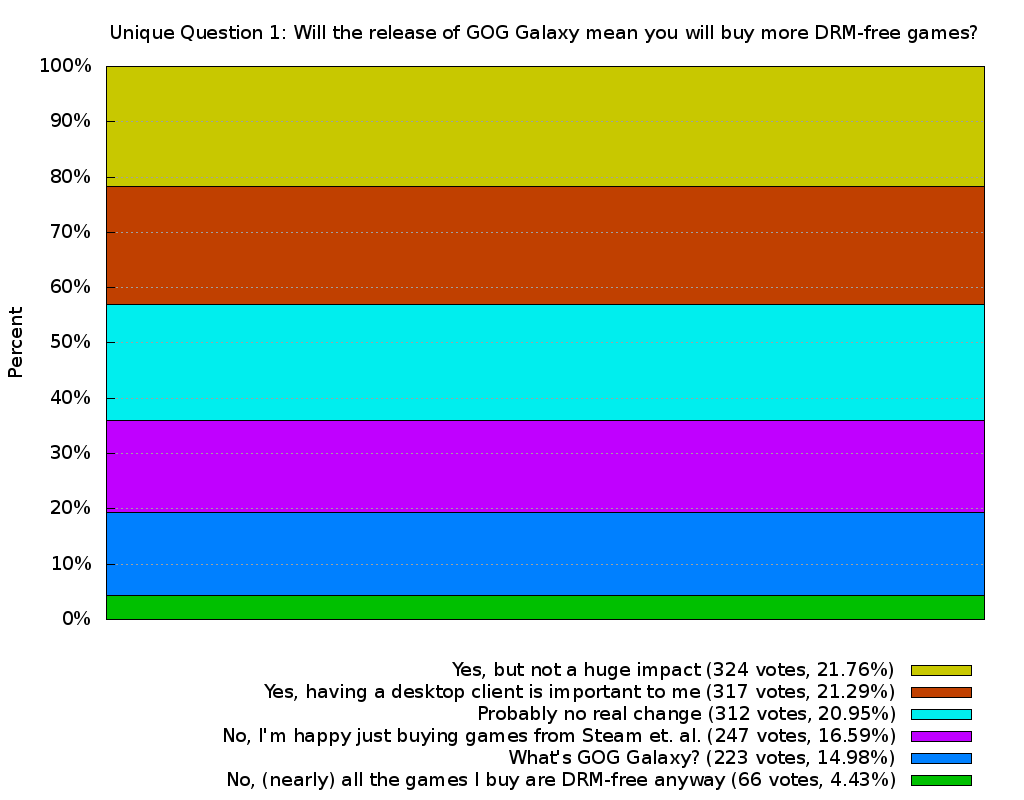 Unlike the other retailers and numbers of sales declining in the previous answers, GOG certainly seems like it's one that is set to grow. With Desura quickly fading into obscurity, GOG has picked up the slack and it's got some big titles on it, so it's unsurprising that it's the third-biggest retailer among Linux gamers and closing the gap with Humble.
By the looks of it, the desktop client is likely to boost sales quite a bit, and it may well become an even bigger deal among gamers across all platforms if people get more fed up with DRM.
Some you may have missed, popular articles from the last month: