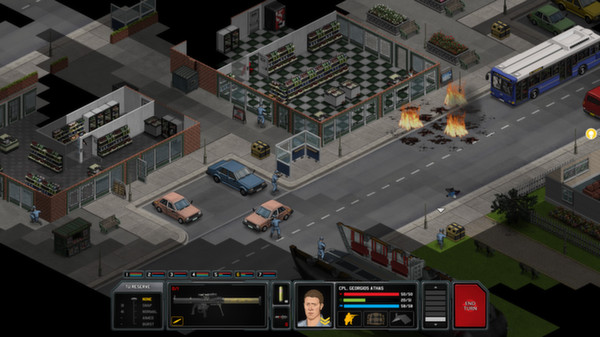 I love XCOM, you should all know this by now. It's one of the best strategy games available on Linux, and the original was one of the first games to ever suck me in. So, with Xenonauts now being native on Linux, I decided to finally take a look at it. I actually followed the game for a long time, but I was really put off by it just being wrapped up with Wine.
I've been putting this off for a while to see if any patches came in, so that I could have a decent experience, so I think it's been time enough. It's also quiet for releases today, so it's a good time to slide in a post about a previously released game!
My thoughts
Being an XCOM veteran myself, I expected to be able to quite easily pick up what to do, so I naturally chose one of the harder modes. At first glance it is very much like the original XCOM, every part of the interface is similar so I feel at home. If you are fans of the original, you will probably recognize everything right away.
It has everything you expect with base building, research and manufacture all wrapped up in a pretty tidy interface that's all pretty self explanatory.
Although it is inspired by the original XCOM, it actually removes a bit from it too. There's no buying and selling of your initial equipment which I actually missed while playing it. I don't think I'm just overlooking a section, it just doesn't seem to have it. This one feature alone makes Xenonauts actually a lot more simple to play as it removes some of the micro management needed. You can buy/sell later equipment though.
The start of the game was actually quite slow for me too, it took me a good half an hour before I was able to down a UFO over land to actually begin a single combat mission, which was a bit annoying.
What I do like, is that nighttime missions are actually a little bit harder, and you need to use flares and hope there's some other sources of light around. I found the night missions especially challenging, and total failed a few times.
Like all good turn based strategy games, your soldiers aim is absolutely awful! I can't count the amount of times I yelled at the screen because of how terrible my soldiers are at actually doing their job. Not only are they crap at hitting their target, but my first mission started by one of my own soldiers shooting a fellow soldier in the back—FIRED!
I would have liked it if it told me how to use my quick slot items, like grenades. I didn't figured it out until the end of a mission where all my soldiers died, so I was a bit annoyed by it. You need to right click on the top slot next to your weapon. This will bring up another menu, with your quick slot items. I feel that should have been explained, or the quick slot area should have just been visible. So my first mission ended up with all my soldiers dead, not the best start ever, but not unusual for these types of games.
The one thing that surprised me the most, is how beautiful the characters animations are. I genuinely love the aliens and humans design for the game. The general graphics during missions are quite nice too, and certainly in keeping with the original XCOM.
Performance wise there's no issues on my end, I am running it on a 970, but there's nothing really intensive actually going on. Stability wise it seems sound too, so this Linux port is done pretty well and I'm rather happy with it. There are no graphical options apart from resolution though, so be warned if you are on a rather low powered rig as you won't have any room to move around things.
Final thoughts
: If you're looking for an up to date and more streamlined XCOM experience that isn't the newer XCOM: Enemy Unknown, then you should seriously give this a try. I enjoyed it quite a bit, but I think an easier setting will be chosen for my next time.
Check out Xenonauts on
GOG
,
Humble Store
and
Steam
.
Some you may have missed, popular articles from the last month: