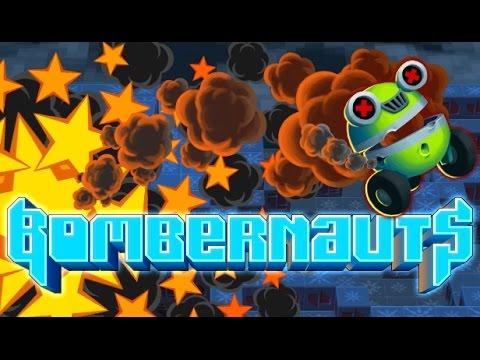 Bombernauts
is pretty much bomberman on a year long diet of steroids, as it's insane. We should get a game of this going sometime. This is definitely a contender for the next multiplayer GOL livestream that's for sure. It's in Early Access, so we might leave it to bake in the oven a bit longer, it seems to run quite well though, with no obvious bugs I could find.
Notice: Keys provided by developer.
Truth be told, I didn't really have much of an idea of what I was doing, and the only game available to play in the lobby had a clear "no noobs" description, but I broke their silly rule and joined anyway. I thought it was odd, but it turns out that's the default description for creating a lobby, I think it's a bit silly but it's their game.
It's basically bomberman with crazy (and I mean insane!) powerups, a destructible environment and interesting levels. I had fun playing by myself just testing out all the different bombs available from the weird piñatas floating about, but I would like to try it out properly, so go buy it and join me.
About the game
(Official)
Bombernauts is an explosive online multiplayer battle game with fully destructible voxel terrain. Throw stupid amounts of bombs to blow your robot friends off the world into the deadly lava below where they will surely die a fiery death! If that doesn't work, whack open a few piñatas with your trusty baseball bat, grab some overpowered powerups (like jetpacks, black holes, missiles, luchador masks, and more), and win that way instead! Do whatever it takes to be the last bot standing and claim your well deserved victory!
Some you may have missed, popular articles from the last month: