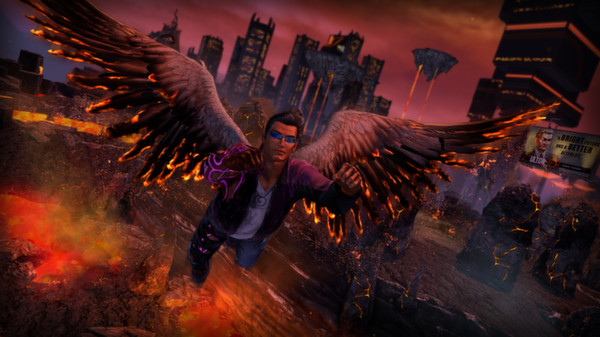 Another one, oh boy! In the same day we have Saints Row IV and now
Saints Row: Gat out of Hell
too! What a nice early holiday present.
Report
It's another port from Virtual Programming using their eON technology. I know that's still a taboo for some people, so that's worth mentioning right away. For me, I don't care who or what ports it any more, as long as it's playable and doesn't crash.
It took my character build straight out of Saints Row IV, so that's pretty cool. My character is still hilarious looking and sounds, so that was a rather high point to see that working. I didn't even know it did that, so it's awesome to see the time I spent on it coming through to another game.
The sad thing is, it doesn't seem like you control your previously created and imported character. For the time testing you're a different pre-made character.
Nvidia 980ti, Ultra, 2560x1440
It's rather bad here, around 30FPS with noticeable stutter. It drops below 30FPS at times, but it will also go up to around 50FPS. It's noticeably sluggish, and I don't consider it a playable setting.
Nvidia 980ti, Ultra, 1920x1080
Still stutters quite a bit, saw it drop down to 15FPS. It does hover around a more respectable FPS here though averaging between 50-60FPS. Once you actually get into the city, it will start going down to between 40-50FPS often.
Nvidia 980ti, High, 1920x1080
The stuttering here is just as bad as the higher settings, and it's quite distracting. It's much more playable here, as the city area when you eventually get to it gives a better average of 50-60FPS. I consider it playable at this setting.
Nvidia 980ti, Medium, 1920x1080
Still getting noticeable stutter, still annoying. The FPS here is all over the place, from stuttering down to 30FPS, right up to 100FPS, but most of the time it's between 60-70FPS.
Final thoughts
: Overall, performance seems worse at times than Saints Row IV which wasn't that great to begin with. Its another game where the minimum specs for SteamOS/Linux are listed too low.
The game itself is just as silly as Saints Row IV, but I already think I like IV more than this one. My thoughts on this are early though, so it could change.
I certainly appreciate having the option to play it, but I'm more underwhelmed by the performance with Gat out of Hell than IV, so I'm not sure If I will be playing this one through just yet. I do plan to play IV through as it performs better overall, so maybe by that time Gat out of Hell will have been patched up some more.
Seems like a shorter game too, in my brief testing I was already 7% completed, so it's probably doable within a day or two.
If you can do so, list your PC specs in the comments along with how it runs for you. I would like to see the bigger picture and know your thoughts.
About the game
(Official)
After the space faring antics of Saints Row IV, many fans asked what we could do next… the answer? Shoot The Devil in the face. Play as either Johnny Gat or Kinzie Kensington as you tear apart Hell in a quest to save the leader of the Saints' soul. Historical icons, old friends, older enemies, a talking gun, a full length musical number, and a whole lot of other shenanigans all await you in the open world standalone expansion playground that is Saints Row: Gat Out Of Hell.
Some you may have missed, popular articles from the last month: