I was sent a key for The Aquatic Adventure of the Last Human by one of my PR people, and so I decided to take a look and see if this underwater adventure was good enough for you.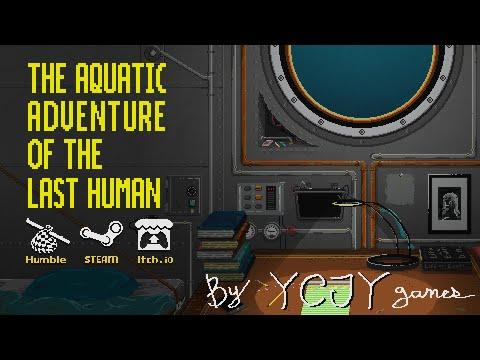 Initial Thoughts
My first game lasted all of about 4 minutes, seriously. I found a harpoon weapon, and was annihilated by a massive underwater worm that seemed to spit out millions of smaller versions of itself. Luckily there seemed to be a checkpoint just before it, so I didn't have to start over.
Apparently this is quite normal, and all the boss creatures are formidable beasts, which does not bode well for me dying four times in a row in the first one. You begin to learn the behaviour and once I figured something out (I won't spoil it), it turned out to be difficult, but not as impossible as I thought. Once I defeated it, I felt like an ocean god.
25 minutes later I was eaten in one bite by a massive fish, I'm going to guess I need a bigger gun and some ship upgrades to fight that one. I shall be avoiding that area for a while.
I have discovered some sort of complex, but I've no idea on how to get in. This has interested me very much, as it could be survivors. Some sort of robotic probe was allowed in, and a massive gate opened and shut. I want to find out more.
These are the voyages of the SS-GOL, on its continuing mission to search for signs of human life, and to find out what happened. I like it.
I will probably give it some more thoughts when I've spent a few more hours in it. No final thoughts on it for now, other than the fact that it's really quite cool. I love the setting, and the holo-tapes you find give you enough information to keep you interested, without bogging you down in reading too much.
The only thing that lets it down is the save system which uses checkpoints and manual save locations. It always annoys me.
About the game
(Official)
The Aquatic Adventure of the Last Human is a pixelated, side-scrolling, underwater action-adventure game about exploring the decaying ruins of our species -- and fighting deadly sea-creatures -- in search of answers about our downfall.
Features
- Stunningly detailed pixel graphics
- 10 challenging, well-designed boss battles
--Hypnotic electronic score by composer Karl Flodin
- Modern take on the classic Metroidvania genre: Players can freely explore the world at their own pace
- Organic storytelling: The environments tell the story, along with some holo-tapes that are scattered around the drowned cities
- Plausible plot driven by real-life issues: Explore the effects of climate change and technological progress
It's available on lots of stores like Steam, Itch and more. Check out
the official website now
.
Some you may have missed, popular articles from the last month: