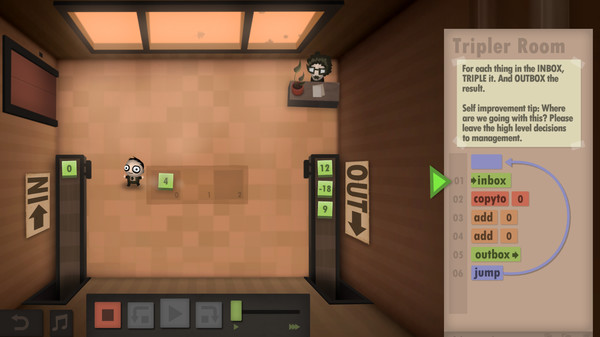 Human Resource Machine
, an indie programming puzzle game by the makers of Little Inferno and World of Goo, sharing their beautiful art style, is now in open public beta. Developers'
announcement
says:
QuoteYep, we have a Linux build ready for testing for any brave Linux users who want to try! Here's how to get it:

0. IMPORTANT! To get this to work, you will have to already have the game in your Steam library.

1. In your Steam library, go to the "properties" for Human Resource Machine.

2. Go to the "betas" tab.

3. In the "enter beta access code" field, enter top secret password "WhereIsCarol".

4. Click "check code". A little line of text should indicate that this was successful.

5. The dropdown above should now have a beta called "testing -" available. Select it, and press "close".

6. Steam should now download whatever it needs to your Linux computer.

Run the build, and let us know how it goes!

Buying the game now should be fine, and should count as a Linux sale since they have a build available for our platform.
About This Game
(official)
Program little office workers to solve puzzles. Be a good employee! The machines are coming... for your job.
Human Resource Machine is a puzzle game for nerds. In each level, your boss gives you a job. Automate it by programming your little office worker. If you succeed, you'll be promoted up to the next level for another year of work in the vast office building. Congratulations!
Don't worry if you've never programmed before - programming is just puzzle solving. If you strip away all the 1's and 0's and scary squiggly brackets, programming is actually really simple, logical, beautiful, and something that anyone can understand and have fun with! Are you already an expert? There will be extra challenges for you.
From the creators of World of Goo and Little Inferno. Have fun! Management is watching.
http://store.steampowered.com/app/375820
Some you may have missed, popular articles from the last month: