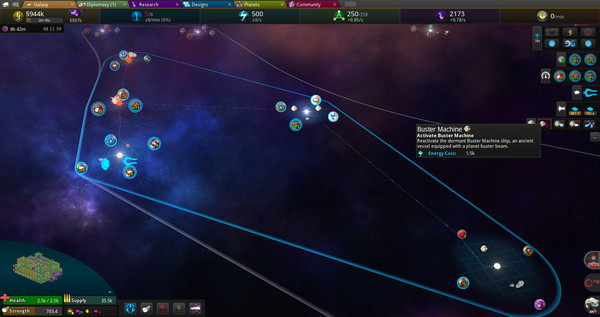 It has been quite some time since I took a look at Star Ruler 2, so it's time to take another look with a big new patch and DLC release.
For the regular readers, you will know by now how much I love spaceships and space strategy games. Sadly I was annoyed by the planetary resource system in Star Ruler 2 when I first tried it. I've taken a look with a fresh set of eyes and a blank mind on it.
The new DLC "
Wake of the Heralds
" adds two new races, a new game mode, new research and more. Overall, a damn worthy expansion to the base game.
As for the big patch, it adds a bunch of new graphical options like Bloom, Godrays and Chromatic Aberration as well as beefing up the AI. See the
changelog here
.
I forgot just how well presented the game is, the interface is really quite simple to get to grips with, and the tutorial is really quite lovely. It has you destroying a small enemy fleet in no time. You really do need to do the tutorial too, so it's pleasing that isn't not overly drawn-out.
It has one of the most unique resource systems I've seen in a strategy game, but it can still quite easily overwhelm you. You essentially have to level up your planets by exporting resources from other planets. It's quite simple when you get down to basics with it, but the confusion appears when you have many planets. Everything is clearly laid out to show you what planets need what resources, and zooming out shows you what resources planets have which is great. If you do get confused, they have a
wiki page just for this
.
The planet resource system isn't the only thing unique to Star Ruler 2. The currency system gives you money in waves rather than letting you build it all up. It's interesting, but a little weird.
The game has easily one of the coolest animations for FTL that I've seen in a game. I love the particle build-up on Terran ships and the big pop and bright flash as they launch towards their destination.
The battles are insane, your fleet sizes and ships can be massive. Seeing masses of laser beams and missiles being throw back at forth is really quite awesome. The problem I have is figuring out how to get a decently powered fleet. By the time I had managed to get a fleet of 8K strength, one AI had a fleet many times as powerful and I remember having this issue the last time I played it.
It has the features you might expect from 4x type games, like fleet building, capturing planets, research, diplomacy and so on. The major difference is that Star Ruler 2 is real-time with pausing, so money, energy and so on trickles in over time. It actually makes it a bit harder to manage, and don't do what I did by leaving the speed on high. The enemy AI knows what it's doing, and it's a lot faster than me at making high speed decisions that's for sure.
If you're a strategy fan like me you should really go and check it out. It's reasonably easy to get into, but it will take a long time to master it properly. It's certainly nothing like Master of Orion. All the different and unique features of the game will take time to properly get a grip on.
Some you may have missed, popular articles from the last month: