Moirai
is a very lightweight and short mini-game (only 13 MB and lasts 10 minutes) with an incredible twist at the end. It isn't the first game to use such a mechanic, but if you've never seen it before it will definitely impact you. It's no surprise that the game has "overwhelmingly positive reviews" by Steam users.
The premise is very simple: it is expected that you find a woman who disappeared from the town. Giving more details about the plot would be counter-productive, as it's one of those cases where "the less you know, the better". If possible, don't even look the trailer, the game description or the pictures at the Steam store, being the following one the only exception...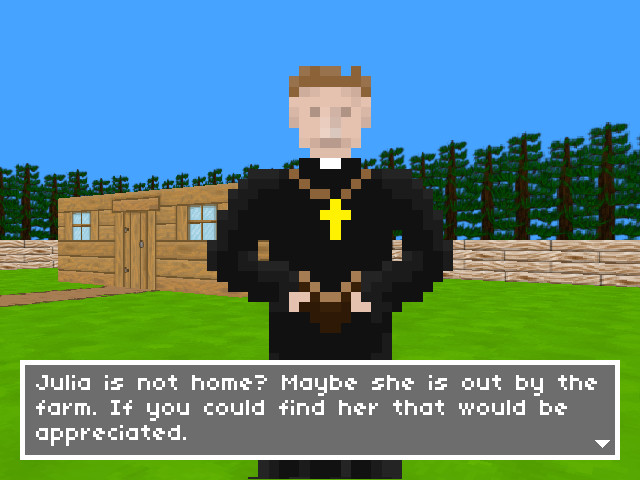 Immediately after you start, don't forget to press 'F' to go fullscreen, since the game for some reason starts in a window by default. Also, it's expected that you use the keyboard to play, at least for now. And by the way, the movement is one thing that you may find a bit annoying at the beginning, as your character turns very slow, but be patient, because it definitely was made that way on purpose, as you will really feel later as if there is somebody hidden who will start running towards you to stab you, and you won't be able to react in time. This is precisely another one of the highlights of the game: the ambience. Despite the minimalistic background music and its pixelated aesthetics, it still manages to be creepy and tense when you get to a certain location.
There is one thing I personally regret now, which is not have recorded my gameplay, because you'll surely want to do that at the very end (specially if you were creative when you faced that situation), so keep this advice in mind.
Finally, if you're planning to give the game a try, be prudent and stop scrolling down after the official (and spoiler-free) description, so that you don't get the surprise ruined by some potential comments. And now, having made this warning, feel free to share your experience looking for Julia, and above all, what did you do at the end...
Steam store link
:
Moirai
About the game (Official)
The townsfolk tell you that a woman named Julia has gone missing. (...) What you find there may surprise you.
Moirai
is an experimental, first person game created by Chris Johnson, Brad Barrett and John Oestmann.
Some you may have missed, popular articles from the last month: