Today was another typical British summers day (rain), so I decided to pick up Putt-Putt Goes to the Moon and it has impressed me.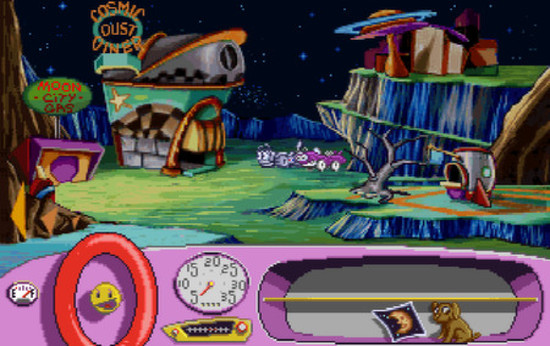 Note: Copy personally purchased.
I am always iffy about letting my son play games for some reason, partially due to the views of other parents I am around and how poorly they look at video games. Today I thought "screw it". I personally see nothing wrong with them, as long as they are age appropriate.

I picked up Putt-Putt Goes to the Moon which is the first point and click adventure game my son has ever played. Initially I though the interface would be confusing, but much to my surprise it's actually relatively simple even for a young child's mind to grasp.

It's a sweet and simple little point & click game where you play as a car called Putt-Putt and you accidentally have a trip into space. It has some really fun activities for kids clicking on random objects and seeing what happens, small puzzles like a maze to find your way through and so on. Watching my son quickly pick up how to navigate the maze by pointing the cursor in different directions was incredible.

My son was able to easily recognise when the cursor changed to indicate he was able to interact with people or objects, so it's actually quite well designed.

One thing I would say for sure, is to stay with them to play it with them. Being involved with the game and the whole activity was a bit of a boost for us both as a bonding session. There are elements where they may get confused and need a little reminder on what they are doing.
This is why #SteamOS was made, Putt Putt on a rainy say with the #SteamController! pic.twitter.com/yoXEaFsJQ6

— LiamLinux (@thenaughtysquid) August 20, 2016
Of course, I meant "rainy day"—Twitter has no edit function.
What has impressed me is just how smoothly you can play such a game from the couch with a Steam Controller. We had zero issues with it and it made it a really great game for the living room experience. Yet another tick in the box for the Steam Controller for me!

If you're a parent wanting to introduce games to your child I can easily recommend this game.

It has enabled my son to explore an entirely new world and figure out things for himself. Watching him learn, laugh and have a good time was really great for us both.

I have to admit I let off a few chuckles with my son while we were playing it together.

You can find the game on Steam.
Some you may have missed, popular articles from the last month: