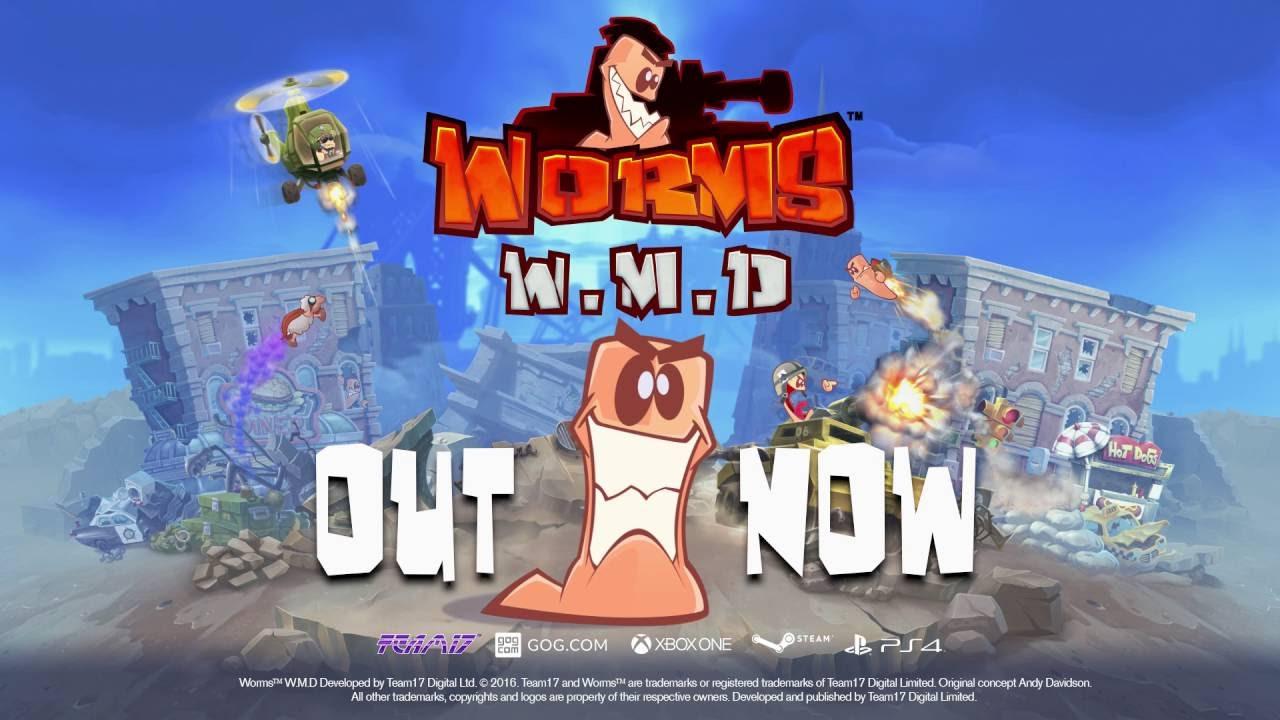 With thanks to my friends at
GamesRepublic
I was sent a key to Worms W.M.D today to give it a test, so test it I did!
These are some basic initial thoughts, due to only being given access today. I will hopefully do a longer post on it in future when more time has been put into it.
Like the previous Worms release for Linux, Worms W.M.D does
not
feature cross-platform online play, but they plan to add it:
QuoteWorms W.M.D will be available on Mac and Linux through Steam. At launch there isn't going to be cross-play but we are looking at it for a post launch update. We'll keep you updated!
Source
System requirements
(minimum)
Operating System: Ubuntu 14.04 (64-bit version), SteamOS, Linux Mint 17.1
Processor: Intel Dual Core 6600 @ 2.4GHz
Memory: 2 GB RAM
Graphics: Intel 4400, GeForce GTX 280, AMD Radeon HD 7750
Issues
- First thing to note is that it loads fine, although weirdly it loaded in Windowed mode as opposed to fullscreen. It has two basic options, Windowed or Borderless.
- To actually make it a fullscreen Borderless window I had to restart the first time, but after quitting and re-loading it now seems to happen as soon as I select either. Rather weird, but it does now work.
- It seems the Steam Overlay doesn't work at all though.
- In the menu, it doesn't register left mouse clicks every time. I've had this confirmed to me by another user.
- There doesn't actually seem to be a quit button, pressing ESC originally did nothing. After quitting and re-loading pressing ESC gives me the option to quite. I think there is a bit of an input problem with the keyboard as well as the mouse.
The game itself
Right away you're given a customisation option: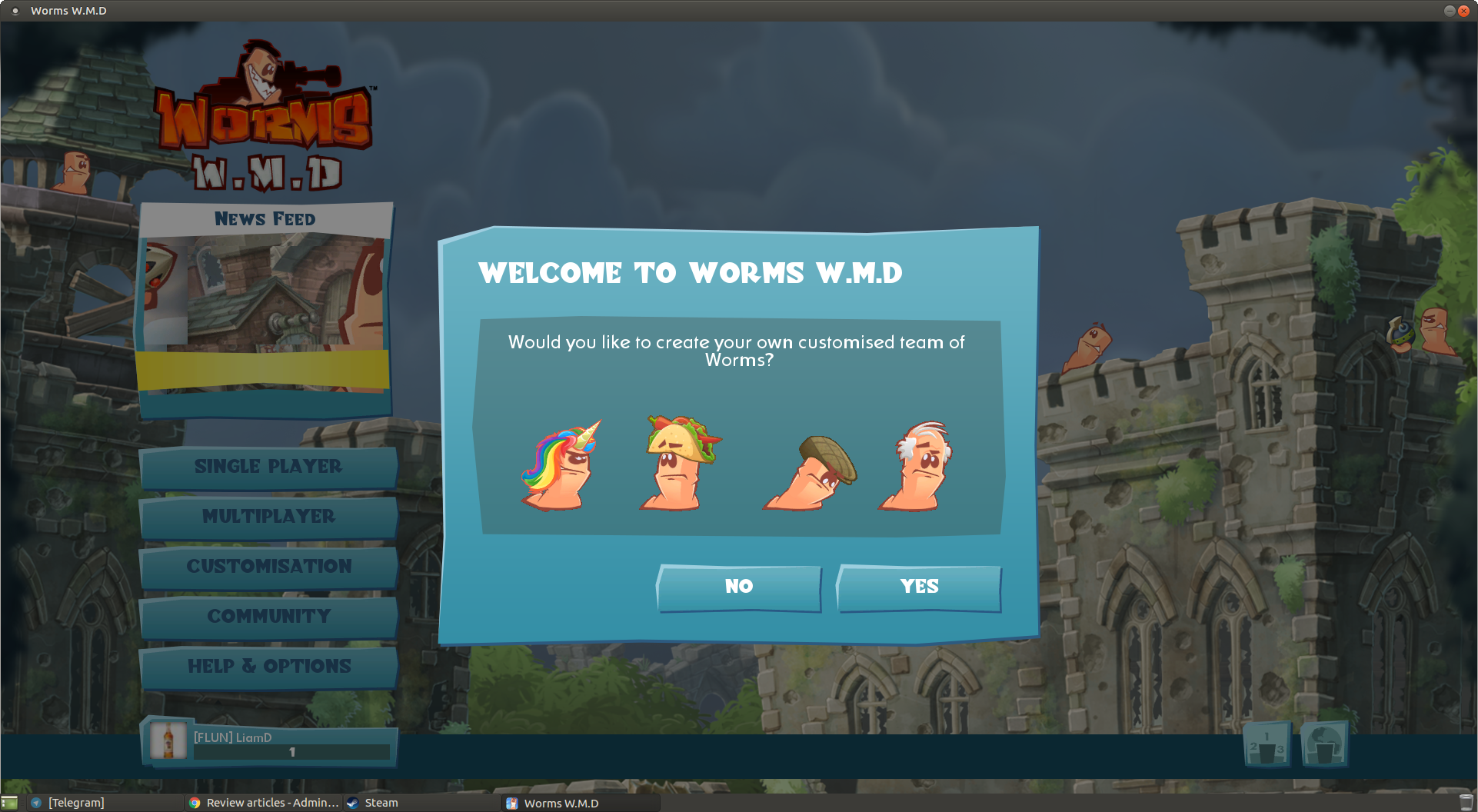 This is the first thing to make me really happy, as an old-timer when it comes to Worms I used to love changing up my worms names.
I of course had to create the GOL team with some choice community names: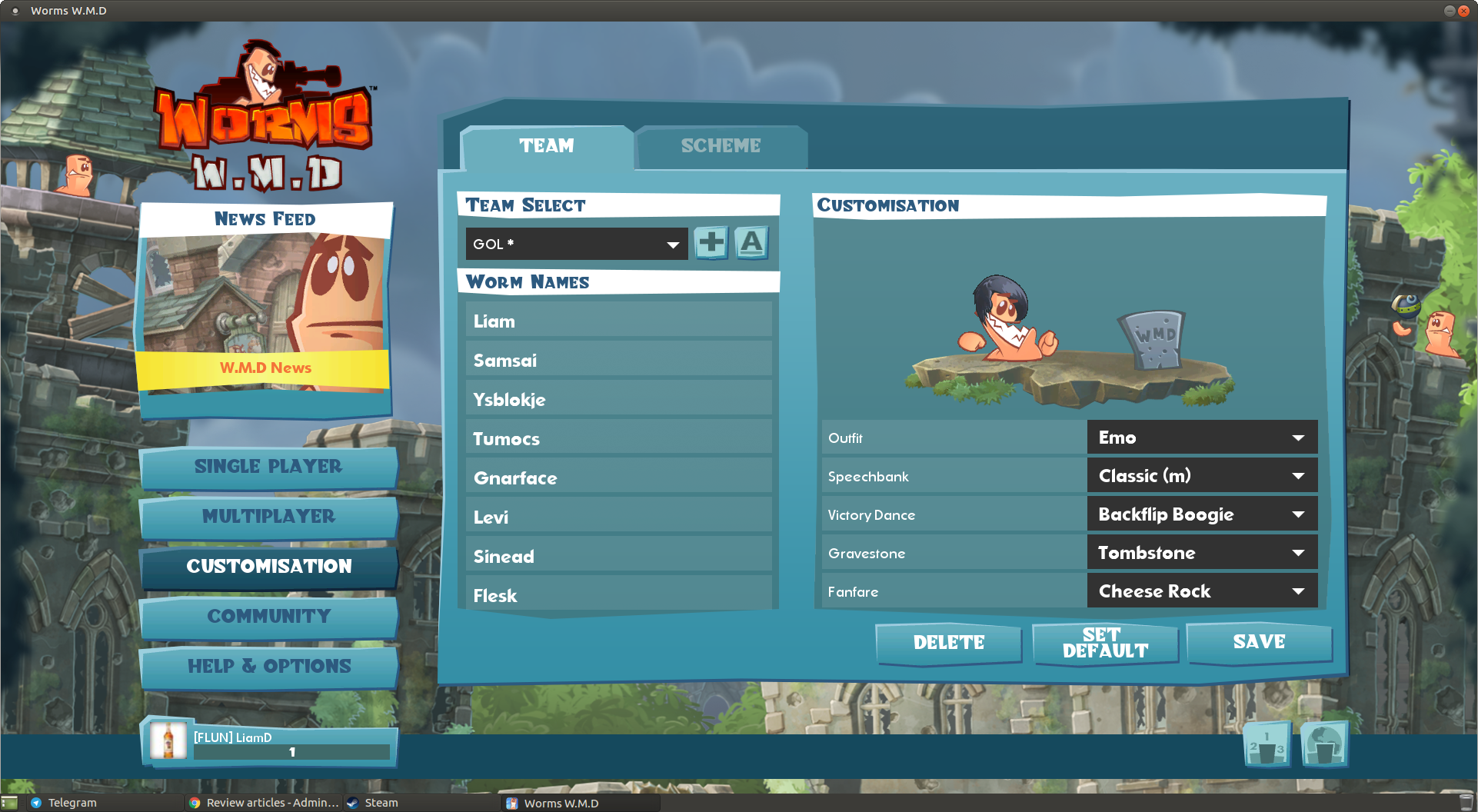 Sorry Samsai, I'm sending you in first, you're always my bait.
The in-game interface is very familiar and so far it seems to work perfectly!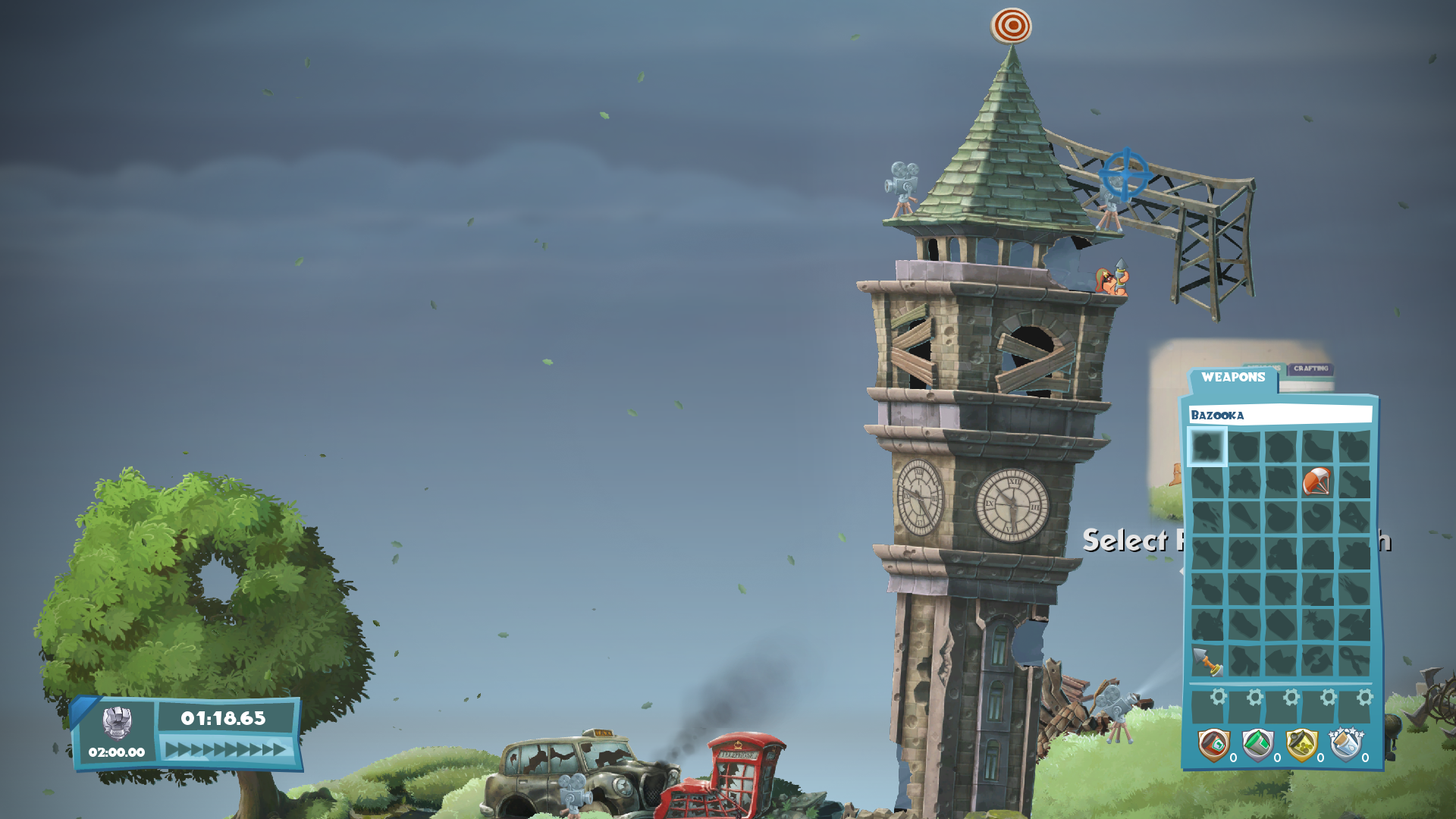 I had good fun trying out the tutorial missions, which you are able to earn rewards: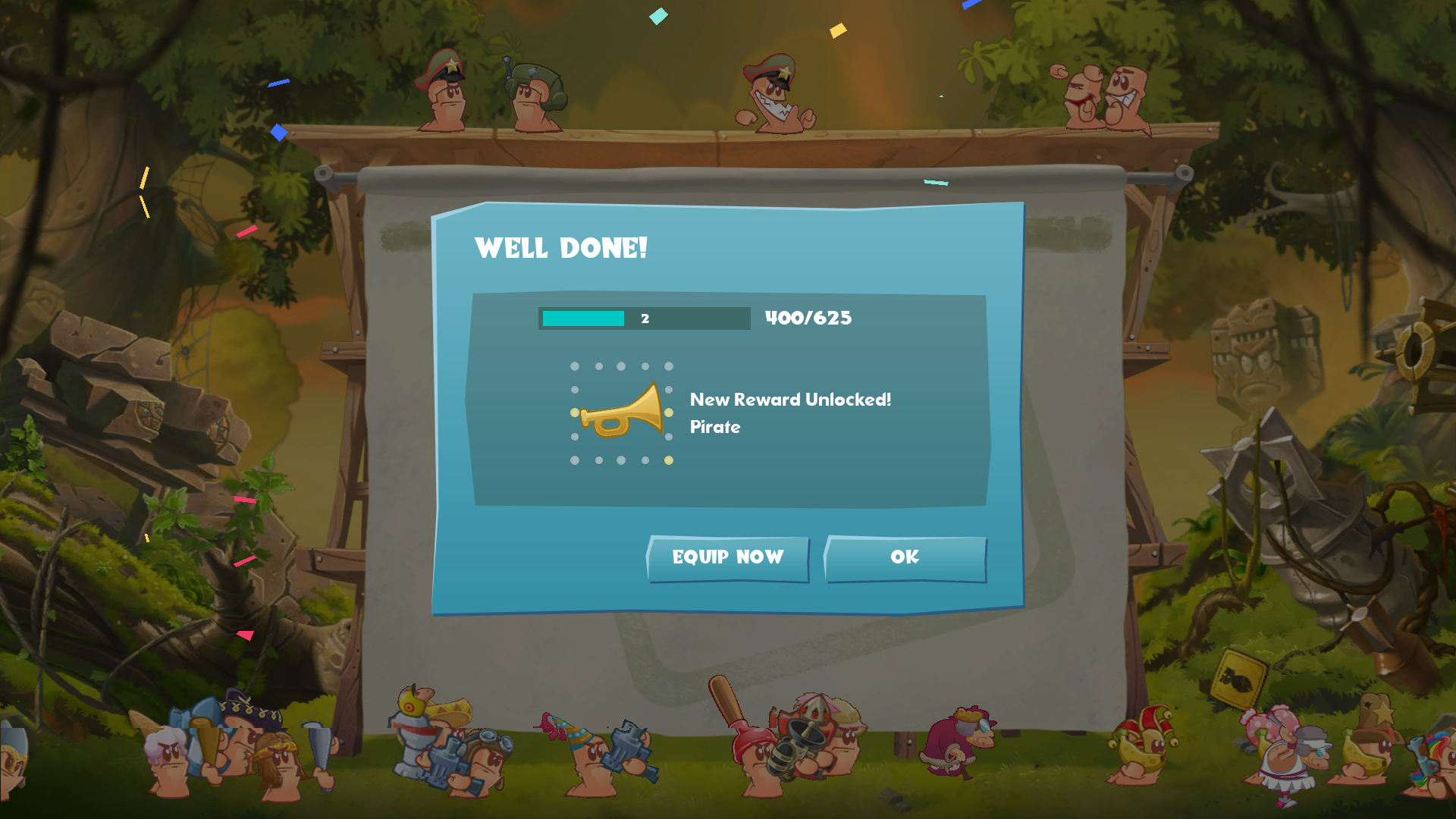 You can earn Hats (that's the most important right?), Gravestones, Speechbanks, Fanfares, Victory Dances and Rank rewards.
The game uses a mixture of mouse and keyboard input. Keyboard for all the moment and aiming, but mouse for zooming in and out and panning the camera around.
What I love about this version, is that you're able to man turrets and vehicles, I can't wait to blow you all up.
Overall it seems to work
reasonably
well in my limited testing, although it is a bit rough around the edges.
It's really pleasing that after I personally spoke to Team 17 that they were able to do a day-1 release for us. I do hope they do some quick fixes for the input issues though.
I used to love the original Worms on Amiga, so this pleases me rather a lot. It feels much more like the original with some new stuff thrown in, which is a really fantastic feeling.
You can find Worms W.M.D on
GamesRepublic
and
Steam
. Sadly right now GOG are only listing the Windows version. I reached out to GOG about this and they have
no news on it
.
About the game
The worms are back in their most destructive game yet. With a gorgeous, hand-drawn 2D look, brand new weapons, the introduction of crafting, vehicles and buildings plus the return of some much-loved classic weapons and gameplay, Worms W.M.D is the best worms experience ever.
Work your way through 30 campaign levels of increasing difficulty using the huge arsenal of new and classic weapons at your disposal. Use new vehicles to cause chaos amongst the enemy ranks and use buildings to gain the tactical advantage as you try to dominate the battlefield!
Take on up to five opponents in hilarious all-out tactical worm warfare with up to eight worms each, either in local or online multiplayer, including ranked play. Flatten your opponents with the Concrete Donkey. Turn them into chunks of worm meat with the Holy Hand Grenade. Rain down hell from above in helicopters or pound them into oblivion with the tank. With 80 weapons and utilities at your fingertips, this is Worms at its chaotic best!
Some you may have missed, popular articles from the last month: