Circa Infinity
is a game that was originally released on September 9 last year, which got Linux support
one and a half week later
. It features minimalistic but surreal aesthetics, a catchy and atmospheric soundtrack, and a simple but effective concept. Together, these elements unite to create an immersive and truly original experience, as you can see in this excellent trailer:
The concept of the game is easy to understand (despite the initially cryptic images) but hard to master: basically, you're inside a circular fractal and you need to jump and enter to the subsequent inner circles until you reach the final one to exit the level. There is no gravity in this place, so you can run until you're upside down and not fall. To enter the following circle, you need to jump to its surface and then start running on it until you find the marked section; when you reach it, you press the Jump key again and you'll finally get inside. There are only three keys to move: Left, Right, and Jump.
Of course, things won't be that easy because the different levels are filled with demons; you don't have weapons, so your only chance of survival is by avoid them as much as you can. They don't appear to be sentient and they limit to walk on a predetermined path, but if they touch you, you will immediately die and respawn in the previous circle. Luckily, if you manage to enter the following circle, you'll leave a lot of these demons behind (you only need to worry about the red-coloured ones).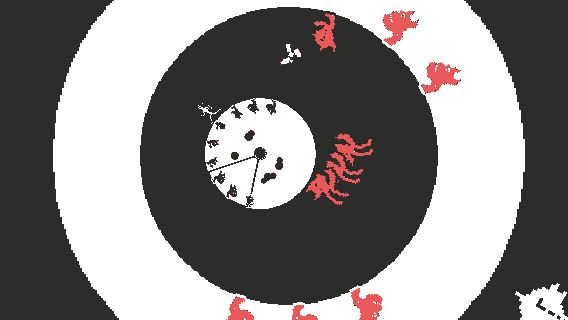 I know all this because the developer was smart enough to upload a demo, which will allow you to face the first 10 levels and one boss. Unlike
Super Hexagon
, the average difficulty is medium, and at least in these levels a lot of care has been put to ensure that the progression is smooth; your brain will resist to the crazy environment in the very first minutes, but you'll quickly get accustomed and the fun will begin. In addition, even after you beat the levels, you will want to come back to improve your previous playthrough, since the game encourages you to do so.
There is more: in an
update four months ago
, the developer announced a new game mode, but being a person of few words (even the
Steam store description
is a single sentence), he didn't explain what it is about, so in order to find it out you will need to buy the full game.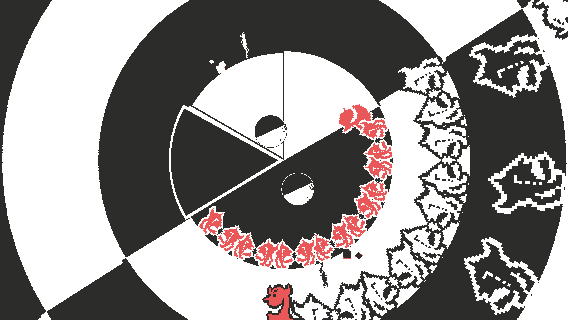 So far, the only downside I found it's the price: considering the quantity of content, I think the original price of USD 9.99 might be a bit excessive, so if you share this impression you might want to add it to your Wishlist until it's on sale.
In conclusion,
Circa Infinity
is chaos and harmony at the same time, and once you learn to dance in it, I can assure you it will become absolutely rewarding.
Official site
:
Circa Infinity
Steam Store page
:
Circa Infinity
About the game (Official)
Circa Infinity
is a brain-melting circular platformer by Kenny Sun, with a pulse-pounding soundtrack by Jack + Jim Fay.
(...) [It] originally started off as a
Ludum Dare game called Core
that Kenny made in December 2014. Happy with how it turned out, he decided to continue working on it in his free time during his final semester at New York University.
Features
- 50 Levels divided into 5 parts
- 5 Boss Fights
- 5-6+ Hours of Content
- Speedrun Mode
Some you may have missed, popular articles from the last month: