There's not a great deal of games that are able to combine dungeon crawling with an FPS and make it fun, but it seems Immortal Redneck [
Steam
,
Official Site
] does a pretty damn good job of it overall.
Note
: Key provided by the developer.
It's comparable to Ziggurat, but with an Ancient Egyptian theme and you're playing as a redneck who was involved in some sort of accident and somehow woke up mummified. Not much of a story, since the game is really a dungeon crawling first-person shooter.
Some gameplay I captured: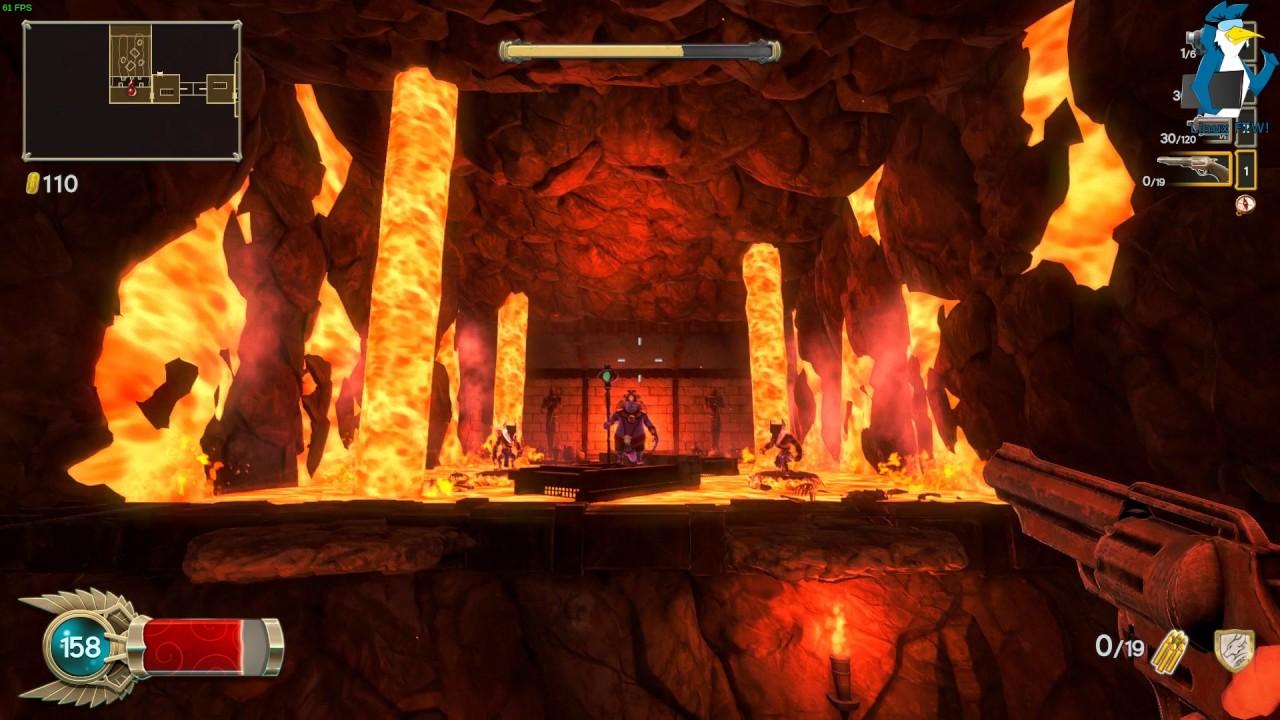 I turned off the Chromatic Aberration as I hate it in any game. I think it's a really overused graphical feature.
You go from room to room, killing all kinds of weird and wonderful creatures and eventually find the stairs to get to a higher and more difficult level. Along the way, you will collect new weapons, scrolls which can give you unique abilities and more. There's even a few challenge rooms thrown in where you can find a chest if you manage to go through it without getting hurt.
It claims to have permanent death, but in reality when you die you're returned outside to spend your hard-earned money and go through the character progression. If you progress when you die, there's nothing permanent about it, I think developers need to stop mixing terms together hoping it makes sense. That's only complaining about how they advertise it though, I actually love the way they've done it. It makes it feel rewarding, without becoming overly punishing.
You're not limited to the single annoying redneck, you actually unlock other characters each with their own special abilities and starting weapons. They all share the same progression tree though, which will probably limit the amount of times I replay it.
The game also has some first-person platforming, which does create a few sticky situations when there's some kind of creature shooting explosives down at you as you're trying to leap from platform to platform. Trickier again if enemies are placed on the very platforms you're trying to jump across, to get to the enemies shooting the explosives.
Surprisingly, it actually works quite well with the Steam Controller. It has a helpful auto-aim feature for gamepads, which can be turned off for more of a challenge. Still much better with a mouse, but the option is there.
One thing that does let it down is the repeating nonsense your character says, he doesn't have many lines and ends up repeating them over and over. Small nuisance, but tolerable, especially since you can change character after doing a few unlocks.
It also has Twitch integration, so it could be an interesting one for one of us to do live for you!
Overall, I've been really enjoying it and I enjoy it more the longer I play it. Do check it out, well worth a look.
Some you may have missed, popular articles from the last month: