I knew Hollow Knight [
Steam
,
Official Site
] was going to be impressive when going into it, but I didn't realize how impressive it was.
Note: This may contain spoilers, key provided by the developer.
The game was funded by Kickstarter, with a sum of AU$57,138 pulled in from backers. To me, Hollow Knight is another example of how Kickstarter can be done well.
It's an impressive mix of action, smooth platforming and exploration that really does set itself apart from the many we already have. Exploration is essential, since you will need to find certain characters to be able to unlock new feature, gets maps and so on. It can be quite confusing due to this, but once you get some mapping going it does become a little less frustrating. Part of the frustration, is that you can only save your game by sitting on benches, which are spread pretty thin.
It will require you to connect the dots yourself, including a fair bit of back-tracking as you gain more knowledge and skills to be able to access new areas that were previously impossible.
The hand-crafted graphics are incredible! Hollow Knight paints a very dark picture of a fallen kingdom long forgotten, where many explorers have looked around, to never been seen again. It's strange, as the character designs are cute, yet dark and horrible at the same time.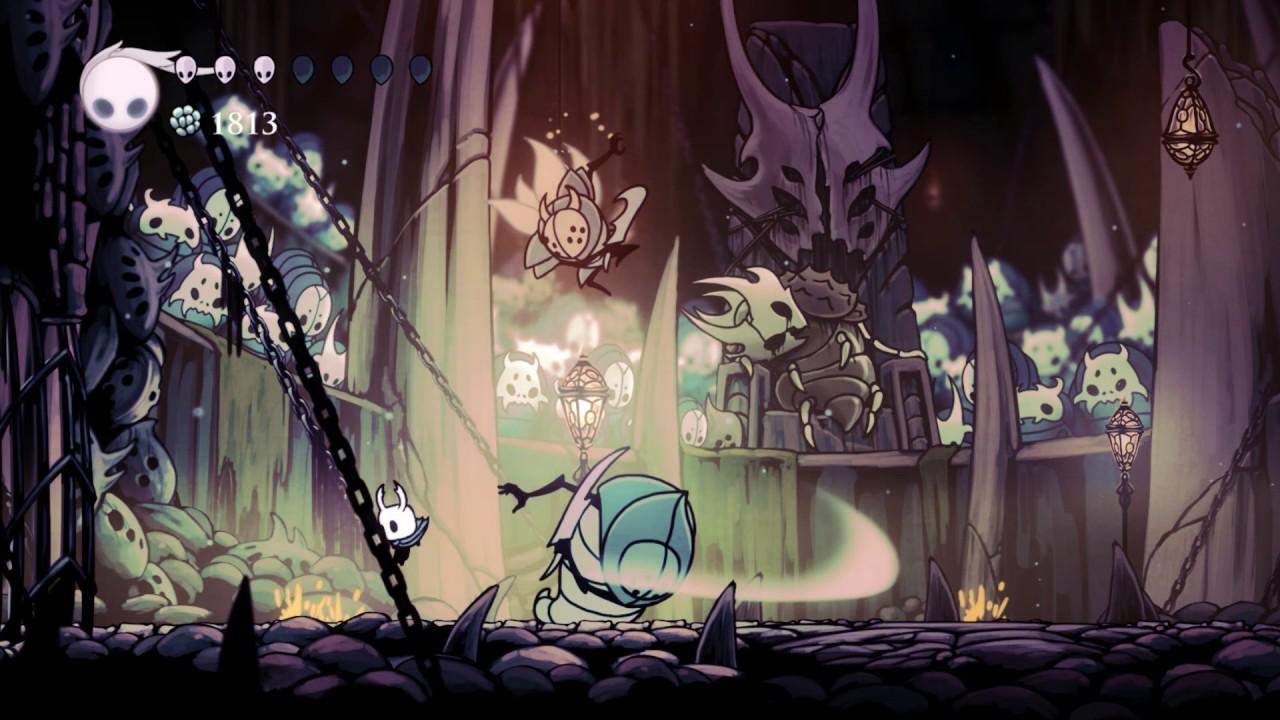 The music is also rather amazing, for an indie game to come with a score like this is unexpected. It's the kind of extremely well-polished audio I would expect from a big-budget console release. It's memorable, thoughtful and lovely to listen to that perfectly compliments the overall tone of the game itself.
The controls are tight, responsive and it feels glorious on the Steam Controller, which worked flawlessly by the way. No messing around with Big Picture or changing configurations, just pick up and play.
It's not an easy game, with boss battles being intense and sometimes giving the feeling of being impossible. Their varied sizes and attacks will put your reflexes to the test for sure, especially considering how unexpected they are as you never do know what's coming next when you explore. Some of the bosses are hilarious as well, like the flying grub that just slams it's body up and down at you, completely unexpected and absolutely amazing each time I find something new like that.
There's a lot of memorable moments in the game, some of them can be a little depressing due to the setting. One memorable moment for me was near the start, after doing some exploring I came to an area where I could hear crying. Upon further exploration I found what looked like some sort of grub, sat in what appeared to be an egg, the only grub left and it was just sat inside, crying.
The enemies all give off the feeling of depression too, with them walking all hunched over like they have no life left in them.
Absolutely recommend it, amazing. It's a big game too, which I have yet to finish due to the size of it.
Some you may have missed, popular articles from the last month: