Stellaris: Utopia [
Steam
,
Paradox Store
] is the big content expansion I have been longing for, but is it worth picking up?
Disclosure:
DLC key provided by the developer.
Note
: Previous saved games will not work with the 1.5 update, you will need to opt-into the previous version in the Betas tab on Steam.
These aren't just my thoughts on the expansion, but my thoughts on the game as it stand now with the latest patch and expansion together. I spent a number of hours testing a preview of the patch and DLC to put some thought into how I feel about the game now. I won't be able to comment on every single new thing, as that would be impossible given how many hours you need to put into a single save to see them, and you won't always see every feature in one play-through due to the random nature of the game.
While I find Stellaris to be a fun game, it has lacked a lot of content right from the early game to the end game. If you've played it a number of times, you will likely agree with me on this. You will end up seeing the same events repeatedly and it does end up feeling stale. This expansion does fix up some issues I had with the mid to late game, but the early game still ends up feeling a little too flat.
This new Utopia expansion includes build-able Megastructures like ring worlds, Habitat Stations which act like small planets, Ascension Perks to further customize your empire, Indoctrination to deal with primitives, Advanced Slavery options to better deal with conquered planets, Advanced Government options and more.
Also, as usual for Paradox, the expansion came with a big patch named Banks, you can read the
full update notes here
. There's too much for me to list here though, so I do recommend checking it yourself. It does include a bunch of performance changes, to help with the late game. I noticed some complaints about that before, but the only issue I've seen on my current save is a bit of stutter when zooming in and out quickly and often, apart from that it has been really smooth.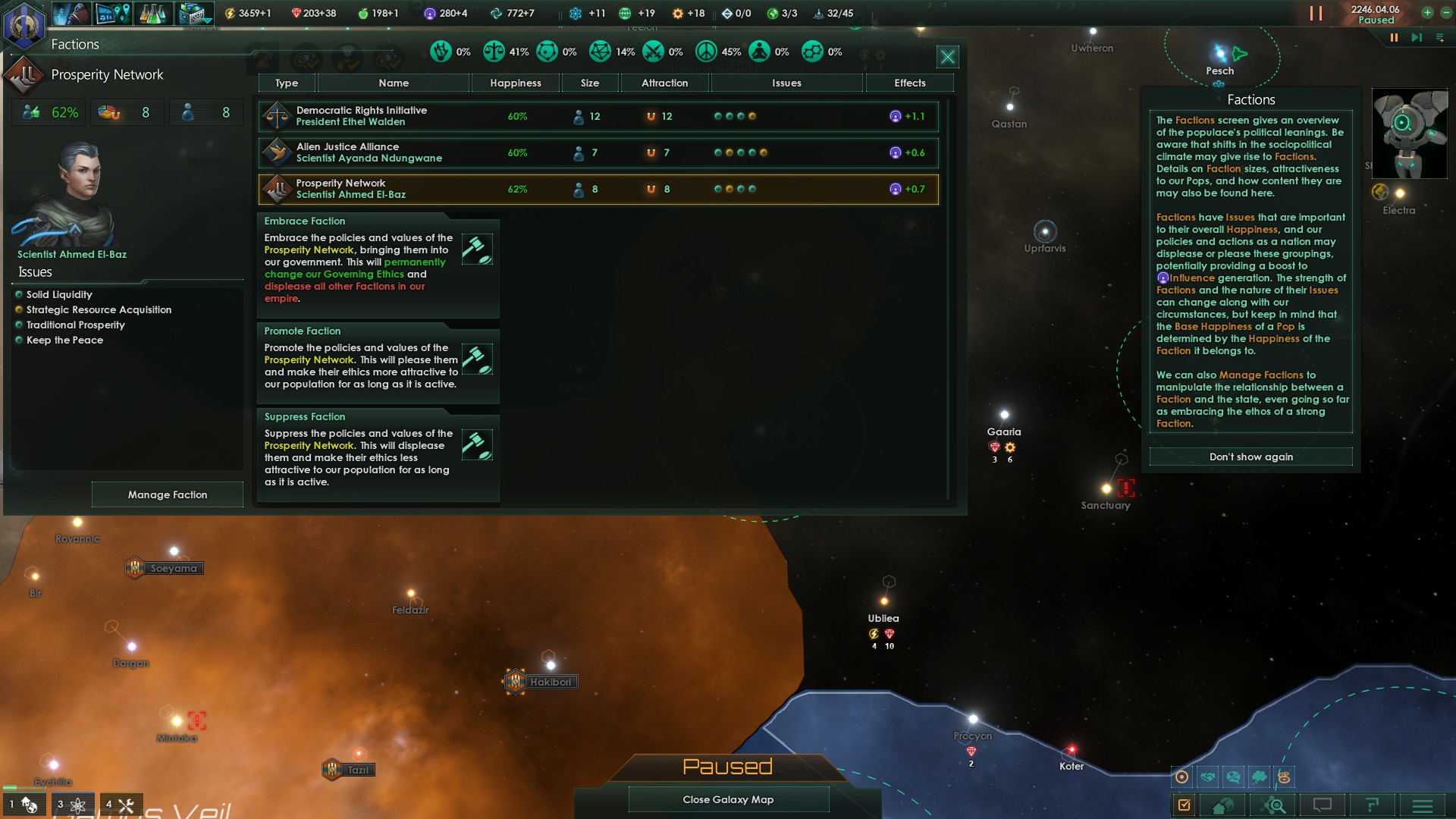 The Factions system also had a major rework, no longer are they just rebels, but they make up a more in-depth system of political movements each with their upsides and downsides. If the faction is happy they will give you influence and I have three factions. I think I've been lucky, as all Factions that pop up are pretty happy with how things are going, but one faction doesn't like the idea of war so I might have to suppress them. It makes the gameplay more interesting, as you work to please or suppress these groups within your society.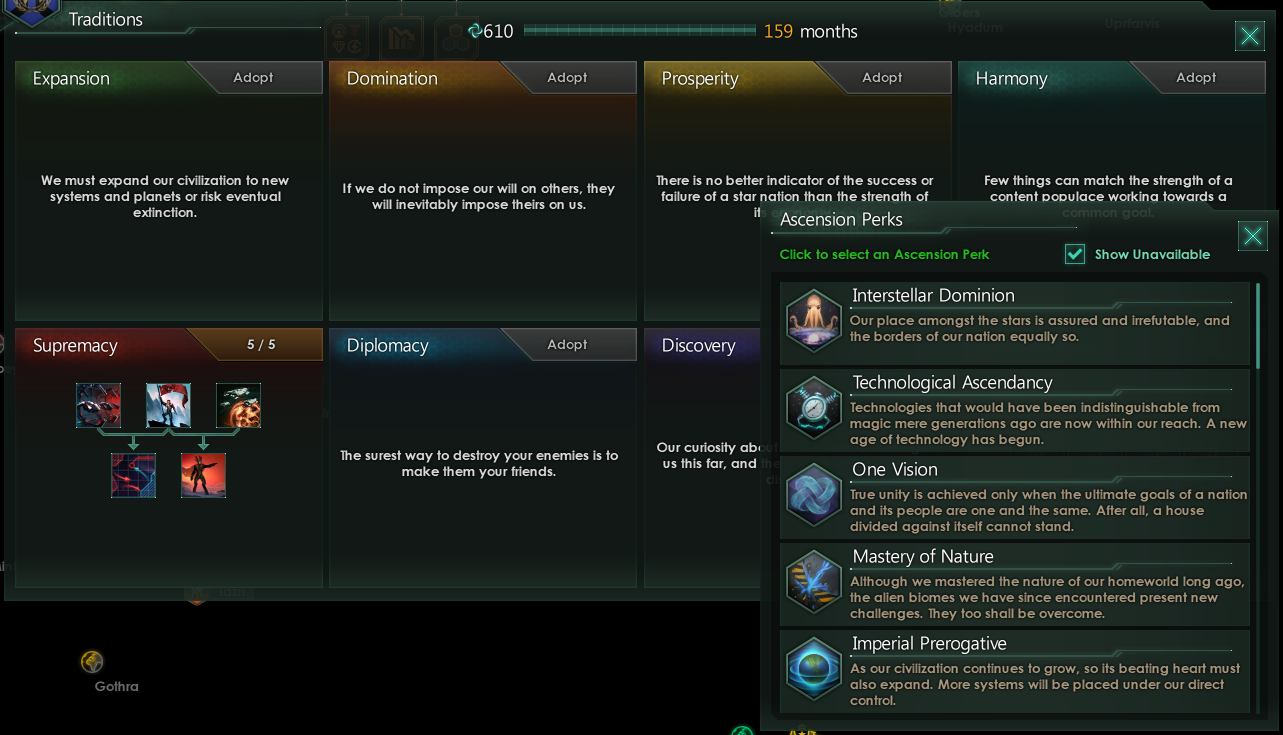 The new Unity resource and Traditions tree (free patch feature) does add some needed extra depth to the game. With the ability to pick different unlocks in a tree based on your playstyle. As a warmonger, I obviously opted for the Supremacy tree first. Unlocking items in it gave my navy and armies a nice boost, which I sorely needed if I was going to push the other races. This then rolls into the Ascension Perks system from the DLC when you complete a tree. You gain access to unlock a perk of your choice like increased research speed or increased border size.
One of the biggest and most useful changes is making the Food resource empire-wide and not per planet, it's made a small hassle much less of an issue. It also allows you to really specialize your planets. Since one could be a massive food production colony, while others could be left to other endeavors. It makes more sense considering the other gameplay mechanics. Take Energy for example, that's always been empire-wide in the form on Energy Credits, so it makes Food just fit in a bit more.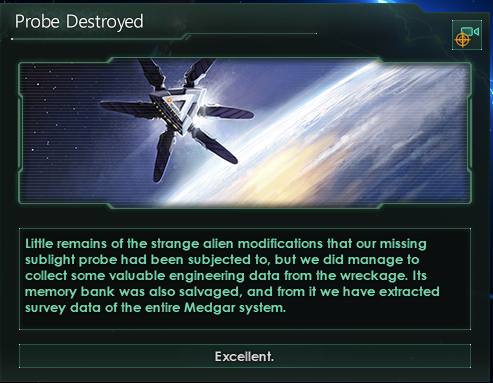 Something from an earlier patch is an event dealing with sublight exploration probes, during my playthrough on the Banks update I got them quite early on (when I
never
had before), they made the earlier game a good bit more interesting. Each probe has a different history, which was actually a little exciting. One I found had been modified by an alien race who had given it an AI and they didn't like me very much, once they realized I was their creator they wanted to destroy me. A fun encounter, even if it's not from this specific update it was nice to finally see it.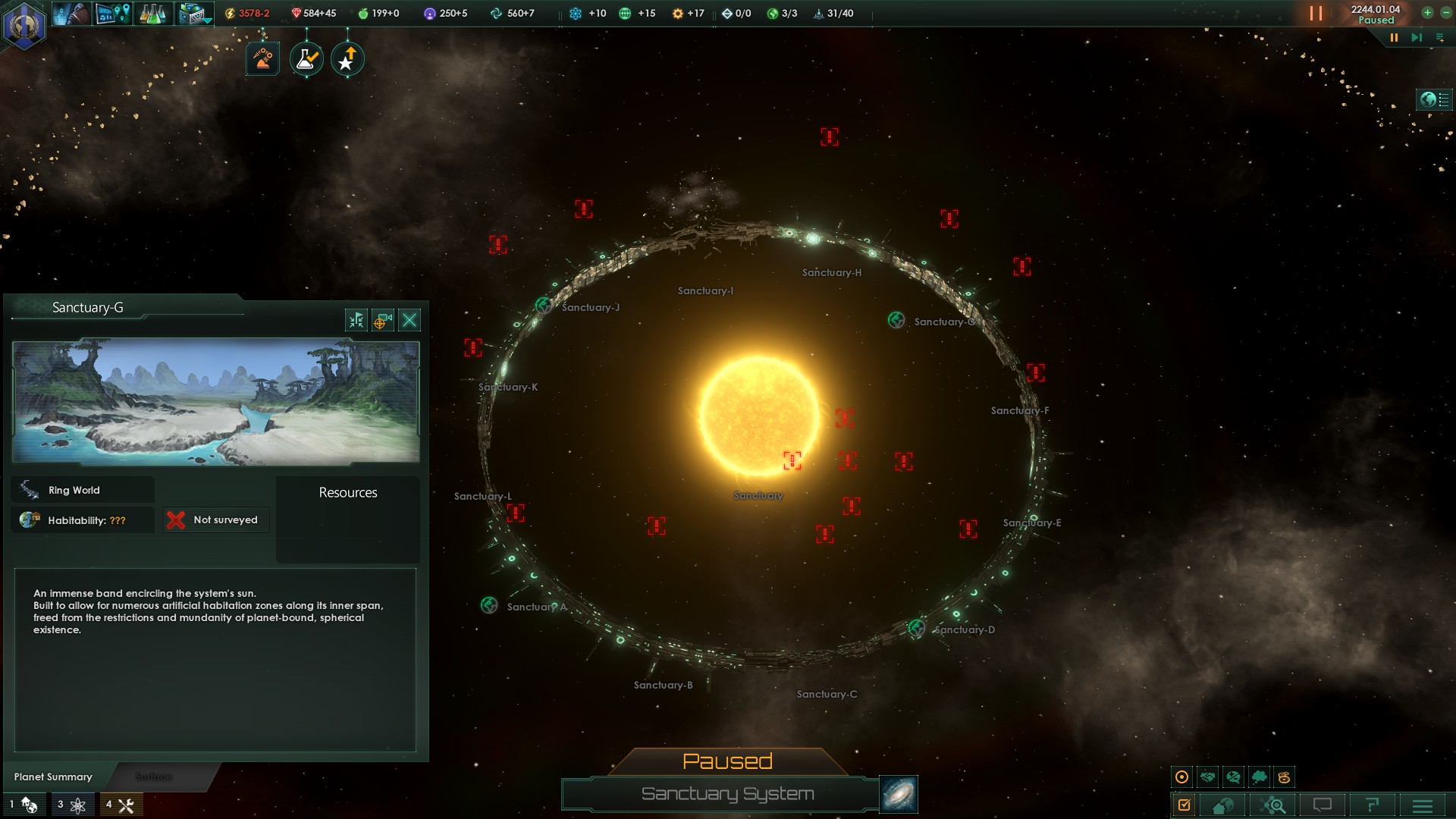 For all the work they've done improving the later game, there's still a good 2+ hours at the start of each game where nothing truly interesting happens, and that's at the faster speed too. They really, quite badly, need to beef up the starting hours to help people keep investing their time into it. Another problem is repeatedly seeing the same events which makes it end up a little boring. There's only so many times I can be bothered by a science ship finding old mass driver rounds. Cool the first time, but the fifth time? No. My issue is that small events like that are easy to write, so just write more of them. Make it more varied and interesting for players to play longer games and play more games.
Combat in particular is still quite boring. Nothing really happens apart from sitting back as you watch your ships dance around each other firing off their weapons. Look cool for sure, but it needs more user interactions. For a strategy game, there's a distinct lack of strategy when it comes to battles and that goes for ground battles too.
I do hope they work on more content for the early to mid game now, as it feels like a sore spot. Still, with Utopia and the last two patches it feels vastly better overall. Is the expansion worth it? Yes, for sure, but the game as a whole still needs more.
Some you may have missed, popular articles from the last month: