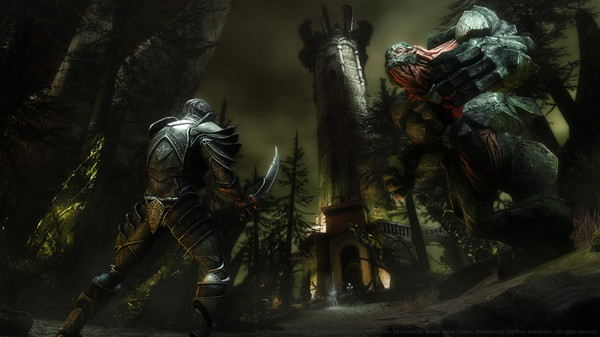 Topware Interactive are revamping Two Worlds II [
Steam
] and bringing out a new DLC named Two Worlds II: Call of the Tenebrae. Both will see Linux support on May 25th.
I got the full press email, which mentioned the Linux release. To be sure, I also got confirmation directly from their PR team:
I asked:
So to confirm, Two Worlds II plus the DLC will release on Linux/SteamOS on May 25th as well?
Steven Ellsworth, Topware InteractiveYes, we will release on Linux as well as Steam OS. Later this year we will also release on PS3 and Xbox 360
They are also planning an additional DLC named Shattered Embrace in Q4 of this year, but no clearer date as been given.
I'm looking forward to it, since we do have a lack of good open-world RPG titles and the new DLC sounds pretty good. I've never played it myself, so I've request a press copy to cover it in full when it's available.
Hopefully it will turn out better than the bombshell that was their handling of Vendetta - Curse of Raven's Cry...
Full original press email to me copied below:
The RPG Phenomenon is back, with Two Worlds II: Call of the Tenebrae!

+++ TopWare Interactive announces Two Worlds II: Call of the Tenebrae release date and new screenshots. +++

Karlsruhe, April 21, 2017- The RPG Phenomenon, Two Worlds II, makes its triumphant return! The creative teams from TopWare Interactive and Reality Pump Studios are excited to present Two Worlds II: Call of the Tenebrae, launching May 25, 2017! So grab your staff, sharpen your blades, and ready your bow; at long last, it's time to return to Antaloor!

Two Worlds II: Call of the Tenebrae plunges the Hero into a decades-old mystery and a battle against a hideous, ancient evil known as The Tenebrae. The stakes have never been higher, but our hero won't face this threat alone. Friends and foes both new and old await you, as you fight to discover the truth behind a powerful secret that will shake the Two Worlds universe to its core.

"When we started development on Two Worlds II: Call of the Tenebrae in early 2016, we underestimated how excited our team would be to get back to Antaloor. It took longer than expected, but we ended up with a 10+ hour adventure that is nearly a full sized release! Due to how large Call of the Tenebrae became, we've decided to release our game as an add-on to Two Worlds II, in addition to a standalone version for fans both new and old." - Alexandra Constandache, CEO TopWare Interactive


Play through 10+ hours of thrilling gameplay and experience Antaloor like never before with a major HD engine update! Packed with new locations, enemies, weapons and achievements, Two Worlds II: Call of the Tenebrae will be released for the PC, Mac, Linux and the Steam OS.

Also available is the season pass, which includes Call of the Tenebrae and the soon to be released follow up DLC, Shattered Embrace (Q4-2017), 2 upcoming multiplayer map packs, in addition to a host of deluxe digital content, including in-game bonus items, the art book, the Two Worlds II compendium, game soundtracks and more! Enjoy this new adventure as an add-on DLC for $9.99, or separately as a stand-alone title for $14.99.
Some you may have missed, popular articles from the last month: