This noir-styled point and click adventure is now complete with the release of its third episode. I played through this rain-soaked adventure and have a few thoughts to share.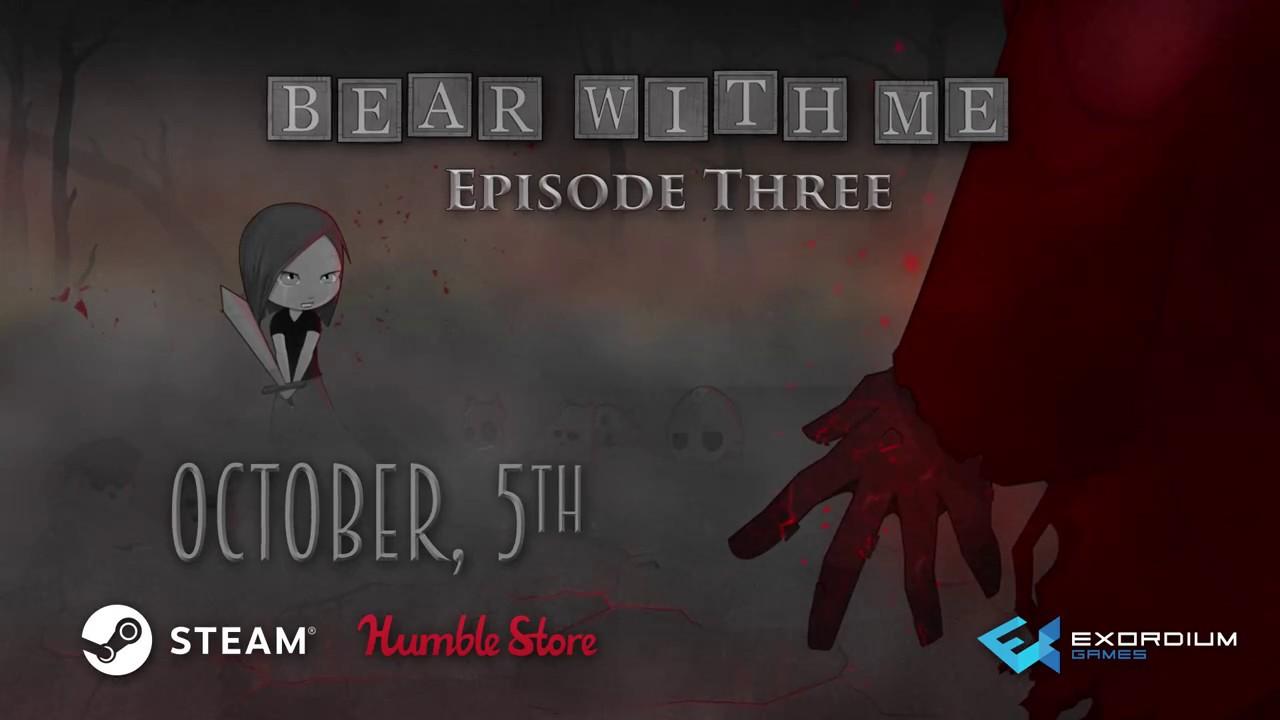 Note: Key provided by developer.
Bear With Me [Official Site] follows ten year old Amber and her detective sidekick Ted E. Bear as they investigate the mystery behind her missing brother and the destruction wrought by the "red man". As you might imagine, it's the type of experience that combines surreal elements with pulp novel and noir inspirations. Most characters are stuffed animals and the locations are heavily affected by imagination.
The aesthetics of the game make it stand out somewhat. Things are dark and grey and rainy, aping the visual style of a noir film. This isn't to say that there isn't color, flashes of intense red appear here and there to underscore certain scenes and events. The animations are fluid and the locations you visit are well-done and visually interesting for the most part. The sound design is subdued and deliberate, adding to the moody setting. Characters are fully voiced, as well, with most of the voice acting working rather well, though I can't say that I felt that Ted's voice or delivery was quite right.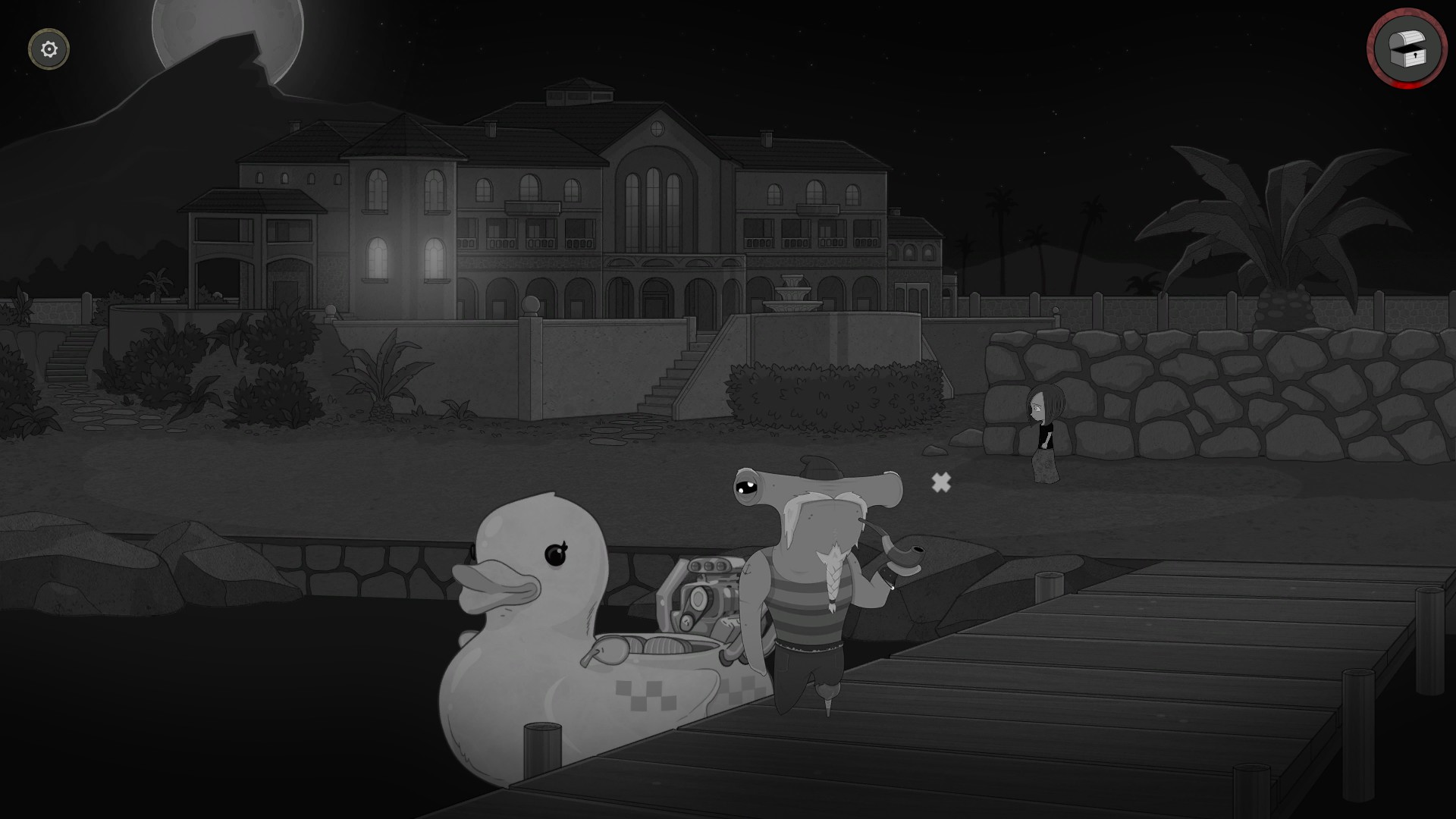 As far as gameplay goes, it follows the basic point and click adventure formula. Every room and environment has objects that can be inspected and occasionally taken and added to the inventory. Items in the inventory often must be combined or used at the right moment to solve a puzzle that's necessary to keep the story moving. For the most part, the game keeps things simple and it's rare to have too much junk cluttering your inventory or to not know where you have to go next. Save for a few puzzles in the third and final chapter, it's fairly obvious what you're supposed to be doing to proceed and it's just a matter of grabbing everything in your present location in order to proceed.
While this focused approach keeps the player from being overwhelmed, it would have been nice to be able to explore areas beyond the current plot-related puzzle that needs solving. Once you get to it in the second chapter, Paper City seems like it could be an interesting place to get lost in and really explore. The game keeps holding your hand, however, and there's no chance to go off the beaten path or backtrack and discover new things at old locations with one or two exceptions. There's a brisk pace that keeps the game from stagnating which works on a mechanical level but it kept me from being fully immersed in the storytelling and atmosphere.
I have to complain a little about the lack of object highlighting in the game. It's not strictly necessary given the few possible locations you can go to before moving on but it's still something that would have been nice to have. As many of the jokes and observations come from interacting from different objects, it's useful to know which painting is it's own separate object or if there's something else useful in a room besides the belt you're supposed to pick up. Some of the comments made when obtaining items or asking your partner for advice could also stand to be better; the few times that I was briefly stuck it would have helped to get clearer hints as to what I had to do next.
The story in Bear With Me is something of a mixed bag. The whole film noir vibe and plot points are engaging enough but the actual mystery and its progression leaves a lot to be desired. Simply put: it didn't really feel compelling enough to find out the mystery of the red man or doing what Amber thought was necessary to proceed. Maybe it's due to the shortness of each episode, the first two being an hour or so apiece and the final one being two or three, but the tension and resolution of each plot point felt weak. I think the game could have benefited from some space within the narrative for reflection and developing the characters instead of rushing from one event to the next.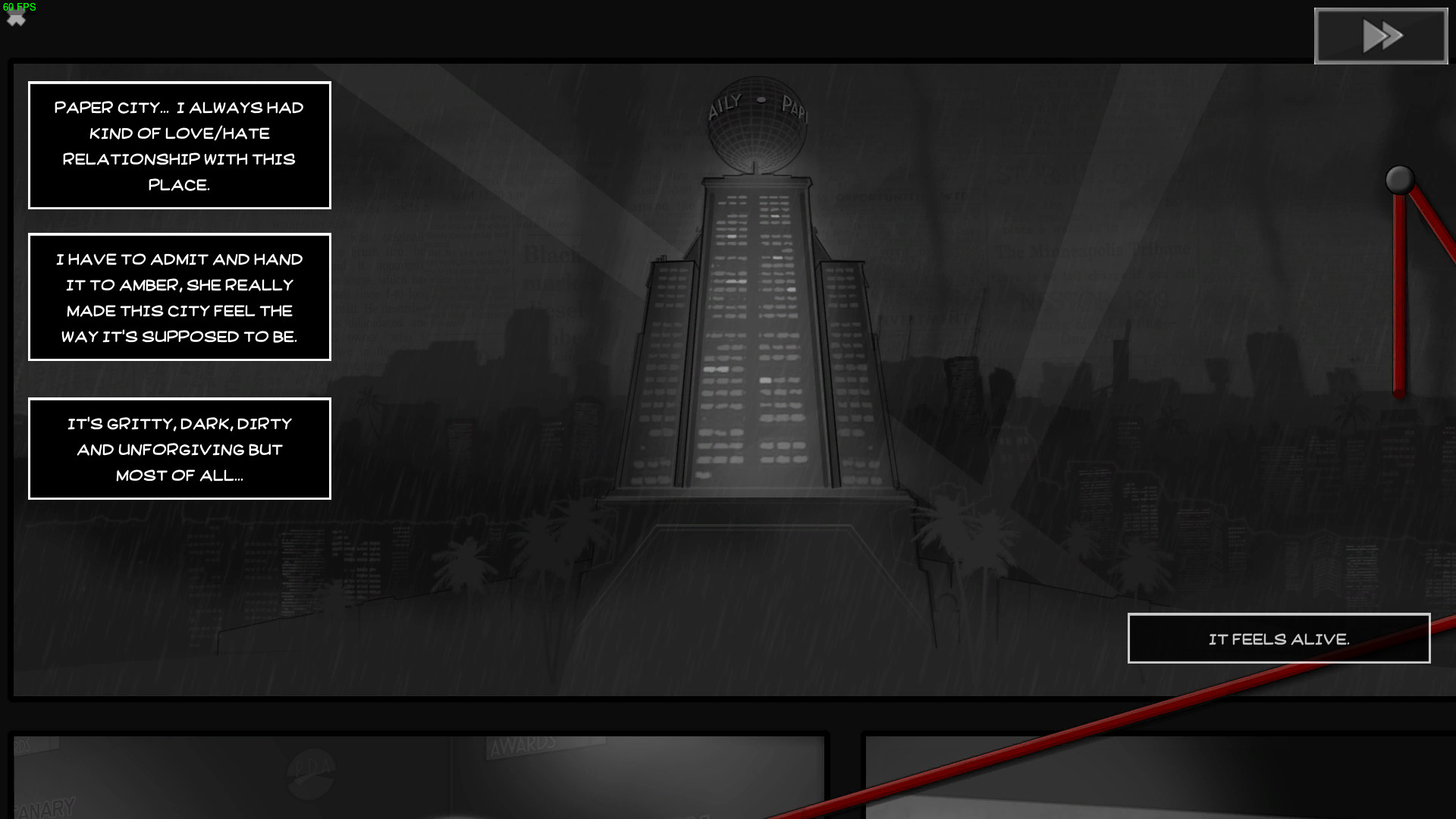 That said, Amber and Ted are the main focus for much of the story and they're certainly interesting specimens. A lot of of the enjoyment for me came from when the game is playing it straight, emphasizing that Amber thinks like a young girl or that Ted is a walking cliché, as it allowed for plenty of moments of deadpan humor or dark situational irony. Some of the other characters you encounter are hit or miss, with the writers sometimes overindulging in the archetypes and roles they chose for them.
The same could be said for most of the writing in the game. For the most part it succeeds in creating the right sort of atmosphere. But, at the same time, the game can't help but toss a few too many pop culture and video game references that are out of place with the story they're trying to tell. There's 4th-wall-breaking jokes sprinkled here and there that are incongruous with the more sober and serious parts. Less can be more when it comes to humor and I would have felt more satisfied if they instead focused more on the drier and darker humor instead. The game also tries to keep the player on edge with its flashes of "horror" but because the tone is all over the place, I can't say it ever feels like there's any real tension.
I'm generally not a fan of episodic games because of how long you're often left waiting between episodes. A lot can change in the months between releases and Bear With Me is clearly a victim of revised planning. The game was originally slated to get a few more episodes but instead got a longer third part which attempts to wrap everything up neatly. It succeeds in getting all the plot threads resolved but the pacing suffers greatly. Whereas the first two episodes tease things, the third one rushes. It dumps a lot at you towards the end and almost feels like it could be a different game entirely given the starkly different imagery and tone. The resolution works, nonetheless, and it does feel appropriate for the adventure to end the way it does.
I enjoyed my time with Bear With Me despite its failings. It felt different enough to most of the adventure games I've played recently and I was charmed enough by Amber to give the game the benefit of the doubt when faced by some of the meta humor. I wish it wasn't quite so straightforward and had a few mysteries beyond the main one to solve, as I would have liked to have spent more time in Paper City and with its residents. I ended up finishing the three episodes in five and a half hours and there's not much in the way of replay value beyond choosing different dialog in a few places. These choices don't really affect the plot, anyhow.
This is an adventure I can recommend to people looking for a slightly different sort of point and click. It's not something for a general audience and it's definitely not among the greats. That said, if you're willing to overlook the shortcomings I've mentioned here, it can be a very charming and a fun little adventure.
You can grab Bear With Me on Steam.
Some you may have missed, popular articles from the last month: