I've covered the development versions of Rise to Ruins [Official Site] here and there, but now everyone can get in on the fun. A new stable build of Rise to Ruins is out with lots of new goodies.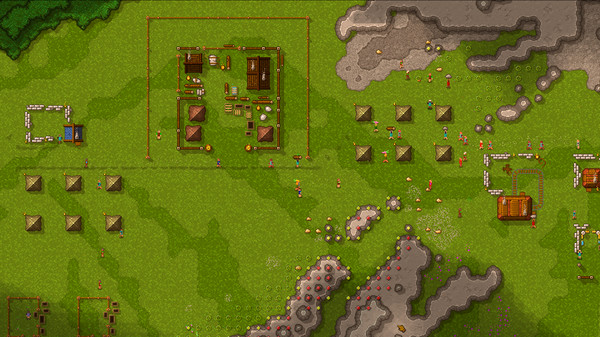 For those that don't remember it: It's a mixture between a strategy game, a village-builder and a god game. It's good fun too and highly customizable for how you want to play.
This huge new update features Steam trading cards with 6 cards, 8 backgrounds, 10 emoticons and 6 badges. I'm never fussed by these, but it's a nice bit of fluff for those who do enjoy collecting. Onto the more important stuff…
There's a new resource management system, which allows you to adjust resource production caps. So you can set a resource amount for a building to make right now, or an amount for them to keep up with. If you click a building that can manufacture something, or a person with a job, the UI will automatically show you a summary view allowing you to make adjustments which is handy.
The entire combat system was rewritten, allowing for ranged attacks. Thanks to this, there's now bows and quivers you can manufacture. Villagers can equip them and shoot at monsters from a distance—awesome! It's not just you that has ranged attacks though, so be careful out there.
There's a new "doggo" (dog) friendly animal in the game. They can visit your village and become domesticated, if so, they might help out a little around the village. Like villagers, they need to eat, sleep, drink and have a nice warm home.
Finally, there's some speed controls! If you don't want to sit around waiting too long, you can now speed the game up. Plenty more I haven't covered, check out the release notes.
Be sure to check out Rise to Ruins, it's sweet.
Some you may have missed, popular articles from the last month: