Roguelikes. The term is everywhere these days, and every bit as played-out as "zombies" or "the Dark Souls of…". We see it so much on game descriptions that we're sick of it.
The common characteristics of roguelikes are well established. Procedurally generated dungeons, permadeath, turn-based combat, poorly labelled potions and a greedy adventurer who doesn't know the meaning of the word "preparation". All of this, plus more minor similarities across the genre, have been traditional since the original Rogue, released in 1980, and the later Hack and Nethack from 1982 and 1987 respectively. There are loads of roguelikes out there, from classics like ADOM and Angband, to more graphical experiences like Tales of Maj'Eyal and Dungeons of Dredmor, and those who take the concept in totally different directions. Caves of Qud and Slay the Spire come immediately to mind.
This brings us to Brogue. My obsession. So let's see what the fuss is about.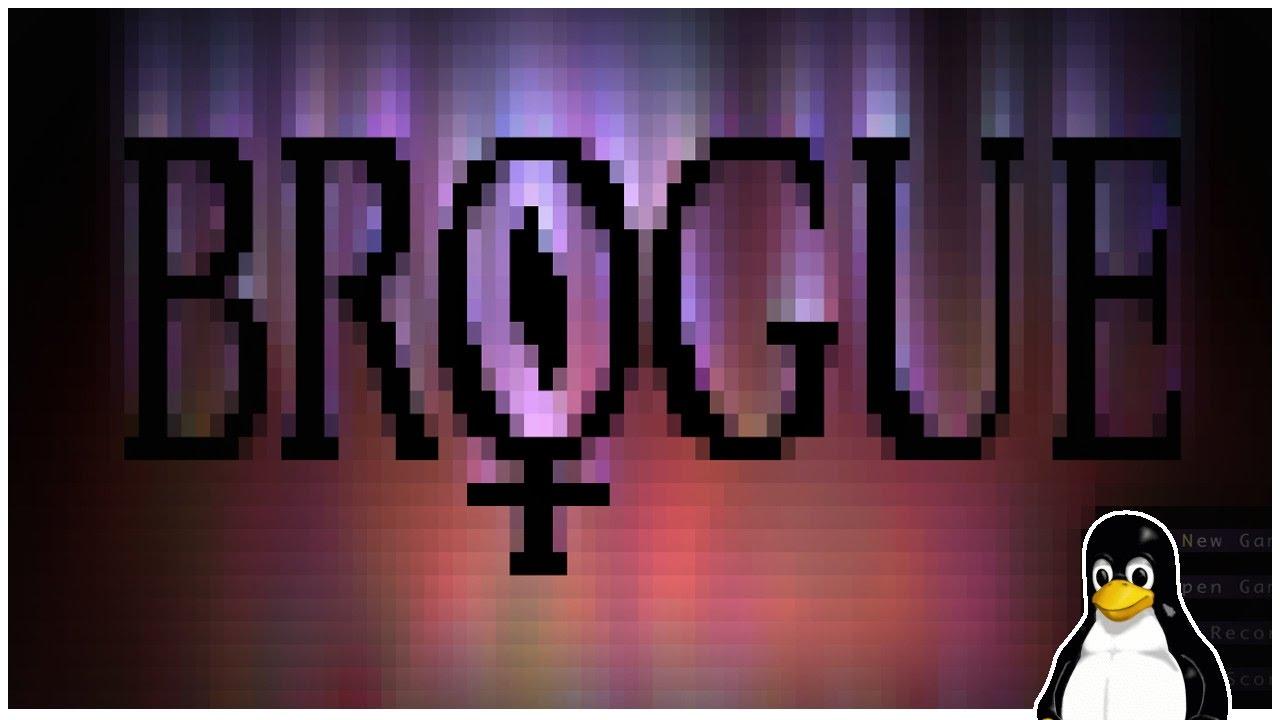 Brogue is a free and open source game created in 2009 by Brian Walker [Official Site], and is available for a variety of platforms including Linux, Raspberry Pi and iPhone/iPad. Unexpectedly, it doesn't seem to be an Android build. As you might expect, it requires very little power to run and tends to be very stable.
As roguelikes go, Brogue sticks pretty close to the original. The game has all the hallmarks listed above, although it is missing a levelling system. This is where the game diverges most notably from the original. Instead, the game substitutes three items in their place: potions of strength and life which improve your character directly, and scrolls of enchantment, which improve your items in some really powerful ways. Those scrolls are your key to success and add a tremendous amount of depth.
That's really the heart of the Brogue experience. Gameplay is heavily situational and item-focused, so choosing which to improve and what combination will get you out of a sticky situation is vital. Will you focus enchantments on your weapon (which improves both damage and strength requirement), or will you focus on your armour? Perhaps you're playing a mage with a collection of magical staves or a thief with a ring of stealth. Pouring everything into a single item can make it obscenely powerful, but leave you lacking in other areas. Or maybe you like to spread the love between two or three items and settle for each being strong but not legendary. Either way, it's a trade-off you'll have to deal with as you go.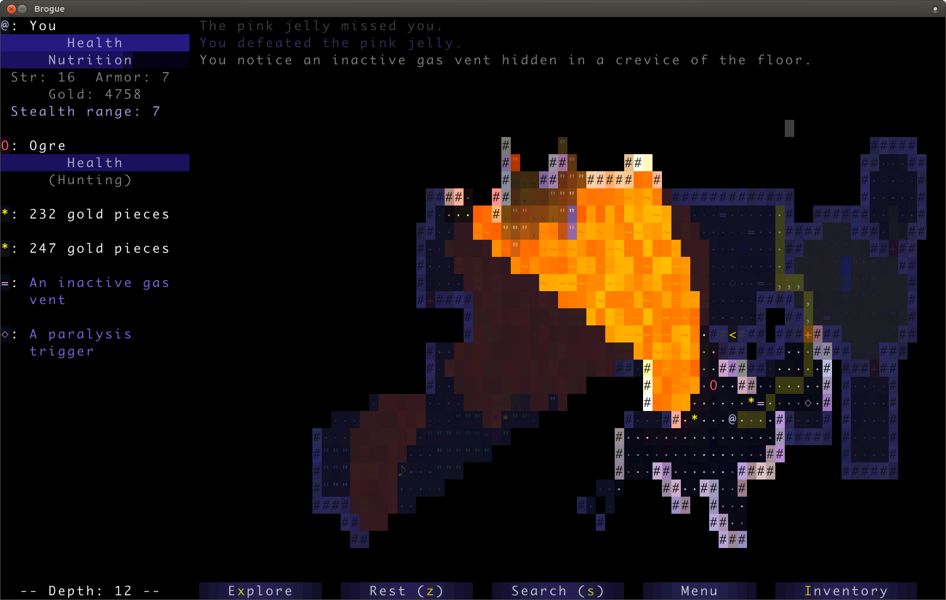 Graphically, Brogue is a gorgeous game. While the default experience uses all the same ASCII characters we've come to know and love, the addition of colour, dynamic lighting, and map generation that makes the most of both results in some amazing vistas to take in. Underground lakes infested with deadly eels (and they will mess you up!), stinking swamps shrouded in explosive gases, yawning chasms and impassable lava fields all lie before you. Further down, the increasing gloom is lit by fields of burning brimstone, suggesting more terrible wonders to come.
Earlier, I mentioned that I am, sadly, a Brogue addict. It's true. This game got its hooks into me and refused to let go. It's not just the call of adventure or the lure of the beautiful environments that keep me coming back again and again (and again and again and...). Rather, I think the addictive qualities are built into the game itself. One of the most important is the ease of replay. You will die in this game. So many times that Dark Souls characters will look at you with sympathy. But it's okay. Thanks to how lightweight the game is, the time between "You die..." and "New Game" is only a matter of seconds, lowering the barrier to starting over to almost nothing. It becomes a cycle, as you look at the mistakes you made, resolve never to do something so foolish again, and then hop back in to make entirely new mistakes.

But it's a pleasant addiction, and even better it makes for some vivid war stories. Where the original Rogue was admittedly pretty bare-bones, there is such a variety of unique monsters and situations that they come alive in the retelling. Like the time I caught sight of a dangerous Dar Blademaster, and hit it with a staff of discord before it could see me. By the time I ran into it again, the monster had cleared out the whole area and was so injured it only took one good poke with my rapier to meet the reaper.
Or when I was trying out scrolls and I hit one of aggravate monsters, which made the entire level's worth of baddies zero in on me. Fortunately, I'd already used a scroll of sanctuary so they couldn't reach me but it left me trapped. It was a stroke of luck I had a scroll of discord in my pack, so I set that off and let the whole crowd fight it out, leaving me to step out and take care of the winner.
Or when I took advantage of a wand of plenty and a wand of empowerment to create a loyal swarm of flying, vampiric ogres. Or when I died to a group of wraiths after being weakened by an invisible creature who set upon me in the shadows. Or the time I had to deal with two Dar Blademasters and a lightning turret, while my instant-death whip decided it didn't really feel like activating today. Stories like that become common the more you play, and that adds to the fun.
I'm an addict, yeah. But at least I'm one of the happy sorts.
Brogue can be downloaded directly from the website for free, or you can play it online (site) and watch others try to make it to the fabled Amulet of Yendor and back alive.
Some you may have missed, popular articles from the last month: