I'm a huge fan of drag and drop creation tools like Construct 3 [Official Site], that allow you to create games by building simple events sheets and it seems they've continued making Construct 3 more awesome to use.
For those not familiar, Construct 3 is a game engine that can run directly in a browser window. They're working on a desktop version too, which will support Linux as well.
Firstly, they've announced a rather handy feature that let's you give a remote preview URL to another user, to allow them to play your game while you're building it. What makes it even more awesome, is that you can get your own preview of them actually playing it. That's a beautiful feature when you think about it, watch someone play your game easily so you can spot issues. You can even continue working on it and update it, prompting anyone connected to the preview to refresh for an updated build.
On top of that, they're working on an entirely new runtime for games built with Construct 3 to improve performance. The current runtime is the one from Construct 2, so it's a little old and stale by today's standards.
The new runtime has shown some impressive performance gains, like this example where they tested creating 10,000 sprites then every tick destroy X random sprites and re-create new ones, this tests how many sprites can be destroyed and recreated every tick and still hit 30 FPS: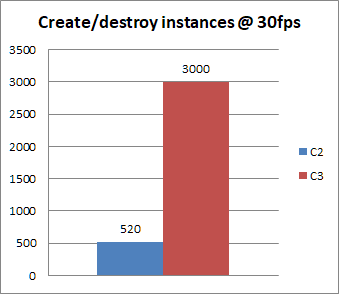 As you can see, the result speaks for itself, what a huge performance difference. They recently wrote up another post about how they've moved over to using a WebAssembly build of Box2D to power their Physics, instead of Box2D with asm.js. It uses less RAM, performs better and is again another great step forward for Construct 3.
It's certainly going to be interesting to see what people are able to create once the new runtime is available.
As much as I love Construct 3, the price is pretty off-putting to me personally—£79 every year. I really don't like software subscriptions, I would much rather pay a little more to keep access to it. The free version is also too limited to really do much with, other than check and see if you like the idea. Even so, it's still a fantastic tool.
Some you may have missed, popular articles from the last month: