Northgard [Steam] is now on Linux as promised, this strategy game from Shiro Games is something I've been looking forward to and it does not disappoint. It does have a few issues with launching the game right now. Note: My key was provided by their PR people over a year ago.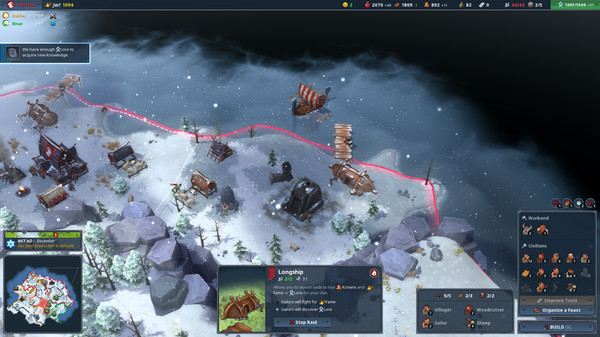 Right now, it seems to be a bit messed up when it comes to actually launching the game. For me, I was able to launch it on Ubuntu 17.10 by opening the Northgard install folder "/SteamLibrary/steamapps/common/Northgard" in terminal, so:
cd /your_steam_location/SteamLibrary/steamapps/common/Northgard
And then running this:
./linux/run.sh
It seems they've done something odd with it, as others have noted it won't run without installing wayland, wayland-egl and libbsd. I can't confirm that, as I didn't need to install anything (although I do already have all those installed—to be clear).
It also doesn't have a "steam_appid.txt" file, which needs "466560" inside it, to play multiplayer. You can quickly make one in terminal, inside the Northgard folder doing this:
echo 466560 > steam_appid.txt
I can confirm doing that, does make multiplayer work.
There's also one other major issue, with it not being able to load a saved game. That's a pretty huge bug that needs fixing, since some missions can take a long time.
It's a bit of a mess, but when you get it running, it's really damn good. I did a livestream on our Twitch channel earlier and ended up going for nearly four hours, I was totally engrossed by it. Absolutely nothing like I expected, it starts off feeling a little like the classic Settlers games and ends up becoming a battle against the seasons, invasions and so on.
The territory system is what's really quite interesting. You need to send scouts off across the map, to actually explore and get rid of the fog of war. Once you've dealt with any enemies inside or hostile wildlife, you can purchase land for food to expand and each section of land can only hold a certain amount of buildings. You can upgrade your land once, to enable you to build more.
I rather like the worker/villager system as well, as everyone starts off as a basic villager and you send them to specific buildings to turn become a worker for it. So to make Warriors, you would build a training area and send a villager to it costing money, however, what's great about the system is that you can turn anyone back into a villager and then into something else at any time. It's clever, unusual (to me) and quite a delight to play with.
I'm hesitant to recommend it until they fix the launch issues, but if you're happy doing a few tweaks to get it running then it's worth it.
Some you may have missed, popular articles from the last month: