Need even more cyberpunk? Fancy heading a megacorp and manipulate the world for your own gain? Spinnortality will let you do that.
Note: Copy provided by the developer to our Steam Curator.
Funded on Kickstarter back in 2017, you're tasked with taking control of some evil corporation whose shadowy backers wish to become immortal. The one thing we can't escape is death but they're determined to live on forever.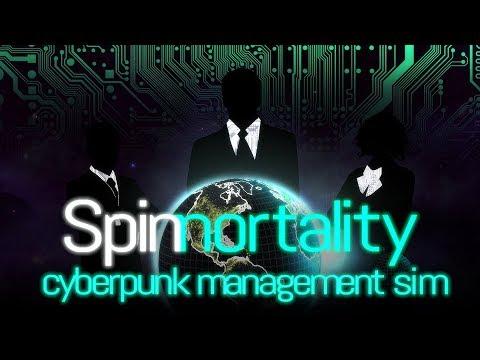 The previous build I tested did have a few issues, but thankfully the release build is using a more up to date version of Unity so it's been working well on Linux. Considering it was made by one developer, James Patton, it's quite an impressive experience.
There's a decent amount of depth to Spinnortality, with a lot of decision making and this only increases as your company grows and you research more. You need to turn a sweet profit, which can be done by launching products in different countries. Each country is vastly different, so naturally a product that works in one can utterly fail in another. To help with this, you can run a focus test to reveal what marketing angle would work against the type of culture it is. Pretty clever stuff, with lots of ways to expand.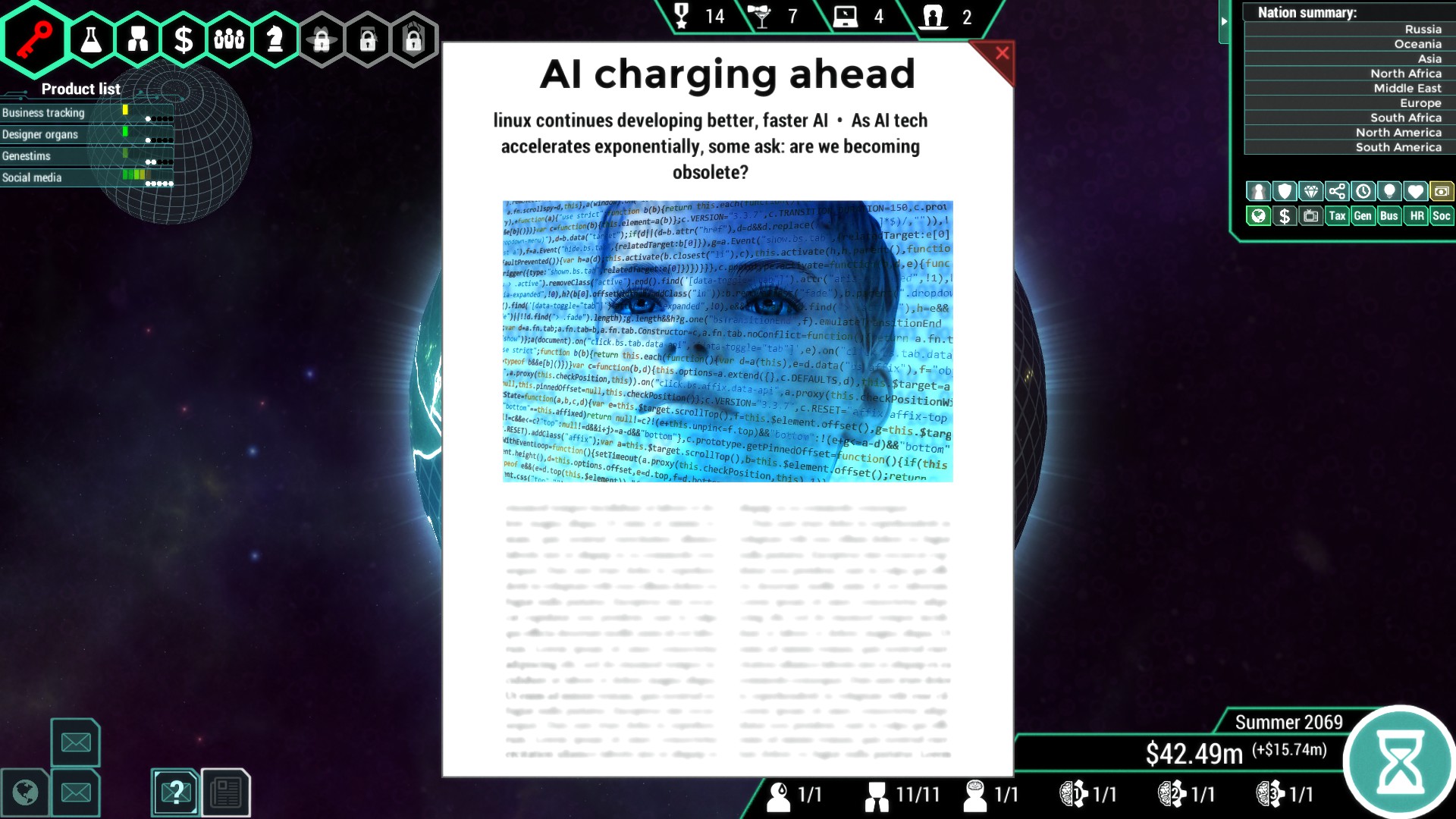 As you progress, you also need to deal with nuisances like corruption and inefficiency inside your company, both of which can be dealt with using connections you build up as you expand across the world. You will also deal with random events each turn, like your workforce becoming unhappy which can affect public opinion of your company and make it harder.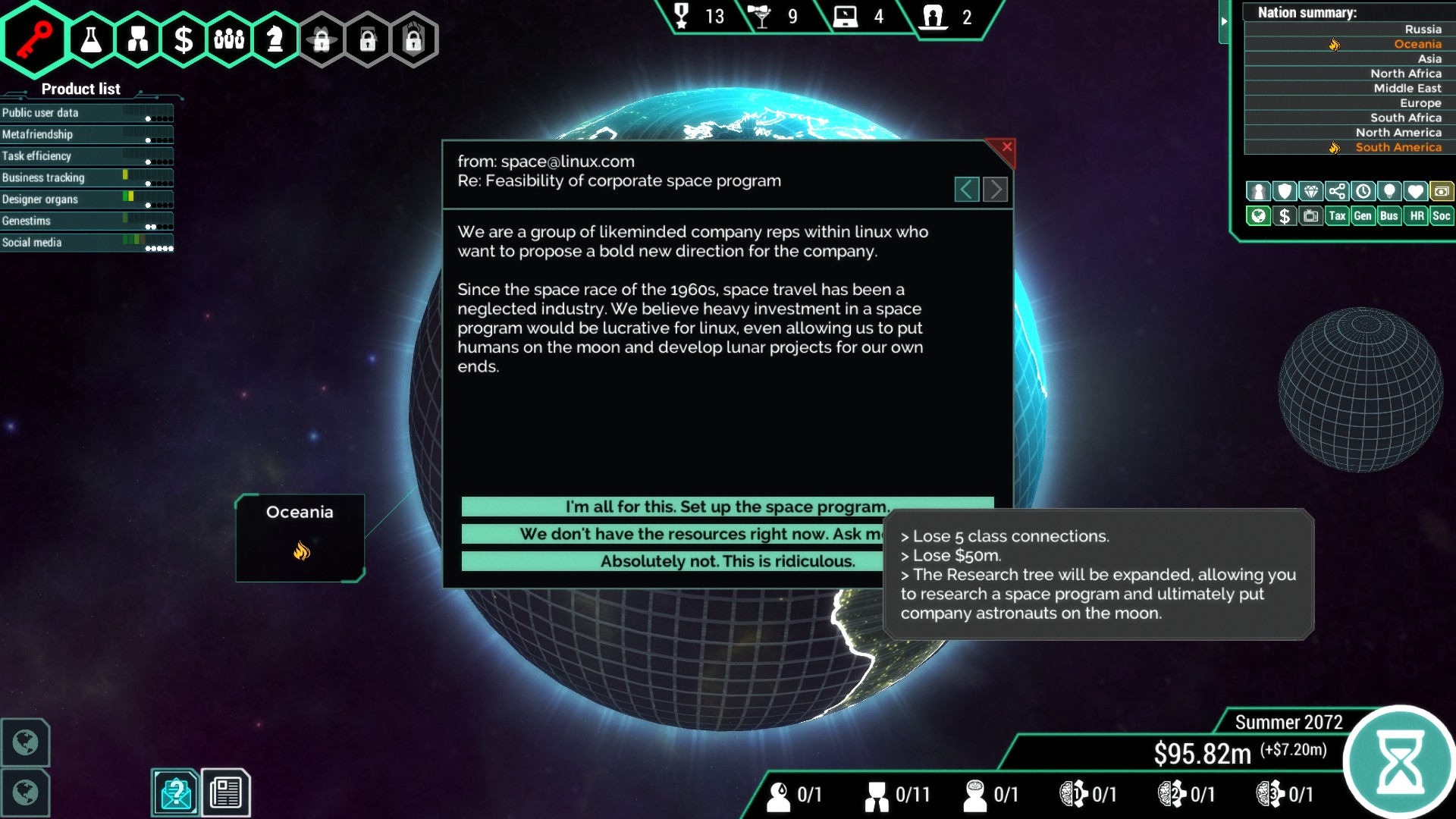 Naturally, there's plenty of politics to deal with. There will be elections, ruling dictatorships will be overthrown when they become unpopular enough and this will all affect your products and so your bottom line. There's even countries controlled by a corporation, which you can buy shares in to earn some money and eventually take control to influence them even more towards your own goals.
You also need to deal with public opinion, tasks set to you from your board of directors, rival companies may spring up and try to take you over and so on. There's so much to the game, it can feel a little overwhelming at the start. Thankfully, the clear UI does wonders to help with this.
Works well on Linux and the gameplay is really engaging. It was fun to be the bad guy, pushing into AI and letting them evolve while taking down as many countries as possible by inciting riots and taking them over.
Some you may have missed, popular articles from the last month: