Descenders, the fantastic extreme sports game from RageSquid and No More Robots will leave Early Access on May 7th with a huge update.
Currently a single-player experience, this huge update is going to change the way the game works completely by the sounds of it. Adding in 8-player online play, when you start the game you will now be placed into a much bigger starting hub area where other players will also fill your screen. They say it will feature "a bunch of really cool areas to explore" and allow you to ride around with others.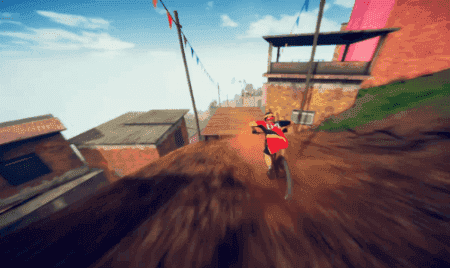 Additionally, the update with come with four entirely new worlds to explore. However, these four new locations are locked behind a Reputation amount you need to earn as they're included in the "CareerPlus Mode" giving you a new career to play through.
The new central hub area isn't the only place you will see players now, as random players who happen to get the same level seed as you will also appear. There's no collisions though, so people can't just ride right into you and make you fall, thankfully. This will also come with friends support, so you can actually make a lobby and invite Steam friends to join you so that's nice.
Descenders is also expanding in other ways to include new music, new options, new sounds, new bikes and items, the ability to change your gender and so on. Really does sound like an absolutely massive update, hopefully it will be worth the wait.
I've massively enjoyed Descenders and multiplayer was near the top of my list for it, it's absolutely the type of game that would be more interesting to play with friends and other random people. Nothing like watching someone zoom past you right into a tree.
You can find it on Humble Store and Steam. They've confirmed the price will stay the same too, so no need to rush.
Some you may have missed, popular articles from the last month: