After picking up my own Steam Controller at midnight from GAME on the day of release back in November of 2015, it has become practically the only gamepad I use. To the point that anything else just feels—wrong. To be clear I own a Logitech F310, a DualShock 4, an Xbox One Controller, I've also extensively used an Xbox 360 pad and so many more.
One of the problems I have with gamepads, is that I often can't reach multiple buttons at the same time (small hands problems). With the Steam Controller, it's not much of an issue thanks to the back paddles. Seriously, they're part of the reason why I love it so much! Take Rocket League as an example, I've switched Boost and Slide to the back paddles, so that I can do all sorts of crazy tricks. Before I did that I was honestly terrible at the game. Now though thanks to that? Well, I can do silly things like this:
Another point is the batteries and battery life I wanted to touch on. I rarely have to charge or change batteries, you get a ridiculous amount of life out of it. The fact that batteries aren't built in, for me, has also been a huge bonus since I never have to worry about it fully dying due to a dead built-in battery. In the time I've owned a PlayStation 4, I've gone through three DualShock 4's due to the battery in it just completely dying and no longer charging.
What's also great about it, is that for games that don't directly support it and for those times you perhaps want to use it with some sort of media centre PC, SC Controller comes to the rescue. I actually have two, my second one is attached to my TV PC which runs Kubuntu and I have it set to load SC Controller on boot so I can instantly use the Steam Controller to load up anything I want from streaming services in the browser, to games as I can happily flick the mode from desktop to gamepad at the touch of a button with SC Controller's built-in overlay for switching configs.
Thankfully, support for the Steam Controller has improved dramatically in the last year and it's now reasonably rare for games not to support it.
Sadly, after a good few years of constant use, the left stick on the Steam Controller has worn down quite a lot. The left side of the stick is noticeably worn out and the right side of the stick has a dip in it of material missing. Thankfully, protective covers for the stick of the Steam Controller that are designed for other gamepads seem to fit quite well. For those interested, I picked up a bunch of Silicone thumb grips from eBay (specifically these) and it's a perfect fit: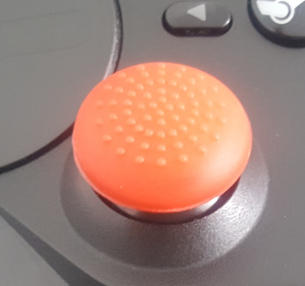 I'm hoping Valve decide to do a second generation of the Steam Controller, there's a lot of ways they could improve it still. For starters, they could probably shrink the size just a little, it's a bit large honestly. Not much, but a really-small shrinkage which probably make it a perfect size as it's so close. The battery compartment, it's a bit of a nuisance. Some batteries are a tiny bit thicker than others, making them incredibly difficult to get out so I would also love to see some improvements there too.
After enjoying mine so much, I would happily wait in line again if a next generation Steam Controller comes along. Back paddles, wireless with batteries you can replace and the amount of configuration you can do with it and more make it such a good choice. Considering the price of it, it's quite ridiculous compared to some alternatives with comparable features.
You can grab a Steam Controller from Steam and other online stores.
Some you may have missed, popular articles from the last month: