Valve continue to tweak Dota Underlords in the hopes of keeping players happy, this mid-Season gameplay update flips quite a few things on their head.
I like their sense of humour, with a note about them removing "code that caused crashes and kept code that doesn't cause crashes".
There's a few smaller changes like the addition of Loot Round tips to the Season Info tab, the ability to change equipped items from the Battle Pass and some buffs to the amount XP awarded for your placement in matches and for doing the quests. Meaning you will level up the Battle Pass faster.
Combat will now continue until some abilities are finished, Assassins will no longer hop around if they have an enemy in range, not seeing heroes from the previous shop when you re-roll and units that can't be healed will no longer be targeted for healing. Those all sound good, that's more just fine-tuning what we would expect to see.
The biggest changes come in the form of balancing across many heroes and alliances, something that's going to be quite tricky and will require constant tuning as it does in other competitive games. For example, when you lose to a neutral creep wave, it will no longer remove two of your options. Instead, it will now offer rewards from the previous wave.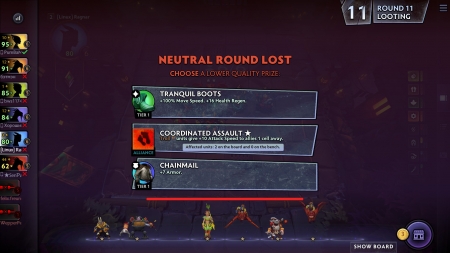 Another huge change is to Alliance items, which now have their own category and they're randomly assigned a tier, with each player seeing Alliance items appear at different tiers thoroughly mixing it up. For those who thought the game was RNG-heavy before, it seems Valve have decided to double down on that to make it even more random overall.
You can find all the patch notes here and find the game free on Steam.
I had a rather amusing battle in Underlords recently, with only Morphling left and the opponent had a Bounty Hunter. Both constantly using their ability to move around the board, so I was just watching two heroes hop around never actually doing anything. Somehow though, my Morphling eventually got the better of the Bounty Hunter but it was pretty funny to see.
How are you finding Underlords with all these changes? Let us know in the comments.
Some you may have missed, popular articles from the last month: