After a successful crowdfunding campaign back in 2015, Elsinore a time-looping adventure game set in the world of Shakespeare's Hamlet is releasing with Linux support on July 22nd.
This was previously mentioned on GamingOnLinux a few times, in our older crowdfunding roundup articles "The Funding Crowd". Some of you might actually remember it, I certainly didn't but I'm putting that right now by making sure everyone knows, as it does sound very interesting.
Elsinore is a time-looping adventure game set in the world of Shakespeare's Hamlet. Elsinore combines strong social simulation elements, a dynamic story that reacts immediately to player decisions, and a world full of diverse characters with secrets to uncover. Can Ophelia prevent the tragedy that lies before her?

Elsinore is a point-and-click adventure game set in a living world where the story plays out around you in real time. Every four days, time resets, and you gain another chance to change the fate of the inhabitants within Elsinore Castle.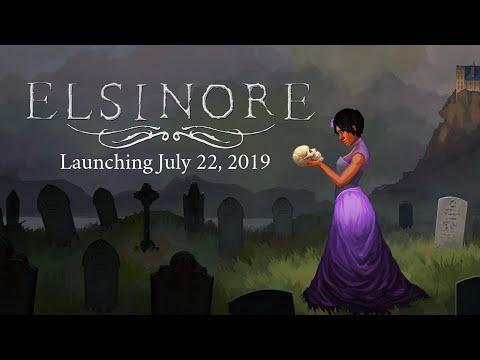 Features according to the information from the developer:
Dynamic Story Engine: Elsinore uses a story simulation engine to determine which events occur based upon your interactions. Lie, forgive, gossip, befriend, or destroy — the actions you can take at any stage are numerous, and the game immediately responds.
Intelligent Character Behavior: Each character manages their own lives, schedules, needs, desires, and plans over the course of each time loop. Even the smallest interaction has an impact on the world around you as it unfolds.
Learn from Previous Loops: Whenever a time loop resets, Ophelia remembers anything she has learned from the previous world, allowing you to access new ways to play.
Use Your Influence: Understanding each character's motivations isn't just part of the story. It's necessary for Ophelia's survival. Characters are complex and have long histories with each other; all of them are keeping secrets.
Life-or-Death Decisions: In a Shakespearean world, most roads end in tragedy, and characters are quick to meet a grisly fate. Hard decisions and terrible trials force players to think on their feet.
You can now wishlist/follow Elsinore on Steam. As I understand, they were aiming for GOG and itch.io as well, although neither have a store page ready I can find to link for you.
It has also been added to our dedicated Crowdfunding Page.
Some you may have missed, popular articles from the last month: