This is pretty sweet to see. SCS Software are running an event from now until Sunday, October 20 at 23:59 UTC to raise funds for Breast Cancer Awareness Month.
Pink ribbons, and the colour pink in general, are most commonly seen during the (International) Breast Cancer Awareness Month, an annual health campaign organised by major breast cancer charities every October to increase awareness and raise funds to fight the disease.

Inspired by truck manufacturers and truckers from around the world, this October we are proud to be joining the Pink Ribbon Breast Cancer Awareness campaign! We're asking the community to join us in supporting this great cause by delivering Pink Ribbon goods across Europe and the USA in our international Pink Ribbon Charity World of Trucks event.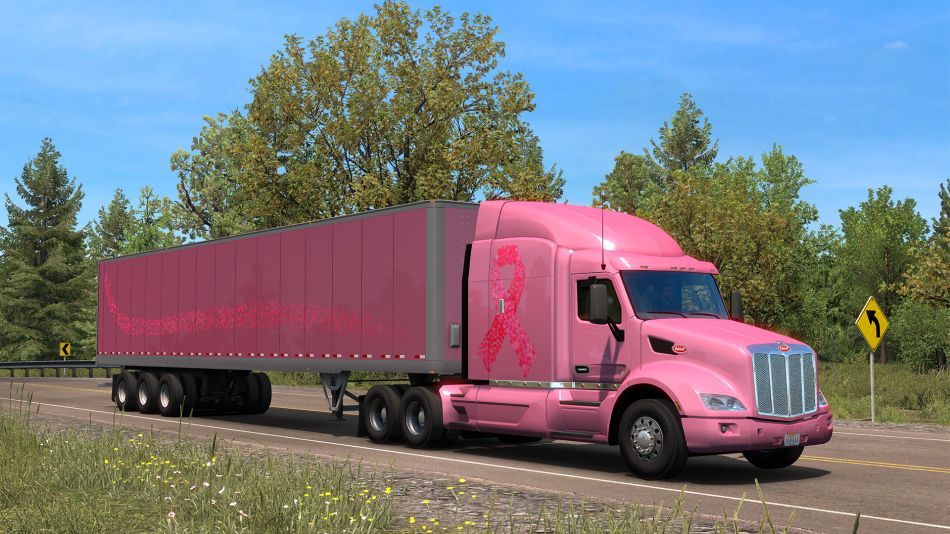 The event is being run across both Euro Truck Simulator 2 and American Truck Simulator. In each game, they're going to be giving out rewards for Personal and Community goals. If you do 12 or more Pink Ribbon goods deliveries, you will get a unique pair of Pink-Ribbon embossed hanging Boxing Gloves as a Steam item. If the community manages 1,000,000 deliveries of Rink Ribbon goods (on top of the Personal goal) you will also get a pair of Pink-Ribbon-styled hanging Winning Dice as a Steam inventory item.
If you wish to do these, you need to have your game linked to a World of Trucks account and pick the jobs via the External Contracts in-game option. You need to have progressed a little bit to be able to, as you need your own trucking equipment. Full event details can be seen here.
SCS Software will also be livestreaming the event on Twitch today at 3PM UTC.
Don't own either game? You can find Euro Truck Simulator 2 on Humble Store and Steam, with American Truck Simulator also on Humble Store and Steam. You can also buy the Pink Ribbon Charity Pack, with 100% of the proceeds going to reputable Breast Cancer research and awareness charities for each game on Steam (DLC Links: ETS2 - ATS).
Some you may have missed, popular articles from the last month: